Student Blog: What's Next?
These are the shows I hope to see post-pandemic.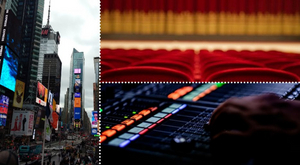 Earlier this week, I was able to go to my first musical performance in over a year. Toby's Dinner Theatre in Columbia, Maryland is putting on performances of Shrek The Musical and so I eagerly bought tickets. I had been wanting to see Shrek performed live for a long time and with the theater following Covid-19 guidelines, I could not wait to be back in the audience seat.
Pre-pandemic I used to see shows all the time. Whether I was at a community theatre, professional Broadway or just a local high school, I enjoyed how each production could make me feel. Different casts and crews take unique approaches to the same storyline and I love to see how their inspiration takes off through the show.
As soon as the first notes of the Overture were played, I was extremely overwhelmed. I was so grateful to be back into what the pandemic took away from me and so many other theatre-loving people. Though I admire the hard work that is put into virtual shows over Zoom, it just is not the same as live theatre.
Now that restrictions are slowly being lifted and things are starting to look up for the future of theatre all over the country, I have compiled a few of the next shows I want to see professionally. I have been so grateful for all the shows I have already seen like The Phantom of The Opera, Hamilton, Mean Girls, Beauty and the Beast and Wicked because everyone knows tickets and traveling can be quite expensive, but these ones are absolutely next on the list whenever they become available.
First, is Dear Evan Hansen. This musical has been incredibly loved since it's debut in 2015. The fanbase is unavoidable to run into in the theatre community on all forms of social media as well. The DEH tour was supposed to come locally a year ago but the pandemic messed things up. I admit I have listened to many of the popular and beginning songs, but I am trying to avoid listening to the rest as to keep the emotions of seeing it live, real.
The next show I would like to see is Rent. I have seen the movie, the live performance on Fox, and a bootleg or two, but I have never gotten to experience it live. The music is so exciting and wonderful, and I love all the character dynamics that could potentially be portrayed on stage. I might even go as far to say Rent is one of my favorite musicals. I have introduced it to many of my friends as well and the soundtrack is one we blast loudly to sing to during car rides.
A play I would love to see is Harry Potter and The Cursed Child. I have been a fan of the Harry Potter universe since I read the original books in elementary school. I have seen the movies, watched spin-off performances like A Very Potter Musical and giddily emersed myself at The Wizarding World of Harry Potter at Universal Studios. When the original script book came out, I immediately purchased it and I was very pleased. I want to see this show live because I really want to go back to the universe with an open mind and experience the magic in front of me.
Now I could add many more shows to this list, but I fear it would never end. When theatres start opening back up, I hope to be a live audience member once again and I hope I can get back on the stage as well. People who find their living through theatre has seen their entire community fall to crumbles because of Covid-19 and the emotions that come with that are inevitably real. But, I am grateful to be a part of a community that sticks together and looks forward to the future with all the hope possible.