Student Blog: School Stress
Tips for getting things done.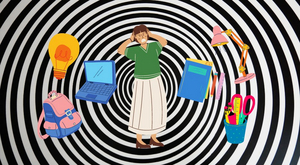 Many people encounter stressful tasks that must be completed, and college students are no strangers to it. The towering number of projects, papers and assignments can seem never-ending during the school year. Though it is difficult to avoid the struggles and anxiety around college assignments, I have learned many tips over the past school year that can make the process go much smoother, and especially when finals arrive.
One of the most important tips is to stay organized. For all my classes, I make sure to have my assignments together chronologically, either listing them myself or looking at the course syllabus. This is a great way to make sure I have prepared time for editing papers, studying for exams, and turning in other homework. Using a calendar app or writing everything down in an agenda can be tremendously helpful as well.
Another most important aspect is to stay hydrated and fed. Humas need energy not only for physical energy but also mental energy. Staying hydrated and fed can keep your focus strong so you can concentrate on the tasks that need to be done. It is best to eat before you plan a long work or study session, so nothing is in your way of getting assignments done. It does not hurt to snack on something if you do get hungry but make sure it is something easy to eat and not distracting.
One tip that is a hit or miss for some people is playing music while working. Music can be distracting but I personally love having it in the background as long as I cannot easily sing to the songs. I usually find lo-fi tracks, classical albums, or playlists with songs I have never listened to. With music playing in the back, it makes me feel like the time is going faster and I can type to the rhythm.
A tip that has been difficult for me is to not look at my phone. I know it can be tempting when you hear a notification ding but that can turn into an endless scroll through social media. I do keep my phone near me in case I am getting an important call but the other notifications I try to stay away from.
Last, would be to get enough sleep. I make sure to plan my day accordingly, so I have time to do schoolwork and to also relax. It is not worth staying up until 3am turning in assignments because I know I will be miserable the next day. It is best to do schoolwork during the day and leave the evenings for relaxation. This allows you to fall asleep when your body is ready for bed and then you can wake up feeling much more refreshed.
These are just some tips that have helped me tackle this crazy year and I plan to use these tips for the rest of my college years as well. It is very important to be aware of your mental health while navigating schoolwork and making sure you are not overworking yourself. I have also learned that it is okay to take a step back and take care of yourself before going back to do assignments.