Maryland Ensemble Theatre Presents ANGELS IN AMERICA PART 1: MILLENNIUM APPROACHES
Performances run February 10 - March 5.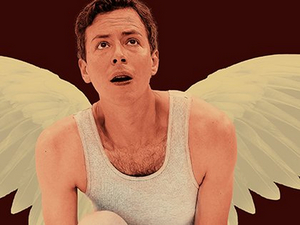 In the mid-1980s, amid the AIDS crisis and a conservative Reagan administration, New Yorkers grapple with life and death, love and sex, heaven and hell in this Pulitzer Prize-winning play.
"Angels in America is a truly American epic created by one of the most gifted storytellers of our age, Tony Kushner. Kushner wrote the script for Stephen Speilberg's autobiographical film The Fablemans and wrote the book for the most recent film version of West Side Story. Angels covers SO MUCH territory; with honesty, fantasy, impact, and a lot of humor. It is frequently mentioned in the top 10 American plays ever written, and MET is very excited and proud to be bringing this amazing piece to the Frederick stage." - Tad Janes, Producing Artistic Director
The Angels in America Part 1: Millennium Approaches production team includes: Director Tad Janes, Production Manager Melynda Burdette Wintrol, Stage Manager Courtney McLaughlin, Assistant Stage Manager Zack Callis, Technical Director Cody James, Scenic Designer Tad Janes, Lighting Designer Shana Joslyn, Sound Designer Kaydin Hamby, Projections Designer David DiFalco, Costume Designer Karsen Green, Properties Designer Rooster Sultan, Stage Crew Shayden Jamison, Dramaturg Steven Satta, Intimacy Coordinator Julie Herber, and Dialect Coach Eric Jones.
The cast includes MET Ensemble Members Jack Evans as Roy M. Cohn, Shea-Mikal Green as Harper Amaty Pitt, Eric Jones as Louis Ironson, Jeremy Myers as Prior Walter, Ray Hatch as Belize, and Julie Herber as The Angel. Rounding out the cast are Associate Artist Matt Buaghman as Joseph Porter Pitt and Nancy Jones as Hannah.
Angels in America Part 1, Millennium Approaches opens on Friday, February 10 and runs through Sunday, March 5 with a $15 preview night on Thursday, February 9. Curtain is at 7:00pm Thursday - Saturday and 3:00pm on Sunday matinees. ASL Interpretation will be provided on Friday, February 17. Audio description services can be arranged in advance through the box office.
Tickets are $32 for adults, $30 for Seniors (65+) and Military, and $15 for students. A limited number of Pay What You Will tickets are available for each performance starting at $5 each, while inventory lasts. Tickets may be purchased by phone at (301) 694- 4744, online at marylandensemble.org, or in person at the MET box office.