Student Blogger: Maddy Goldberg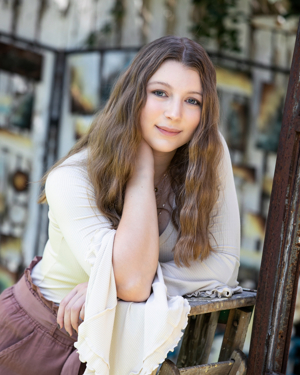 MOST POPULAR ARTICLES
LAST 30 DAYS
LAST 365 DAYS
---
Student Blog: Academic Integrity in Theatre Classes

January 31, 2023

What's the first thing that comes to your mind when you think of academic integrity? For me it tends to be not cheating on exams or plagiarizing essays. But academic integrity covers so much more than just that. A big component of academic integrity is being responsible and reliable when it comes to getting your work done. 
---
Student Blog: Presenting New Works: MARY SHELLEY

December 31, 2022

In the month of December I was part of a staged reading of a student written musical, Mary Shelley, through the Sandbox Student Series at the University of Colorado Boulder. The musical was written by a CU student and follows the life of Mary Shelley, mother of science fiction and author of Frankenstein.
---
Student Blog: Trying to Finish the Semester Strong

December 31, 2022

Burnout hit me hard at the end of this semester. Having to go back to school for two weeks after Thanksgiving and before winter break felt impossible. I had just been at home doing nothing for a week and now I was expected to jump right back into final projects and studying for final exams, but I really wanted to end my semester strong.
---
Student Blog: The Importance of Being Wardrobe Supervisor

November 30, 2022

This semester I was lucky enough to be Wardrobe Supervisor for the University of Colorado Boulder Department of Theatre and Dance production of The Importance of Being Earnest which played November 11-20, 2022 in the Old Main Chapel, a cute little theatre space in the oldest building on campus.
---
Student Blog: Tools to Get Through the Last Two Weeks of the Semester

November 29, 2022

As the end of the semester draws near, I am tired. It is so hard to jump back into school work for the two weeks in between Thanksgiving and Winter Break. As we are all trying to get back in the swing of things, here are some things I do to help stay focused for these last couple weeks of the semester.
---
Student Blog: CU Presents SHAKESFEAR: AN AUTUMN'S TALE

November 1, 2022

I work in the costume shop for the Department of Theatre and Dance at CU Boulder, so I was lucky enough to work on many of the costumes for 'Shakespeare: An Autumn's Tale.' For the majority of the time we were working on the show I was given the project of creating these beautiful leg ruffles for the character Ariel from 'The Tempest.'
---
Student Blog: Back to School at the University of Colorado Boulder

November 1, 2022

I only have one theatre class in my schedule this semester, but I'm also an employee in the costume shop in the theatre building. Though I'm not performing this semester I'm still working on lots of fun theatre related projects. Check it out!
---