Anna Jensen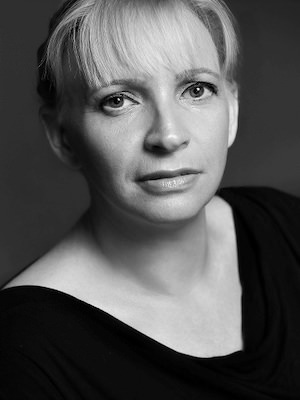 Anna Jensen has a Ph.D. in Theater Studies from UC Santa Barbara. She has translated and adapted plays by Henrik Ibsen, including Hedda Gabler and When We Dead Awaken. She has served as production dramaturg for many productions, some of her favorites include Macbeth (dir. Jonathan Fox), Good People (dir. Jenny Sullivan) and The Baltimore Waltz (dir. Tom Whitaker).

MOST POPULAR ARTICLES
LAST 365 DAYS
BWW Review: THE LITTLE MERMAID at Marian Theatre, PCPA
November 17, 2019
---
BWW Review: DEATHTRAP at San Luis Obispo Repertory

November 8, 2019

San Luis Obispo Rep's craftily staged production of Deathtrap, a comedy thriller, delivers on the foreshadowing promise of its opening dialogue: 'One set, five characters. A juicy murder in Act One, unexpected developments in Act Two. Sound construction, good dialogue, laughs in the right places.' Deathtrap's stage action runs like an intricately laid out fox hunt where the audience as the pack of hounds follows continuously forking trails of red herrings. And it's delightful.
---
BWW Review: LOVE at Center Stage Theater

October 3, 2019

Just today, famed opera singer Plácido Domingo resigned from LA Opera amid accusations that he sexually harassed workers there. It seems as though such stories are far more common than they were a few years ago. In October 2017, journalists Jodi Kantor and Megan Twohey broke the stories of women sexually assaulted and harassed by the movie producer, Harvey Weinstein. That story was followed by an explosion of women who shared their own experience of workplace harassment. So many women posted under the 'MeToo' hashtag, that the systemic infection of sexual harassment became harder to deny.
---
BWW Review: THE IMPORTANCE OF BEING EARNEST at Solvang Festival Theatre

September 5, 2019

PCPA closes its season with one of the sharpest, funniest, cleverest comedies written in the English language--Oscar Wilde's The Importance of Being Earnest. Fans of this Victorian confection of drawing-room comedy will not be disappointed. A beautiful set, designed by Jason Bolen, and sumptuous Victorian costuming, designed by Sara Curran Ice, transport us to a fashionable London flat and a smart country mansion.
---
BWW Review: THE ADDAMS FAMILY at PCPA

July 25, 2019

Before the first line of PCPA's The Addams Family had left the mouth of Gomez Addams (George Walker), my seatmate was already chuckling. And the laughs kept coming until the players took their bows to a standing audience. The cast's comic timing synchronized perfectly with Erik Stein's fluid staging for a frightfully fun evening.
---
BWW Review: MILLION DOLLAR QUARTET at Solvang Festival Theatre
July 12, 2019
---
BWW Review: A GENTLEMAN'S GUIDE TO LOVE AND MURDER at Solvang Festival Theatre

June 18, 2019

A friend remarked to British actor, Edmund Gwenn, on his deathbed 'This must be very hard,' to which Gwenn replied, 'It is. But not as hard as farce.' PCPA's production of A Gentleman's Guide to Love and Murder met the challenge of the dangerously delicate timing demanded of a musical farce. Set in England in the Edwardian period, lowly office clerk, Monty Navarro (George Walker), discovers that, through his mother's line, he is connected to the aristocracy as a member of the D'Ysquith family. With eight D'Ysquiths standing between him and an Earldom, he makes his way through his family tree by what Lady Macbeth referred to as 'the nearest way,' discreetly murdering his way to the top.
---
BWW Announcement: STATERA Mentorship Accepting Applications Now

May 30, 2019

It is a truth universally acknowledged that women dominate theater audiences, yet lack a proportionate power in theater administration, acting roles, production jobs, as designers and as produced playwrights.
---
BWW PREVIEW: EVERYTHING IS ILLUMINATED at New Vic

April 9, 2019

Everything is Illuminated, a play based on the novel by Jonathan Safran Foer, goes onstage at the New Vic in a production by Ensemble Theatre Company beginning April 10th. The story takes the audience on a journey with Jonathan (Jeremy Kahn), an American searching the Ukraine for the woman who may have saved his Jewish grandfather's life during the Holocaust.
---
BWW Previews: FUN HOME at Center Stage Theater

April 1, 2019

The Tony Award-winning musical, Fun Home, will play at Center Stage, April 4-14. Based on the graphic novel by cartoonist Alison Bechdel, Fun Home recounts Bechdel's memories of growing up with her secretive father and later coming out as a lesbian. In the musical, Alison appears as three separate characters: 'Alison' at 43 years old, 'Little Alison' as a young girl and 'Medium Alison' in college. Reviews of the early productions characterize the show as 'ground-breaking' and 'extraordinary.' Fun Home won the Tony for Best Musical in 2015, a New York Drama Critics' Circle Award and was a finalist for the Pulitzer Prize for Drama.
---
BWW Previews: WEST SIDE STORY at Dos Pueblos High School

March 30, 2019

West Side Story: Staging 'America' in a fresh production at Dos Pueblos High School
---
BWW Review: THE WOLVES at The Severson Theatre

March 13, 2019

Sheep in wolves' clothing; wolves in sheep's clothing.
---
BWW Review: THE LARAMIE PROJECT at UCSB Hatlen Theater

March 5, 2019

An affecting and thoughtful portrayal of a watershed event
---
BWW Review: SHAKESPEARE IN LOVE at Marian Theatre, Santa Maria

February 12, 2019

PCPA's current production, Shakespeare in Love, imagines Will Shakespeare's (Yusef Seevers) madcap adventures in London early in his career. Because historians truly do not know much about the personal life of the greatest writer of the English language, his life is a blank page upon which almost anything may be written. In this play, Shakespeare falls in love (at first sight) with Viola de Lesseps (Emily Trask). And, for our amusement, the course of true love does not run smooth.
---
BWW Preview: HEISENBERG at Rubicon Theatre Company

January 28, 2019

Stephen Simon's recent play, Heisenberg, opens this week at the Rubicon Theatre. Two strangers meet at a London train station where an unlikely romantic relationship develops between them. Joe Spano plays Alex, an Irish butcher, set in his ways. A complete stranger, Georgie (Faline England), kisses him. Subsequently, Georgie comes careening straight at him like an irresistible force meeting an immovable object. What collision or connection will come next?
---
BWW Review: MOUTHPIECE at UCSB: Arts And Lectures At Campbell Hall

January 25, 2019

'There's little a hot bath can't fix.' -Mothers everywhere 'It is impossible to say just what I mean!' -T.S. Eliot
---
BWW Review: HUMBUG, A DOLL HOUSE, AND THE NINA VARIATIONS at Center Stage Theater

December 21, 2018

Springing straight from its production of The Glass Menagerie, Lit Moon Theatre now brings three additional productions to Center Stage: First, Dickens' classic, A Christmas Carol, is retold as Humbug. Then, on January 4th, Lit Moon offers its visually arresting and emotionally captivating production of A Doll House. The next day, 38 actors from Lit Moon's over 25-year history will join together for a brand-new production of The Nina Variations by Steven Dietz.
---
BWW Review: PETER PAN at Marian Theatre, Santa Maria
November 25, 2018
---
BWW Review: VANITY FAIR at the Performing Arts Theater, UCSB

November 16, 2018

Santa Barbara theater-goers have had the opportunity to see two plays by Kate Hamill produced this fall. Westmont recently produced Hamill's adaptation of Jane Austen's novel, Pride and Prejudice. Now UCSB gifts us with Vanity Fair, based on William Makepeace Thackeray's 1848 novel. Having seen how 'with-it' Pride and Prejudice's sensibilities were, I anticipated Vanity Fair's modern twists on its classic text. The depth of Vanity Fair was an unexpected delight.
---
BWW Review: AMELIE at Center Stage Theater

November 14, 2018

Out of the Box Theatre Company presents Amelie now playing at Center Stage, a musical based on the French film of the same name. The musical follows effervescent spirit and plot of the director Jean-Pierre Jeunet's 2001 film.
---