Todrick Hall to Guest Star on Season Two of YouTube's STEP UP: HIGH WATER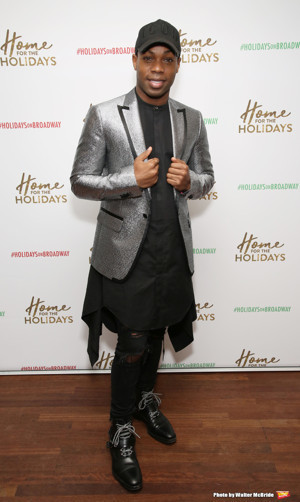 YouTube Originals and Lionsgate (NYSE: LGF.A, LGF.B) announced international singer/songwriter/producer NE-YO is returning to their groundbreaking hit original dance drama STEP UP: HIGH WATER, alongside new cast members Ashley Greene (Twilight); Dancer/Choreographer Jeremy Copeland; and multi-platinum recording artist and entrepreneur Rick Ross who is set to guest star as himself. TODRICK Hall will also make a cameo playing himself. JaQuel Knight will choreograph episode three as well as make a cameo playing himself. Series regulars Singer/Actress Naya Rivera and Actor/Comedian Faizon Love will also return for season two. The first episode of season one of Step Up: High Water boasts over 27M views. Production for the 10-episode, hour long series is currently underway in Atlanta, GA. STEP UP: HIGH WATER will premiere on Youtube Premium in 2019.
NE-YO returns to reprise his role as "Sage Odom", legendary founder of Atlanta's famed High Water Performing Arts School. Ashley Greene will take on the role of "Nine Sanders," a New York City A&R rep who returns to her hometown of ATLANTA to oversee the details of "Sage's" tour. Jeremy Copeland will play "Zo Browder", a fierce, genderfluid, professional dancer, who brings real-world experience to "Sage's" dance crew.
Naya Rivera returns as "Collette" a former dancer and High Water administrator who has a long complicated history with both "Sage" and "Nine." The cast of series regulars, all returning for a second season, include Petrice Jones as "Tal", Faizon Love as "Uncle Al", Marcus Mitchell as "Dondre," Jade Chynoweth as "Odalie," Carlito Olivero as "Davis," Terrence Green as "Rigo," Eric Graise as "King," and Kendra Oyesanya as "Poppy."
Ashley Greene is best known for her role as Alice Cullen in the film franchise THE TWILIGHT SAGA. Jeremy Copeland is an American professional Dancer and Choreographer who has worked with names such as Beyonce, Jennifer Lopez, Rihanna, Jessie J, Ariana Grande, Kanye West, Pharrell, Janelle Monae and more. JaQuel Knight has choreographed for Beyonce since his was 18 years old, winning MTV VMA Awards for his work on "Single Ladies" and "Formation".
STEP UP: HIGH WATER is based on the wildly successful STEP UP film franchise that grossed $650 million at the global box office. STEP UP: HIGH WATER is created and executive produced by showrunner Holly Sorensen (Recovery Road, Make It Or Break It). Adam Shankman, Jennifer Gibgot and Meredith Milton, all producers of the original Step Up films, executive produced season one, along with Channing Tatum and Jenna Dewan, who both co-starred in the original Step Up film. All will be returning to executive produce for the second season.
Viewers can watch Season One of Step Up: High Water exclusively on Youtube Premium on the Step Up: High Water channel. #StepUpSeries | @StepUpSeries
YouTube Premium is a subscription service that offers access to Youtube Original series and movies, a streaming music platform, and an uninterrupted, ad-free experience across all of YouTube. Youtube Premium is currently available in the United States, Australia, New Zealand, Mexico, Austria, Canada, Finland, France, Germany, Ireland, Italy, Norway, Russia, Spain, Sweden, and the United Kingdom. www.youtube.com/premium.
Related Articles