Click Here for More Articles on Shutdown Streaming
Taylor Iman Jones, Michael Mott, Ben Bogen and More to Take Part in BAY AREA THEATRE LIVE!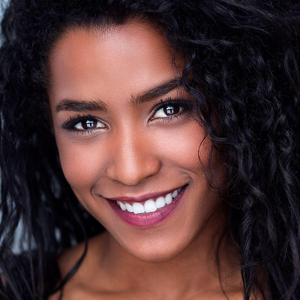 Bay Area Theatre Live! is bringing together over 20 Broadway and Bay Area Stars performing for a LIVE audience via YouTube and Facebook in an effort to raise money for Bay Area Theatre Companies affected by COVID-19.
Bay Area Theatre Live! was put together in a response to local Bay Area theatre companies struggling during the COVID-19 restrictions, and losing live audiences. This presented theatres in the Bay Area with the potential loss of thousands and thousands of dollars in revenue for shows that had been planned for years.
Broadway Stars appearing in the show include: Taylor Iman Jones (Hamilton, Head Over Heels, Groundhog Day, American Idiot), Ben Bogen (Disney's Frozen, Jersey Boys), Isaiah Boyd (Book of Mormon), and Broadway Composer, Michael Mott.
A.J. Mizes, a local bay area/Orinda resident, thought of the idea while hearing stories about friends running theatre companies and the tough times they were facing. As an actor himself, Mizes knew there must be something that could be done to help them in this trying time.
After receiving enthusiastic responses from The Ballet School Performing Arts (Walnut Creek, CA), CenterREP (Walnut Creek, CA), Ray of Light Theatre Company (San Francisco, CA), Town Hall Theatre Company (Lafayette, CA), and Broadway By the Bay (Redwood City, CA), Mizes was convinced that he had a show.
The show has received a tremendous amount of support in only 24 hours. It has raised nearly $1,000 before the show has even aired, and over 300+ event responses on Facebook. Bay Area Theatre Live! has a goal to raise at least $5,000 by the time the show finishes. Audiences can donate by visiting donate.bayareatheatrelive.com and clicking on the DONATE NOW button. After the show airs, the total amount of the funds will be split evenly between the five participating theatre companies.
"I could not be more proud to be putting on this show alongside so many incredible artists and theatre companies. What started out as a little idea in my head has really turned into a full-fledged show with some unbelievable talent. I could not be more grateful for the response it's received and to raise money for the arts which could really use our help! The Bay Area theatre community is so important to the ecosystem of the Bay Area, and we have to do everything we can to preserve it!"
-A.J. Mizes, Producer, Bay Area Theatre Live | Orinda, CA
"I am so excited to take part in this special evening raising awareness for a good cause and hopefully spreading some joy to everyone in quarantine."-Michael Mott, Broadway Composer
"I am so elated to be apart of Bay Area Theatre Live. The experience that I had performing in the Bay Area changed my life, so it feels really special to be apart of this! I'm pumped!"-Ben Bogen, Actor (Disney's Frozen, Jersey Boys)
"I am so excited to be performing where my heart is! The Bay Area theatre community is the most loving and supporting place, and I am honored to be a product of it. I know we'll find a way through this crazy time, and I am so honored to be a part of this show and to hopefully return even a little of what the Bay has done for me."-Taylor Iman Jones, Actor (Hamilton, Head Over Heels, Groundhog Day, American Idiot)
DETAILS
WHAT
Bay Area Theatre Live!
WHO
Produced by: A.J. Mizes
Featuring Broadway Stars: Taylor Iman Jones, Ben Bogen, Isaiah Boyd, Michael Mott
Featuring 15+ Bay Area local performers
TICKETS: FREE
Visit www.bayareatheatrelive.com to find details on where to watch
WHEN
Wednesday, May 13 @ 5pm PST/8pm EST
FULL CAST LIST
Alex Rodriguez
Andrew Mondello
Ben Bogen
Branden Noel Thomas
Chris Boccard
Daniel Lloyd Pias
Estelle Mocny
Gregory Lynch
Heather Orth
Isaiah Boyd
Jessica Coker-Mohr
Katie Sovik
Lynda DiVito
Mark Farrell
Meaghan Wottrich
Michael Mott
Michelle Ianiro
Neal Pascua
Nick Quintell
Sam Faustine
Sean Kana
Suzie Shepard
Taylor Iman Jones
Vida Mae Fernandez
Related Articles
More Hot Stories For You
Patti LuPone Wants to Narrate Mary Trump's New Book For Randy Rainbow to Lip-Sync
Could we be getting a new Randy Rainbow/Patti LuPone collaboration? We sure hope so!...

QUIZ: Attend the Winter's Ball to Find Out Which Hamilton Star Will Be Your Date!
We're going back to 1780 for A Winter's Ball (you know, where the Schuyler Sisters are the envy of all?) for our latest Hamilton quiz!...

VIDEO: On This Day, July 9- Lin-Manuel Miranda, Phillipa Soo, Ariana DeBose, and Leslie Odom, Jr. Say Goodbye to HAMILTON
On this day in 2016, original Hamilton cast members, Leslie Odom Jr., Phillipa Soo, and Ariana DeBose along with the musical's star and composer, Lin-...

VIDEO: Listen to Act 1 of HAMILTON, Acted Out by The Muppets
Voice actor and comedian Ricky Downes III has recorded all of Act I of Hamilton... in the voices of all The Muppets!...

Broadway League Approves 15-Second COVID-19 Test For Actors and Crew; League President 'Cautiously Optimistic' About Early 2021 Return
Broadway League President Charlotte St. Martin told the New York Post that for the first time, she feels 'cautiously optimistic' about Broadway being ...

BROADWAY AT HOME on PBS Continues With GREAT PERFORMANCES: SHE LOVES ME & More
Beginning July 24, GREAT PERFORMANCES will continue to keep the performing arts alive with Broadway at Home, broadcasting a theatrical favorite every ...