THE BRIDE'S DAD IS LIVID! Comes to New York City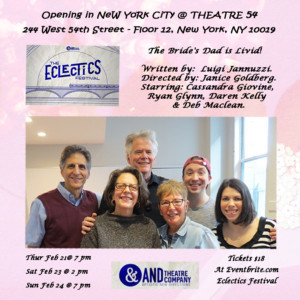 The Bride's Dad Is Livid! by Luigi Jannuzzi, directed by Janice Goldberg and starring Cassandra Giovine,
Ryan Glynn, Daren Kelly & Deb Maclean will premiere on Thursday February 21 at 7 pm, Sat February 23 at 2 pm & Sunday February 24 at 7 pm.
Luigi has 40 plays published by Samuel French: YOU MAKE MY FRAME SHAKE! (13 One acts),
EXHIBIT THIS! - THE MUSEUM COMEDIES (13 One acts), ALL THE KING'S WOMEN (8 One acts),
NIGHT OF THE FOOLISH MOON, FOR THE LOVE OF JULIET, A BENCH AT THE EDGE,
THE BARBARIANS ARE COMING, THE APPOINTMENT, and WITH OR WITHOUT YOU.
Luigi is a contemporary American comedic playwright. His play A Bench At The Edge won best one act in Northern Ireland last month, will be representing that country in the 86th British One Act Finals in July and later this month will have a professional production at The King's Arms Theatre, in Manchester City. He is a member of AndTheatre's "Improv to Script" lab with Kristine Niven, Hudson Theatre works, the Dramatists & Author's Guild. Website: www.LuigiJannuzzi.com
The play director is Janice Goldberg, one of the founders of AndTheatre Company. She is a Kennedy Center Gold Medallion Award Winner for her work with new plays. She has directed over 75 new works that have been seen uptown and down, across the country, from university to Off-Broadway. She directed the Off-Broadway premiere of the lauded I Of The Storm at the Gym at Judson. Her play Rose Colored Glass (co-written with Susan Bigelow) is published by Samuel French, Inc. and has had productions all over the world. Janice served as Artistic Co-Director of ANDTheatre Company, is a member of SDC, Dramatist's Guild, New Circle Theatre Company and a faculty member of the Dramatists Guild Institute.
For more information go to www.Andtheatre.org and for tickets go to https://www.eventbrite.com/e/eclectics-festival-xii-tickets... The play is part of AndTheatre's Eclectics Festival at the 12th Floor Theatre at 244 West 54th Street, New York, NY. Tickets are $18.