Click Here to Visit the College Center

Blogs are the opinions of the authors and do not necessarily reflect the opinions of BroadwayWorld. BroadwayWorld believes in providing a platform for open and constructive conversation.

Student Blog: Quick and Easy Broadway Costumes for Halloween
Have you ever wanted to dress like your favorite theater character? Now you can!
I am a big Broadway fan and I love dressing up as some of my favorite theater characters. I have done so for past Halloweens and when I've seen some live musicals. This is such a fun hobby that anyone can join in. Halloween is coming up, so I thought I'd share some of my theater character costumes for anyone who wants to use them this year.
1. A newsie from Newsies
Extra! Extra! Halloween is fast approaching and people are scrambling to put together some Broadway inspired costumes. If you want to read the full story, then all you need is five cents and this paper will be yours. Newsies, a musical that has my heart, is about the newsboys strike of 1899 in New York City. All the boys were poor and spent their time giving out newspapers to people in the streets, so their outfits reflected their low social status. This means creating a newsboy costume is very very easy. You can take a random beat up shirt or a button down shirt like I did for my outfit. Over it is a grey or brown vest, the type that is typically worn by men in three piece suits, so you can take one from your dad's closet, what I did, or borrow one from a friend. All this can be paired with any kind of long or short grey pants that can be found in many stores and brown lace up boots that I happen to own or any brown shoes with laces you may have. The staple newsboy accessory is the iconic grey cap. I got mine from one of the Broadway shops in Times Square, but you can get one anywhere online. Last but not least, you definitely need a newspaper in your hand. If you're going trick or treating, you don't need to do an impressive flip or jump as your fun trick like the stage actors do. Instead, you can give everyone a treat, a part of a newspaper, so you can feel like a real newsboy.
2. Cady Heron from Mean Girls
If you want to dress like your favorite mean girl, look no further with this totally fetch outfit. Inspired by the cult classic teen movie, the musical Mean Girls takes the well-known story to the stage with hilarious new songs. Everyone knows that on Wednesdays you wear pink which is something Cady Heron has to learn when she meets the three popular girls, Regina, Karen and Gretchen, for the first time at her new high school. She doesn't have a sense of style yet which she develops throughout the show, so her first pink outfit is very dorky. Cady wears an oversized pink polo that her friend Damian gives her, so if you're a girl, a men's size pink polo would work. She wears random blue jeans that everyone has. One her feet are socks and sandals, again, very dorky and something most people would not wear. Any type of socks and sandals would do. As for accessories, Cady has a woven bracelet, so if you know how to make friendship bracelets, then you can make one for this costume. When pairing all these items together, you will be a girl from Africa.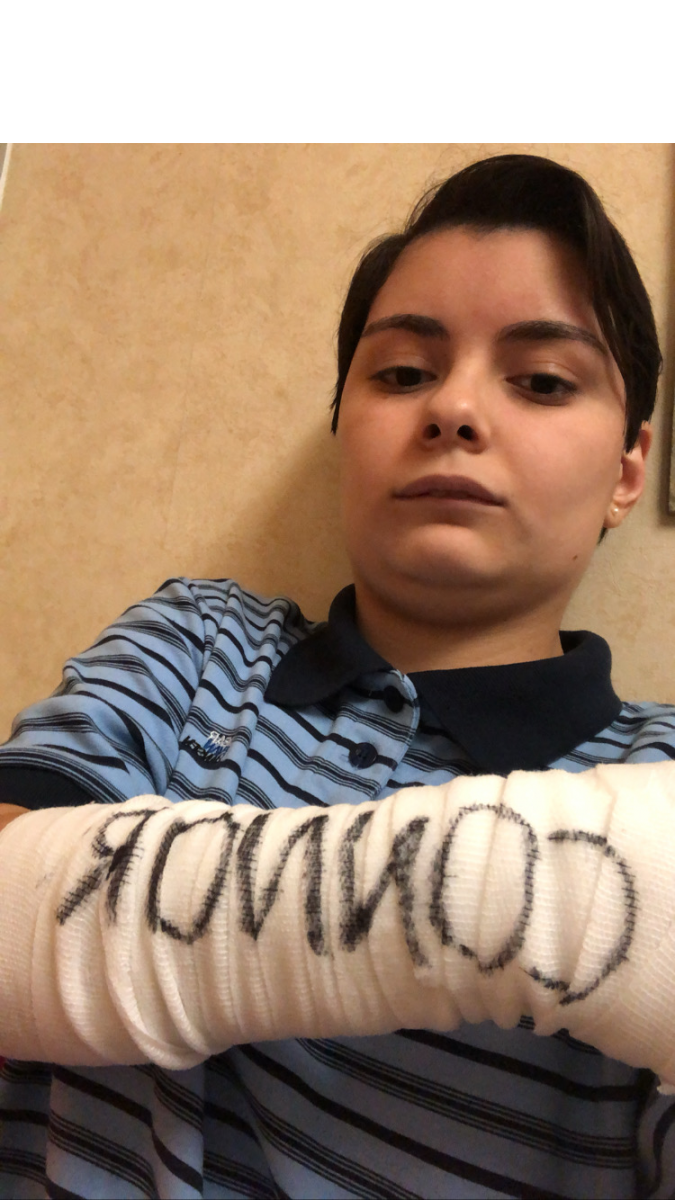 3. Evan Hansen from Dear Evan Hansen
Everyone has heard of the Broadway hit musical Dear Evan Hansen, especially me since it is my all-time favorite musical and I have seen it many times. The musical's plot is based around sad themes of mental health, suicide and broken homes that make audience members cry and I've definitely had my fair share of tears when seeing it. Other than the notable and emotional plot, there is an iconic outfit the titular character Evan Hansen wears that can be seen on the cover of the playbill: a blue striped polo and an arm cast. It is very easy to channel one of my favorite theater characters for Halloween and I did it a few years ago which was very fun. You don't need to have the replica polo sold as merchandise at the show, any blue striped polo will do. The bottom is khaki pants that can be found at any clothing store. Evan wears grey New Balance sneakers, but your sneakers don't have to be brand specific. As for the arm cast, white gauze from drug stores can be wrapped around your arm and you might need two rolls if your arm is long. The finishing touch is the name "CONNOR" written in big capital letters on the fake arm cast just like how Connor does in the show. Now you are everyone's favorite lying teenager.
4. A Mormon from Book of Mormon
Book of Mormon is a very popular long running Broadway musical based around the mormon religion with many many mormon characters. Everyone of the main mormons has different personalities, but they all wear the same simple outfit, so you can be any character you want when wearing this outfit. Mormons have to look pristine, so they wear a white short sleeve button down shirt, black pants, a black tie and black shoes. For this costume, you can wear black dress pants or simple black pants. The shoes don't have to be anything fancy so any type of black laced shoe works and a black tie is very common so maybe a man in your life (dad, friend, uncle...) can lend you theirs. As for the accessories, the Mormons have name tag with their name and the book of mormon. You can just print a fake name tag and stick it on with tape and take a random book that you can tape a piece of paper entitled "BOOK OF MORMON" on it. If you go trick or treating, when going to your neighbors houses or apartments, you can pretend to be a mormon who's trying to convert people, your neighbors, to join your religion, but this should only be done for fun. And you can also sing "I am a Mormon" cause you'll be a Mormon.
5. Jenna, Dawn and Becky from Waitress
Waitress is a lovely musical about pie. It is nicknamed the pie show because it is about waitresses in a pie dinner who make pies, real and fake pies are used onstage, pie can be smelled when walking into the lobby (a fresh pie is made for every performance) and small pies are sold during the show. You can pretend to be a waitress too this Halloween. Just grab a light blue dress and a white apron and you're ready to go. I got my dress from online and any straight simple dress you have is fine. A white apron is out over it and paired with white laced shoes, deck shoes or sneakers work. Waitresses always have name tags and I printed a fake one with the name Dawn who is the character I dressed as. Depending on who you want to be, a pony tail for Jenna, a half ponytail and glasses (real or fake) for Dawn (I used my own prescription glasses) or a bun for Becky can be worn. Your super fun accessory can PIE! Or pie ingredients.
Whether you are a huge Broadway fan like me or a casual fan, you can go all in for these costumes or just have character inspired outfits and you'll have a fun theater inspired Halloween.