Click Here to Visit the College Center

Blogs are the opinions of the authors and do not necessarily reflect the opinions of BroadwayWorld. BroadwayWorld believes in providing a platform for open and constructive conversation.

Student Blog: Mic Drop! (Literally)
Can't get over that voice crack, line drop, or costume malfunction? Well, me neither, so let's go through 4 of my most laughable moments together.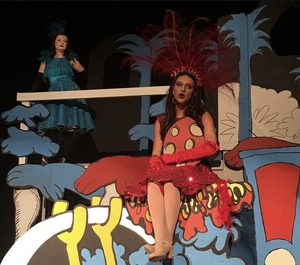 Can't get over that voice crack, line drop, or costume malfunction? Well me neither so let's go through 4 of my most laughable moments together. Moment one takes place in the colorful land of Seussical The Musical. I was living in the pompous feathers of Mayzie La Bird, while backstage incredibly close to my entrance at the circus, I tripped over myself and accidentally body slammed into The Cat In The Hat while trying to get on stage. But it's not over because then someone stepped on my tail (long boa) and it got ripped off just as my heels touched the stage. But the show must go on, right? Long story short, I did not make that entrance with a tail attached to my dress. Moment two happened during our annual "All I Want For Christmas Is You" show choir performance. I loved that number. But my senior year, that number betrayed me. Though I had done It 3 time's prior and there were no major slip-ups then, something just had to go wrong the final time through. During the song my microphone fell through my dress, wrapped around my leg, and began dragging on the floor. So, panicked, I stopped dancing altogether to unravel it while everyone danced around me. I held the microphone in hand during the rest of the performance and did my best to pick up where I left off. To my convenience it happened in the back row, it only became EXTREMELY noticeable when the back and front row had to switch. It was an interesting sight yet one of my most cherished moments. The song ended and I held my mic pack in one hand and shrugged to the audience and laughter broke out.
Embarrassing? Maybe. I woke up and thought it was a dream but "Surprise!" it was not a dream. But I mean, it can't beat out when my skirt fell off during a dance number in a version of A Christmas Carol I was in a few years ago. This one is self-explanatory. I didn't connect the Velcro correctly and I paid for it, at least I was wearing cute Nike shorts underneath but I don't think they really worked for the time period of 1841 on the streets of London, oops. At first I thought maybe no one noticed, but that was a false reality. Now we move into a Mary Poppins Kite Flyer moment. Love that for me. I'm really glad this was dress rehearsal and not the actual production. These kites came up while we sang with a pulley. Once we hit "and send it soaring", my hat caught onto one of the kites and it looked like it was about to start soaring. Spoiler alert, the kite did not fly away with the hat because the other members of the ensemble were kind enough to free me from the kites clutches. And that's live theatre for ya. When something doesn't go as planned make it look like it was and if there's absolutely no possibly way to make it look like it was planned, parade on. It was just a moment. "A peculiar passing moment." That's what live theatre is for. The moments. Soak them up, they aren't all perfect but they're yours.