Click Here to Visit the College Center

Blogs are the opinions of the authors and do not necessarily reflect the opinions of BroadwayWorld. BroadwayWorld believes in providing a platform for open and constructive conversation.

Student Blog: Industry Expectations: Why a College Senior is Scared to Work
Adulthood is coming into focus, and for a life in professional musical theatre, there are some sacrifices I'm not sure I'm ready to make.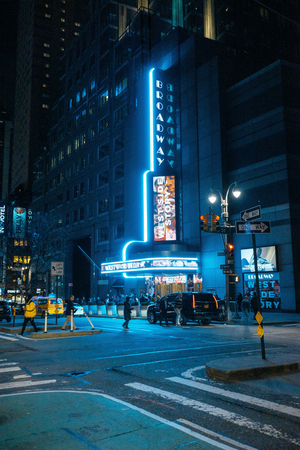 I was fifteen years old when I decided I wanted to pursue musical theatre professionally. But now, I'm nine months from graduating from a BFA Musical Theatre Program in New York, and all I can think about is how much I have to sacrifice to pursue what I love.
I'm not afraid to sacrifice time. I was a straight-A student in high school and college, so I'm comfortable dedicating hours and days to studying to achieve an academic goal. Through high school and college, I've given up the opportunity to sleep in, spend time with friends, and pursue hobbies I enjoy for rehearsal, practice, or class, all motivated by my desire to achieve my professional theatre goals.
Adulthood is coming into focus, and for a life in professional musical theatre, there are some sacrifices I'm not sure I'm ready to make.
I can't change my look. For an actor, a hairstyle change can cost more than just the salon price. Changing your look requires new headshots, which can cost a lot. When my last headshots were done for college auditions, I was seventeen years old and rocked long, box-dye blonde hair. I felt like I couldn't go back to my natural brunette, or experiment with exciting colors because I didn't want to have to pay for new headshots. I've considered shaving my head on several occasions but knowing I wouldn't match my headshots has kept me from starting the razor. And I'm a white woman! I can only imagine the challenging experience of black performers who are required to appear in an audition with their hair styled the same way as in their headshot. My sisters and I have planned on matching tattoos for a few years, but I don't know where to get it where I can hide it for a show, but still be able to display it off stage. If I got it on my arm, it would have to be covered by a costume piece or makeup for every show. But am I good enough to justify a tattoo and extra work to cover it up for the stage?
My living situation has to be safe, but flexible...and based in New York City. Where am I supposed to live after I get my BFA? I want to perform, but it seems unrealistic to move to NYC right out of school. But what if I sign a rental contract, then book a tour or out-of-town show? Now I have to worry about a sub-lease and hope to avoid fees or other trouble for short notice moving. Somehow I'm supposed to have the flexibility to perform anywhere, while still keeping a roof over my head.
I can't commit to a partner. What if I get a national/international tour and leave for a year or more? Who would want a partner who works all night, sleeps all day, and is never home? Auditioning is a full-time job, and doesn't offer support for a partner. I want kids, but can I raise a family in New York City?
I can't get hurt. If I get hurt, physically, vocally, or mentally, I can't work. Theatre is built for able-body performers, isolating disabled artists. A musical theatre performer's body is expected to perform at peak capacity at all times, and if that suddenly were not the case, audions, work, and classes could come to a screeching halt.
The "struggling artist" troupe is harmful. I'm scared to do the job I love and want. The glamorization of "making it" or "struggling on your way to the big stage" needs to end.
I feel alone in these fears and anxieties. It seems my fellow almost college seniors who are looking at internship and job opportunities in fields like education, humanities, science, business, and more aren't worrying about these things. From my perspective, they get to settle down with one company for as long as they'd like. They can build a life and family in one place, and I'm jealous that no other job expects these standards from their employees.
I want to build my own rule book, and be authentic to myself, but how? Everything is so competitive, it seems impossible to get work if you're not the perfect blank and malleable chess piece that producers can use. The logical part of my brain says "Just be true to yourself and the work will follow!" But how do I pay the bills while I wait for the work?
I know there are plenty of professionals that have it all: Broadway credits, a family in NYC, and the ability to present themselves however they want, but I feel like I can't. I shouldn't feel like I need the talent to justify appearance choices, or anything else.
I know I'll figure it out. I'm fortunate to have a wonderful support system, financial skills, and an exciting future ahead. Everything will work out, and in the meantime, I get to enjoy my senior year of college with my best friends.