Click Here to Visit the College Center

Blogs are the opinions of the authors and do not necessarily reflect the opinions of BroadwayWorld. BroadwayWorld believes in providing a platform for open and constructive conversation.

Student Blog: Funny Girl is Coming Back to Broadway!
Beanie Feldstein is going to star as Fanny Brice in one of my favorite musicals, Funny Girl!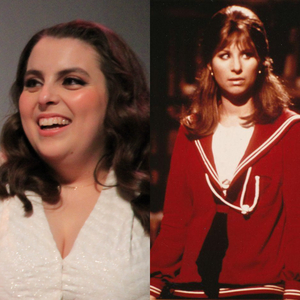 As a little Jewish girl growing up in a theatre-appreciating family, falling in love with Funny Girl was pretty much a rite of passage. For me it happened when I was in middle school, and yes it was in part because of Glee. I knew the song "Don't Rain on My Parade," but Glee made me take a closer look at the musical. Eventually I watched the movie, and I was enamored. Barbra Streisand as Fanny Brice empowered me. She showed me I could be funny, smart, talented, and beautiful, even with my "Jewish nose" - especially with my "Jewish nose." Also the music is just beautiful. And so a dream role was born.
Needless to say, every time I heard the rumors of a Funny Girl Broadway revival, I got excited. I heard the rumors a few years ago about a Lady Gaga led Funny Girl revival that never panned out. I wanted to see Funny Girl on the West End, but alas that was in London, and I could not see it. When I heard about this Funny Girl revival, my first thought was, "Oh my god, I hope it's real this time... and I hope whoever is cast as Fanny Brice is Jewish."
I saw people online throwing out their hopes and suggestions for who should play Fanny Brice, and there were alarmingly few Jewish women whose names I saw thrown into the mix. As much as I love Lady Gaga, and as great as she would be as Fanny, she is not Jewish, as far as I know. When it was announced that it was Beanie Feldstein, I was so incredibly happy that a Jewish woman would be playing Fanny Brice.
Back when Barbra played Fanny, she was at the beginning of her career. She wasn't a complete unknown, but she was far from a household name. Fanny Brice put her on the map, and it could do the same for Beanie! Personally, I have loved Beanie Feldstein's work in what I've seen her in. Ladybird and Booksmart are two of my favorite movies, after all! She's such a charming and funny actor, and I think she has the right charisma to play Fanny Brice.
Beanie Feldstein is a powerful choice for Fanny Brice not only because she is legitimately Jewish, but also because of all the ways in which she veers from the "traditional" Broadway leading lady. Beanie Feldstein is openly queer, and she posts adorable couple pictures of herself and her partner Bonnie Chance Roberts on her Instagram frequently. Feldstein also represents an underrepresented body type seen in Broadway leading ladies, and, while all bodies are beautiful, I think it is so nice and refreshing to see a different kind of beauty on the Broadway stage. Feldstein also didn't graduate from a BFA program; she got her degree in Sociology from Wesleyan in 2015! I think that's so cool!
As I said before, Fanny Brice is a chance for Beanie Feldstein to really make a name for herself in the entertainment world. I've seen a lot of people online dismissing her, claiming that she's only gotten where she is because she's Jonah Hill's sister and Ben Platt's friend. Apparently a Golden Globe nomination was not enough to convince those people. While those connections may have helped her, I think that Feldstein has proved herself to be talented in her own right. Fanny Brice will give her a chance to step out from these men's shadows and truly shine as herself.
I am so excited to see what Beanie Feldstein brings as Fanny Brice, and I can't wait for 2022 when the first ever revival of Funny Girl opens on Broadway!