Click Here to Visit the College Center

Blogs are the opinions of the authors and do not necessarily reflect the opinions of BroadwayWorld. BroadwayWorld believes in providing a platform for open and constructive conversation.

Student Blog: For the Love of Theatre, Get Vaccinated!
Because getting back to Broadway is a team effort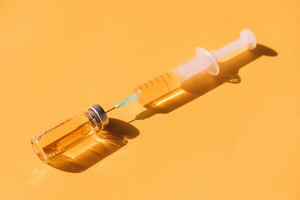 If you're at all like me, you may or may not have shed some tears listening to the Waitress Broadway cast sing "Opening Up" at their first rehearsal since 2020. Or wept a little harder when you saw this TikTok by @tiktoktravie, which captured the first "it's good to see me, isn't it" by a Glinda in Wicked since the start of the pandemic. Both videos gave me a sense of hope, optimism, and yearning for how wonderful the near future can be - as well as full-body chills. However, there is a duality to this excitement, as underneath lies the ever-growing threat of the Delta variant. And although NYC Mayor de Blasio has mandated vaccines not only in theatres, but also in all indoor entertainment venues, restaurants, and gyms, I, like many others, have fears that COVID will continue to have a strong hold on our lives as variants - and misinformation - surge through this country.
The thing I love about theatre above nearly all else is the sense of community it provides. When you're working on a production, you are a member of a team, doing your part to make sure the show and all involved succeed. Vaccination is the same principle, applied to all of humanity. Sure, when we participate in a show, we have to make sacrifices, whether it's losing sleep, free time, or focusing on relationships. But in the end, the experience of making theatre is worth it. Likewise, it isn't exactly fun to get a series of shots that give you temporary, mild COVID symptoms or a sore arm, nor is it the best feeling to read the news and see that it is still possible to get a breakthrough case (albeit a significantly more minor case than if you were unvaccinated), but the positives vastly outweigh the negatives, despite what your relatives on Facebook say. It's free, it's a way to make a contribution to re-opening this country and making it safer for vulnerable populations, and you won't have to worry about being on a ventilator. And, on the show business level, keeping actors, pit members, stage managers, directors, and other staff healthy and safe is key to ensuring that these planned productions are able to open - not just because so many people have missed live theatre, but also because these people's jobs and lives are on the line if the pandemic goes south once more.
In order for us to truly "open up" and get back to feeling that undeniable magic that theatre provides, we must collectively do the right thing to protect ourselves and an industry that is yearning to bounce back better than ever. For some answers to some commonly-asked questions about vaccines, visit this page on the CDC website. But for now, wear a mask in public, get your vaccines if you haven't already, wash your hands - and then buy your tickets! Intermission is almost over, and I can't wait to safely get back into my seat.