Click Here to Visit the College Center

Blogs are the opinions of the authors and do not necessarily reflect the opinions of BroadwayWorld. BroadwayWorld believes in providing a platform for open and constructive conversation.

Student Blog: Dreaming of a Better Industry
We need to do better, because theatre, and especially musical theatre, are such wonderful, beautiful art forms that allow for such incredibly creative varieties of storyt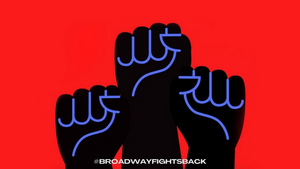 If you've been keeping up with Broadway news lately, then you know just how chaotic everything in the industry is right now--and this was mainly perpetuated by two articles that circulated at around the same time, one from Brooklyn Rail concerning the erasure of a character's transness in Jagged Little Pill, written by Christian Lewis and, the most prominent article/main thing I'll be discussing--The Hollywood Reporter's exposé of Broadway and film producer Scott Rudin.
While there was initially little fanfare surrounding the article by theatre news sites, soon enough they were forced to acknowledge it when Karen Olivo stepped down from her starring role in Moulin Rouge, an incredibly brave and necessary move on their part. And Olivo is far from the only prominent member of the theatre community to have spoken out, especially Our Offering creator Sis, as well as Eden Espinosa, Robin de Jesús, and founder of Broadway for Racial Justice Brandon Michael Nase.
All of this has cultivated in the organization of a protest scheduled for Thursday, April 20, at 1pm. The protest's list of demands can be found at the Instagram @50milesforjusticeprotest, but to boil the march down to its barest essentials, it's a protest against both Rudin after the release of The Hollywood Reporter article and the massive inequalities in the theatre industry.
This cause is so important. For too long, the theatre industry, and especially the Broadway industry, has been focused on serving wealthy, white, cisgendered men. This industry is not safe for Black people, for POC, for trans people, disabled people, for neurodivergent people, for children. We need to do better, because theatre, and especially musical theatre, are such wonderful, beautiful art forms that allow for such incredibly creative varieties of storytelling. Imagine how wonderful the industry could be if we managed to pry that power from the hands of the elite and put a focus on artists and the work they create.
From the moment anyone enters the industry, we are taught to keep quiet if we want to get cast if we want to work. We are told to be silent, not to speak up against abuse, against bigotry, against racism. Gaslighting is built into the very backbone of this business. Because here's the thing: the power is in our hands. The artists' hands. And if we all demand a better business that works for us all, so that no one is left behind, we will create a better community, with better art than ever before. We don't need Scott Rudin; he needs us.
If we all come together and fight against these people in power, if we demand change in the industry, we can make theatre a better place for future generations, for everyone who's ever dreamt of being on Broadway. Because we shouldn't have to compromise our art for our morals. We shouldn't have to overlook abuse, racism, transphobia, ableism, misogyny. When Broadway comes back from the pandemic, it should be serving everyone. And not just the wealthy few in power.
So if you can, come and join us at the march. If it's not your scene, that's okay. There's plenty of other things to be done. But we all have work to do. We're only just beginning, but I'm so excited for what the future holds.