Click Here to Visit the College Center

Blogs are the opinions of the authors and do not necessarily reflect the opinions of BroadwayWorld. BroadwayWorld believes in providing a platform for open and constructive conversation.

Student Blog: Am I Really as Brave as Everyone Thinks I Am?
Does everyone have the same perception of the word or is it individual to everyone ?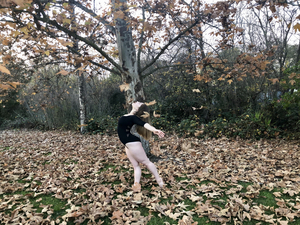 I've sat with my head in the clouds fogged with thoughts for days trying to figure out what to write about. Sometimes I don't always know what to say. I think to myself how can I give others' advice if I feel like I'm standing on unstable ground? Do I seem like I have it all together and that's why people come to me? Do the people around me look at my life choices and really see bravery? So I guess I will ponder these thoughts for you.
The truth is that I'm in the middle of starting over, and it's sort of scary.
I am not a student, or really an independent adult quite yet, I am somewhere in between. I live at home. I am figuring it out. There's a path I'm on and places I want to go and I'll get there soon. I don't have all the answers yet, but I'm doing my best to find them. Right now there are just blueprints to follow.
There will be many times when one day you pack up your life and wave goodbye to everything you once knew and run towards the unknown with nothing but yourself. It's scary and people will tell you how brave you are while you stand with your knees shaking with fear for what's in front of you. There are so many questions you don't have the answer to yet and so many ways this could all go sideways. It used to be a dream and now it's a-soon-to-be reality that we toy if we're even ready for.
Oftentimes I am praised for the courage I hold within me that allows me to chase after my dreams when in reality I'm not sure if I've ever really seen myself that way. This brave, courageous person is how my friends see me, or how my parents and their friends see me, not necessarily how I see myself. I just see a girl making her life everything she wants it to be. I'm just nervously taking the next steps in my life hoping I don't fall through the cracks in the broken street ahead of me. So though I guess while I may seem brave, it's not how I see things.
It is not to say that I don't think I have courage, it's just not a word I actively use to define myself. I don't live my life thinking to myself I'm so brave for doing this, but rather it's just ingrained in me. It's the natural next step. Some days I don't feel so courageous. I cry from time to time and am sometimes full of fear. But courage isn't all the things you aren't, it's all the things you are in spite of that. It's not just doing the big things in life fighting the fear that tries to hold you back. Courage is taking on the challenges without thinking twice about it. It's listening to your heart and following your dreams no matter what it takes or what anyone says. Sometimes it is standing alone or being alone and taking it as a part of the journey. It's knowing that everything will work out and be ok. So I guess maybe that is me.
Courage, I think, is a relative term. People will commend your bravery because the dreams you have or what you are doing scares them more than it scares you. Sure the next steps you take in life are big, but the difference is that there is a natural flow to those leaps and at some point the fear disappears somewhere along the way while you are flying.
Courage doesn't always feel like you're winning. Being brave is scary and making these decisions sometimes can feel like a jump off the deep end, but somehow the fear doesn't seem to stop you. The fear is just an afterthought.
So am I really as brave as others think?
To me my leap of faith is just the next logical move in my game of life. Maybe I don't think of the words courageous or brave to describe myself because making my dreams come true is just something I'm doing without a lot of torn thought of do I stay or go. Maybe it's because these are words that other people in my life have used to describe me for going after the same dreams they themselves didn't. So I suppose it depends on who's looking at you. You may seem brave to some, while to others it's just another dreamer running forward.