Review Roundup: What Do The Critics Think of Roundabout's APOLOGIA, Starring Stockard Channing?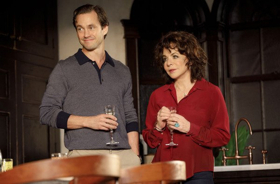 Direct from London, Alexi Kaye Campbell's biting play Apologia makes its New York debut with Stockard Channing in a powerhouse performance as a woman facing the repercussions of her past. Apologia is a passionate, human and humorous clash of generations and beliefs-a lively look at yesterday's rebels living in today's reality.
In addition to Stockard Channing as "Kristin", the cast features Hugh Dancy as "Peter" and "Simon," Megalyn Echikunwoke as "Claire," Talene Monahon as "Trudi," and John Tillinger as "Hugh."
Apologia officially opened last night. Let's see what the critics are saying...
---
Ben Brantley, The New York Times: Dane Laffrey's set (expressively lighted by Bradley King), a mixture of country comfort and academic obsession, creates a natural environment for the examination of these specimens of humanity. And Anita Yavich's costumes are always subtly, sociologically appropriate.
Yet the dialogue only rarely feels organic. And though Ms. Monahon and Ms. Echikunwoke are very good, they don't disguise the schematic roles of their characters. Mr. Tillinger, best known as a director, is delightful as that hoary staple of contemporary comedy, the outspoken gay best friend.
But it is Ms. Channing's complex, contradictory Kristin who keeps us thinking long after the play is over. And the wordless, gut-deep howl with which she concludes "Apologia" is more wrenching and revelatory than any of the carefully arranged words that precede it.
Adam Feldman, Time Out New York: Drawing on inner reserves, Channing manages to make Kristin-who is gratuitously mean to nearly everyone, including Simon's shallow (and shallowly written) actress girlfriend, Claire (Megalyn Echikunwoke)-a compellingly conflicted figure, but the play doesn't give her a lot to work with. It creaks with contrivances (identical mobile phones, a randomly meaningful African mask) and clunky, expositional dialogue ("'Kristin Miller's series of articles for The New Statesman in the 1970s changed the way we look at art forever,'" says Trudi. "That's a quotation I found online.").
Greg Evans, Deadline: Channing, who at least since Six Degrees of Separation has made art of the brittle intelligentsia, is a fascination, even when she seems a bit out of step with the production's staccato rhythms (Monahon's's Trudi seems to have trained with Mamet). Dancy, like James Franco and Patty Duke before him, plays identical blood relations - which is not, be assured, the same as twins - and gets away with it as much as anyone can in the gimmicky situation. If the doublemint ruse in Apologia feels less than satisfying, it's perhaps to do with a dinner party where one serving of mom-blame would have been plenty. Two feels a bit of a gorge.
David Rooney, The Hollywood Reporter: Kristin Miller is a juicy role for the inimitably acerbic Channing. Or she would be if the complex character hadn't been shortchanged by the playwright. The 60-something public intellectual is brittle and brilliant, whether dispensing witty put-downs, illumining her audience on the sublimity of Giotto's frescoes, or deflecting criticism of her patchy presence in the childhood of her sons, Peter and Simon, played in contrasting moods by Dancy. But Kristin is denied the basic function contained in the single word title of both the play and her memoir: "Apologia."
Sara Holdren, Vulture: Aukin doesn't do any earth-quaking: He and his designers try to make Apologia go down as smoothly as possible, giving us the familiar domestic battleground and all the well-known snappy rhythms and emotional swells. But it's a con, and a con that thinks it's high-minded when in fact its very existence is predicated on worn-out dramaturgy and essentially sexist argument. Apologia might look like a thoughtful play, sound like one, smell like one, but, as one of it's characters might put it - is it?
Melissa Rose Bernardo, New York Stage Review: You'll be tempted to sympathize with Kristin, but, my goodness, Campbell doesn't make it easy. Her claws come out every chance she gets-for instance, describing Claire as a "big gaping hole," and calling her soap "without a doubt the biggest pile of putrid shite I have ever seen in my life." Pretending to show interest in Peter's job: "How's that awful bank you work for? Still raping the Third World?" And reacting with puzzled disdain at Peter's and Trudi's faith, or, as she calls it, "outmoded patriarchal propaganda." (In fact, Trudi's Christianity seems designed explicitly to elicit bitchy comments from Kristin.) She is gifted a tender, Arkadina-esque scene with Simon, when she's bandaging his hand in her dimly lit kitchen-because of course the best way to remove splinters is in near-darkness: "You were never there," he whispers. "I have to tell you now that the thing I remember most about you is your absence." And she wasn't; she knows that. She can't even look at Simon. Her ex-husband took the boys away-just took them from right under her nose in Florence; we know this at this point.
Steve Suskin, New York Stage Review: Channing had a grand success in a 2017 London revival of Apologia, also at Trafalgar Studios. (This was from an altogether different creative team, led by director Lloyd, as well as a different cast-although the Roundabout gives Trafalgar above-the-title credit.) She is equally successful here, and makes Apologia well worth a visit. In this viewing, though, the play is not nearly up to the star.
Robert Hofler, The Wrap: Channing plays this no-nonsense provocateur to perfection, and Campbell gives her a quiver full of poison arrows to skewer the second-rate (Peter) and third-rate thinkers (Trudi and Claire) around her. Kristin takes no prisoners. Even the overuse of a certain word, like "hilarious," can propel her to prowl the stage, setting up her attack, and then go in for an especially bloody kill.
To read more reviews, click
here
!