Review Roundup: What Did the Critics Think of CARMEN JONES?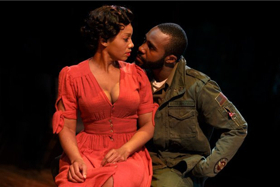 Classic Stage Company's new production of the musical Carmen Jones, featuring Tony Award winner Anika Noni Rose, had its official opening Wednesday, June 27.
Directed by CSC's Tony Award-winning Artistic Director John Doyle and choreographed by Tony Award winner Bill T. Jones, Carmen Jones features book and lyrics by Oscar Hammerstein II and music by Georges Bizet. The first major New York revival of the musical since its Broadway debut 75 years ago, Carmen Jones will play a limited engagement through Sunday, July 29. Carmen Jones will mark the finale of CSC's 50th Anniversary Season. Joining Rose in the cast of Carmen Jones are David Aron Damane (Husky Miller), Erica Dorfler (Myrt), Clifton Duncan (Joe) Andrea Jones-Sojola (Sally), Justin Keyes (Rum), Lindsay Roberts(Cindy Lou), Soara-Joye Ross (Frankie), Lawrence E. Street (Dink) and Tramell Tillman (Sergeant Brown).
Set in the South as World War II rages overseas, Carmen Jones tells the story of a tempestuous parachute factory worker who ignites her own battle in a tragic love triangle with an airman and a prizefighter. Adapted from Bizet's legendary opera Carmen, Hammerstein shifted the story from Spain to World War II America, featuring an all African-American cast. Carmen Jones premiered on Broadway in 1943 and ran for over 500 performances. A 1954 film version, directed by Otto Preminger, starred Dorothy Dandridge and Harry Belafonte.
Let's see what the critics are saying...
---
Ben Brantley, The New York Times: Mr. Doyle, however, has a way of taking a stethoscope to overdressed shows, listening for the compelling heartbeat beneath stereotyped surfaces and translating what he hears into elegantly spartan stagecraft. That was the approach to his Broadway interpretations of Stephen Sondheim's "Sweeney Todd" and, more surprisingly, the Tony-winning 2015 revival of "The Color Purple," a musical adaptation of Alice Walker's landmark novel, which had seemed bloatedly sentimental in its first New York outing in 2005.
But "Carmen Jones" may be his most unexpected act of reclamation. In this version at Classic Stage, where the British-born Mr. Doyle is the artistic director, the doomed title character and the people whose lives she damages often seem as timeless as the beautiful and damned of Greek tragedy.
Matt Windman, amNew York: While the opera's blockbuster moments may feel underpowered, he arias and two-character scenes take on extended potency in the intimate environment. And all in all, the 10-member ensemble cast is vocally spotless.
David Rooney, The Hollywood Reporter: For the principals in particular, this is a hard sing - the original Broadway production included alternates for all the main roles - which makes the cast's accomplishments here all the more impressive despite some occasional strain. The revival is presented in the round, and the power of the vocals in such an intimate space, seating just 200, is thrilling. That goes also for David Aron Damane as the swaggering strongman Husky, with his booming bass notes, and for Tramell Tillman as the arrogant Sergeant Brown, his meanness stoked by Carmen's preference for Joe over him. The entire 10-member ensemble registers with distinctive characters, but the show belongs to Rose, the smoldering core around whom everyone else revolves.
Donna Herman, New York Theatre Guide: For the most part the cast succeeded admirably in avoiding the operatic melodramatic stiffness and posturing often associated with opera. While singing gorgeously. Anika Noni Rose is a revelation both as a singer and an actress in the role of Carmen Jones. The voice which belted out songs in Dreamgirls, soars like a bird in Carmen Jones, while retaining a natural, believable quality. Her characterization of Carmen is masterful and mesmerizing.
Robert Hofler, The Wrap: It's a little odd to hear Carmen's arias sung by a soprano, but Anika Noni Rose seduces with an ultra-cool presence, if not the requisite low notes. She sits back and lets the men on stage, as well as the audience, come to her. In a very intimate Off Broadway theater, it's not easy to sing opera without showing the physical effort involved. We're essentially watching her in close-up throughout the show. Rose gives a masterful minimalist performance, one that's delivered with utter confidence, which is the hallmark of every great Carmen.
Jonathan Mandell, DC Theatre Scene: One can say much the same thing about Carmen Jones as a whole. Because it's a classical opera, it gets a pass for a view of mankind (and especially of womankind) that audiences couldn't accept from a new work. Because it's musical theater, there is none of the fussiness or fustiness that can attach itself to opera. Straddling opera and musical theater, it arguably gives us the best of both worlds.
To read more reviews, click
here
!