Review Roundup: SING STREET Opens At New York Theatre Workshop - See What The Critics Are Saying!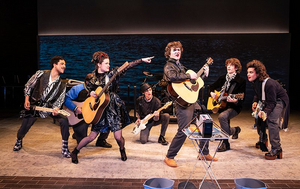 New York Theatre Workshop presents the new teen rock musical Sing Street! Check out reviews for the show's world premiere!
Sing Street is a new musical based on the motion picture written and directed by John Carney (Once, Begin Again). Sing Street features a book by Tony Award winner & NYTW Usual Suspect Enda Walsh (Once, Lazarus), music and lyrics by Carney & Gary Clark (frontman of Danny Wilson), direction by Tony Award winner & NYTW Usual Suspect Rebecca Taichman (Indecent) and choreography by Obie Award winner Sonya Tayeh (Hundred Days).
Dublin, 1985. Everyone is out of work. Thousands are seeking bluer skies across the Irish Sea. Sixteen-year-old Conor and his schoolmates turn to music to escape troubles at home and impress a mysterious girl. With a score that embraces the new wave sounds of the era, Sing Street celebrates the thrill of first love and the power of music.
Let's see what the critics are saying!
Ben Brantley, The New York Times: There is throughout some lovely interlacing of bubbly pop and more somber, contemplative strains, as when Moran's priest intones a prayerful counterpoint to the band's aching love song "Dream for You." (Martin Lowe did the orchestrations and arrangements.) Or when Conor's older sister, Anne (Skyler Volpe, lovely), erupts into rage as her parents bicker, pounding a tattoo on the kitchen table that becomes the drum beat for the band's exploration of the sexual divide, "Girls." And the show's finale, "Go Now," is a sentimental knockout. During such moments, you hear the voice of the more fully satisfying musical that "Sing Street" could become. The band at its center is already in precociously fine shape. It's the show that surrounds it that still needs fine tuning.
David Cote, Observer: Based on the muted and disappointing Sing Street at New York Theatre Workshop, however, the creative team should have taken longer, failed more, and learned from their mistakes. Most of what's fresh and appealing in the film (which is cheerfully formulaic) has been lost in a leaden theatrical frame that saps milieu, character and music-making of any tension or charm.
Melissa Rose Bernardo, New York Stage Review: A scrappy little Irish movie written and directed by John Carney is transformed into an intimate musical at New York Theatre Workshop, smartly adapted by playwright Enda Walsh and airily designed by Bob Crowley, where the actors are indistinguishable from the orchestra.
Steven Suskin, New York Stage Review: Given the outsized success of the Tony and Olivier-winning Once, the new Sing Street is not quite as unlikely sounding, arriving with high expectations. Unreasonably high and unrealized, it turns out. Sing Street turns out to be slightly better-than-average. The magic of something like Once, alas, rarely comes twice.
Alexis Soloski, The Guardian: Taichman directs with immense empathy, but her physical production feels similarly static. She works mostly without set or props, save for a table and some chairs. The background, by the set and costume designer Bob Crowley, is an image of the Irish Sea, initially interesting as a metaphor and then increasingly empty. In a show in which what little plot there is turns on the recording of videos, it seems strange never to project any of the band's efforts. This doesn't mean Sing Street should pack away its electric guitars. It has a gifted cast, a kind heart and some very cool keyboard action. If it could synthesize all that with a more vital story, who could get enough?
David Rooney, The Hollywood Reporter: The burgeoning romance between Conor and Raphina is nicely played by O'Connor and Devlin, who respectively hail from England and Ireland and are stronger actors than singers - merely adequate in the latter department. Their love story is nudged along in halting fits and starts, cramped by the threat of Raphina taking off to England with her unseen older boyfriend. This thread, too, could be more robust, but the gentle handling also has its charms. Even when it veers toward corny sentimentality, the show's thematic focus on the resilience and hopefulness of youth exerts a persuasive pull. That makes you root for this sweet but not yet quite substantial enough musical to maximize its many assets and become a real contender.
Helen Shaw, Vulture: The fine-boned Halper is warm and unaffected with his brother, while serving us peak Richard Marx, hair floofed in a mousse-y pile. Devlin has command and vulnerability and freshness-not three things you often find together. If we bristle at her dramatic function as a lovely muse (Conor writes her a song called "The Riddle of the Model"), her performance makes a case for her as the play's center, rather than its prize. And O'Connor paradoxically makes a wonderful leading man by seeming to cede that ground to her every time they're together. He's great at conveying his youth, nervously flapping around in his excruciating fuchsia lady's trench coat (the New Romantics are a tough act to copy), and then suddenly and surprisingly grounded every time he sings. He's doing the same thing Carney and Clark's music does, every time it starts picking up the theater and jouncing it around. Yes: youth is absurd, the 1980s were embarrassing, and we all look silly when we dance. Great reason to do it, the show says, and we all bop out of the theater and down the street.
Photo Credit: Matthew Murphy
To read more reviews, click
here
!