Review Roundup: MY FAIR LADY National Tour Resumes Performances; Read the Reviews!
The production officially returned on September 14, 2021 at The Hobby Center in Houston, TX.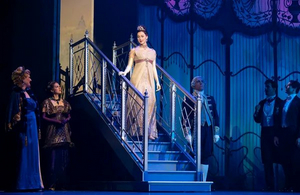 The North American tour of Lincoln Center Theater's critically-acclaimed production of Lerner & Loewe's My Fair Lady officially returned on September 14, 2021 at The Hobby Center in Houston, TX. Directed by Bartlett Sher, the tour originally opened on December 19, 2019 at The Kennedy Center.
Returning to lead the cast are Shereen Ahmed as Eliza Doolittle, Laird Mackintosh as Professor Henry Higgins, Leslie Alexander as Mrs. Higgins, Adam Grupper as Alfred P. Doolittle, Kevin Pariseau as Colonel Pickering, Gayton Scott as Mrs. Pearce, and Sam Simahk as Freddy Eynsford-Hill. Joining the tour from the original Broadway company is Lee Zarrett as Professor Zoltan Karpathy.
Let's see what the critics are saying...
---
Hobby Center for the Performing Arts - Houston, TX
Audrey Morabito, BroadwayWorld: Mackintosh plays the scientific, calculated, and blunt Professor Higgins with both vigor and humor. Ahmed is beyond lovely as Eliza Doolittle, and more than pulls off the transformation from street girl slang to elegant spoken word. Mastering that dialect alone is a feat in and of itself. Ahmed and Mackintosh are the perfect diametrically opposed pair, rounded out as a trio with Pariseau as Colonel Pickering in numbers like "The Rain in Spain."
Chris Grey, Houston Chronicle: In some respects, "My Fair Lady" remains a product of its time, both Edwardian London and the 1950s. Higgins refers to Eliza as "baggage" and "a creature" without reservation; numbers such as "A Hymn to Him" - in which Higgins wonders "why can't a woman be more like a man?", among other cringeworthy sentiments - can't help but land a little awkwardly in 2021.
Adrian Almy, The Rice Thresher: The performances of Ahmed and Mackintosh were masterful. Ahmed compellingly captures Eliza's struggle to improve herself and the joy she finds in it, while Mackintosh's Higgins is such a thoroughly horrible person that you cannot help but hate him. He is misanthropic, misogynistic and self-important, providing a stark contrast to Pariseau's more sympathetic Pickering.
Civic Center Music Hall - Oklahoma City, OK
Brett Fieldcamp, Oklahoma City Free Press: Ahmed so perfectly and delicately toes the line between Ambrose's world-weariness and Hepburn's softer naivete that she's able to convey both elements at times simultaneously. Ahmed's Eliza is sad. She doesn't impart an inherent anger or exhaustion at the world, yet she doesn't ever appear lost or exploitably innocent either. There's a deep, earned sadness to Ahmed's portrayal that underscores all of her combative outbursts and longing torch songs alike.
Brandy McDonnell, The Oklahoman: After her hilarious debut at the Ascot race track - where her spirited enthusiasm contrasts with the stiff boredom of the upper-crust attendees and gains her a suitor in the penniless, fawning gentleman Freddy Eynsford-Hill (Sam Simahk) - it's off to the ball for Eliza, who must fool not only the nobles and royals but also Higgins' linguistic rival Zoltan Karpathy (Lee Zarrett).
Larry Laneer, LL Curtain Call: The production stimulates the senses. Michael Yeargan's set design fits into the Thelma Gaylord like it had been designed specifically for that theater. A moving, revolving centerpiece creates various rooms and levels of Henry Higgins's flat in authentic detail. Catherine Zuber's costumes have an understated, tasteful look. I'm no expert, but Eliza's gown and red cape for the embassy ball may be appropriate for embassy balls today. The nifty shades of gray for "Ascot Gavotte" reflect the intentional colorlessness of the number.
Dolby Theatre - Hollywood, CA
Harker Jones, BroadwayWorld: Directed by Tony and Drama Desk Award winner Bartlett Sher, this MY FAIR LADY has style and fantastic sets by Michael Yeargan (Higgins' bi-level rotating home in particular), stunning costumes by Catherine Zuber, tight choreography by Christopher Gattelli, and performers with much talent and verve-especially Sam Simahk as dreamy Freddy Eynsford-Hill, a sweet and crush-worthy gentleman who swoons for Eliza (Shereen Ahmed), and Adam Grupper as Eliza's grifter father, who brings the house down with the dazzling showstopper "Get Me to the Church On Time."
LaRita Shelby, EurWeb: The brilliantly talented and diverse ensemble cast provides a host of spirited characters as Eliza Doolittle and Professor Higgins carry out their tête-à-tête in this classic American tale of a pauper who becomes a princess who can now speak the Queen's English with perfection. And may I shamelessly give a shout out to the musicians who lay a foundation worthy of both a Grammy and a Tony award.
Jill Weinlein, OnStage Blog: Another singing standout in this musical is Freddy, performed by Sam Simahk. His voice is golden as he sings "On the Street Where You Live" while infatuated with Eliza's beauty and her free spirit. Whenever Simahk stepped onstage, I couldn't take my eyes off of him.
Pauline Adamek, Arts Beat LA: The voices are superb. Shereen Ahmed plays Eliza Doolittle (a role she understudied on Broadway) with grace and aplomb. She lights up the stage with her sweet presence. Her voice is pure and haunting, with delicacy underpinned by power. Her cockney accent is passable. Shereen, an Egyptian American with close ties to the Arab-American community, is the first woman of color to play the role of Eliza in a major first class Broadway/touring production of My Fair Lady. And she gives a truly wonderful performance in this important role.
Deborah Klugman, Gia On The Move: But the directorial gambit that capped the night for this critic came at the show's crowning moment. In the film Eliza and Higgins reach an impasse; the newly independent Eliza still cannot decide whether to go or stay. No such timorousness besets the heroine here; she makes her choice and strides from the stage.
Orpheum Theatre - San Francisco, CA
Steve Murray, BroadwayWorld: Laird MacIntosh (Phantom of the Opera, Jekyll & Hyde, Mary Poppins) stars as the cantankerous and snooty phonetics expert Henry Higgins who makes a wager with friend Colonel Pickering (Kevin Pariseau) that he can turn a lowly flower girl into a Duchess. Relative newcomer Shereen Ahmed stars as Eliza Doolittle, a simple flower seller with a cockney accent who wishes to move up in society and accepts to be Higgin's student. Shaw's story of class division and social mobility needed a romantic angle the provides added tension to the story. There's plenty of wonderful supporting performances here; Adam Grupper as Alfred Doolittle, Kevin Pariseau as Colonel Pickering and Sam Simahk as Freddy Eynsford-Hill.
Lily Janiak, Datebook: You might have your own apoplectic fit at the sound system at the Orpheum Theatre, where the show opened Wednesday, Nov. 3. Its heavy echoes left many of the show's first moments unintelligible, making an inadvertent case for the unamplified voice - ironic for a show that centers on pronunciation. But other than that, this production by Tony Award-winning, San Francisco-bred director Bartlett Sher is marvelous, making a fresh argument that Eliza and Higgins are consummate equals.
Randy McMullen, The Mercury News: The show updates the story - about the relationship between a poor flower seller and a pompous linguistics professor - a tad to approach contemporary sensibilities. But of course those glorious tunes - "I Could Have Danced All Night," "Loverly," "Get Me to the Church on Time," "On the Street Where You Live" - are still there.
Karen D'Souza, The Mercury News: And yet the genius of Sher's revival is the authenticity of the emotional interludes. You can feel the attraction building between Higgins and Eliza just as you believe her heartbreak when she realizes she can never again feel at home with the hoi polloi. Even the most caricatured moments here feel real.
Charles Kruger, Theatre Storm: Shereen Ahmed is a formidable and athletic Eliza, anything but self-effacing or petite. She is equally convincing as the "deliciously dirty" flower girl and the triumphant queen of the ball. Among many fine moments, she shines brightly in her rendition of the marvelously comic song, "Just You Wait." As she rages against the rudeness of Henry Higgins, she passes through rooms and up and down the stairways of Higgins' Wimpole Street mansion magically rendered on a turnable stage by set designer Michael Yeargen.
Civic Theatre - San Diego, CA
Sandi Masori, San Diego Jewish World: I thought that Shereen Ahmed did a great job as Eliza, and her vocal range to hit the high notes was quite impressive. My son really liked Mackintosh's Higgens portrayal and found him to be an exceptional actor.
Pam Kragen, San Diego Union-Tribune: Shereen Ahmed's Eliza is less extreme, with gentler and more natural line delivery, and a greater sense of agency. When she's stripped by Higgins' servants to be showered, her fear is palpable. And when she snaps emotionally and delivers the revenge song "Just You Wait," she charges unrelentingly through Higgins' home - a dazzling, four-sided, two-story turntable set - without ever stopping, as the set spins quickly to keep up with her pace.
ASU Gammage - Tempe, AZ
Herbert Paine, BroadwayWorld: After just a few minutes, once the curtain rises on this new presentation of a 1956 Broadway classic, we're right there in the middle of a busy, bustling evening in London's Convent Garden. You get the immediate impression of how the show is about to unfold and how different its presentation is about to become. It's as if director Bartlett Sher had taken Alan Jay Lerner's book, blown a layer of dust from its pages that had accumulated over the years, then re-vamped, re-imagined, and re-tooled the whole affair. The result is a theatrical joy ride that bursts into life the moment the giant pillars of Convent Garden are lowered from above and the opening scene is established. You're familiar with the work, but you've never seen it approached in quite this way before.
Chris Curcio, Curtain Up Phoenix: The touring cast is unremarkable but competent with no glaringly inept performances but none of the Broadway revival's skill. The producers played safe by utilizing some of the Broadway staging's understudies, although on opening night, a substitute played Eliza as Shereen Ahmed sat out allowing Nicole Ferguson to step into the pivotal role. Like most of the cast, Ferguson failed to deliver either the part's cockney dialect initially and never made the transition to the refined British accent as she always sounded like an American awkwardly trying to feign challenging accents. Therefore, Eliza's winning of two men - professor Higgins and suitor Freddy Eynsford-Hill - makes little sense.
Gil Benbrook, Talkin' Broadway: The Lincoln Center production, under the direction of Bartlett Sher, steers away from over romanticizing the story and paints Eliza as more in control of her destiny and Higgins as less of a controlling and somewhat mean-spirited man than shown in previous productions. Those subtle shifts in tone help put the two on a more equal footing and also give Eliza a sense of empowerment that works quite well, especially for the ending which, while still somewhat ambiguous, allows Eliza to have the upper hand. The slight updates also add some nice touches to depict other women during that period, including seeing women suffragettes, that help this battle of the sexes be more than just the battle between Higgins and Eliza and more identifiable for a modern age.
Centennial Hall at the University of Arizona - Tucson, AZ
Cathy Burch, Tucson.com: Ahmed delivered a powerful and entertaining performance when the award-winning musical opened for its five-day run on Jan. 5. From the opening scenes when she encounters Higgins and Colonel Pickering (delightfully played by Kevin Pariseau), Ahmed brought an edge to her character that let you know her version of Eliza wasn't going to put up with Higgins' abuses unchallenged.
Segerstrom Center for the Arts - Costa Mesa, CA
Russell Tom, SoCal Thrills: The supporting cast bring parallels and further context to the lives surrounding that of Eliza Doolittle and Professor Higgins. Adam Grupper ("Wicked"; "The Addams Family") as Alfred P. Doolittle plays Eliza's father with class parameters and values not so different from that of Higgins despite appearances. Leslie Alexander ("Mamma Mia!"; "The Boy From Oz") as Mrs. Higgins takes on a nurturing role as a spiritual moral compass. Sam Simahk ("The King and I"; "Sweeney Todd") as Freddy Eynsford-Hill is presented as a handsome suitor who shares an unrelenting admiration for Eliza in comparison to Higgins' misogynistic behavior.
Aronoff Center - Cincinnati, OH
Taylor Clemons, BroadwayWorld: The role of Eliza is coveted by many, in the current national tour Shereen Ahmed takes on the role quite splendidly. From the minute she opens her mouth to speak you learn so much about her version of Eliza Doolittle, she's sharp and spunky but still idealistic and not entirely jaded. She embodies the traits of the character flawlessly and her vocals are sheer perfection. Laird Mackintosh as Henry Higgins makes a great match for Ahmed's Eliza, watching them go back and forth matching wits is delightful, and their rivalry is truly what fuels the dynamics of this production which at times is deeply rooted in how much they absolutely loathe each other.
Auditorium Theatre - Rochester, NY
Colin Fleming-Stumpf, BroadwayWorld: he production of "My Fair Lady" currently playing at the Auditorium Theatre checks all the boxes that one seeks to be checked when buying tickets to this classic, or any show from Broadway's Golden Age (which also encompasses "Oklahoma", "Carousel", "Annie Get Your Gun", etc.). The orchestra is massive and sweeping, a far cry from the handful of synthesizers that populate the pit bands of today. The cast is huge (and thankfully, diverse), in stark contrast to the musicals of the last 15-20 years in which playwrights often intentionally keep casts small in order to minimize budgets and maximize the likelihood of being produced. And, most notably, the music is superb, with standouts like "I Could Have Danced All Night", "With a Little Bit of Luck", and "Wouldn't it be Lovely" just as joyful and foot-tapping as the cast recordings you've been listening to for decades. The phrase "they just don't make them like this anymore" certainly comes to mind.
Shea's Performing Arts Center - Buffalo, NY
Michael Rabice, BroadwayWorld: Shereen Ahmed shines throughout as the cockney flowergirl. She screeches delightfully as Higgins puts her through her paces, re-learning vowels and adopting genteel mannerisms. Ms. Ahmed employs a lovely lyric soprano singing voice and her literal transformation is breathtaking. When she breaks through in "The Rain In Spain," it is obvious we have witnessed the change from ugly duckling to swan. Ahmed lands plenty of laughs in the restrained scene at Ascot, then oozes glamour in costumes designer Catherine Zuber's stunning gowns for the Embassy Ball.
Peter Hall, Buffalo Rising: This musical is a must-see, if only because it's a Bartlett Sher production, chock full of his signature touches. Although he works in musicals, plays, and movies I'm mostly familiar with his productions for The Metropolitan Opera, including the comedies LE COMTE ORY, THE BARBER OF SEVILLE, (with dramatic staging out into the audience), THE ELIXIR OF LOVE, as well as the "opera fantastique" THE TALES OF HOFFMAN. With Sher, things are always in motion. I've also seen his two super-dark Verdi operas - OTELLO and this year's RIGOLETTO. With Sher, dramatic scenes are very focused.
Bushnell Center for the Performing Arts - Hartford, CT
Christopher Arnott, Hartford Courant: As Eliza Doolittle, Shereen Ahmed sings "I Could Have Danced All Night" like the showstopper it is made to be; it's also one of the few scenes where the character has the stage all to herself and isn't being objectified by domineering men. Some of those male characters, notably Higgins' friend Colonel Pickering (a whiskered Kevin Pariseau) are played as more sensitive and caring and nonthreatening, to distance them from Higgins' corrosiveness. As Eliza's young suitor Freddy (who sings "On the Street Where You Live,") Sam Simahk eschews upstanding handsomeness for a charming, impetuous boyishness. Simahk is so charming, so excitable, so light on his feet, that he practically levitates off the stage.
Bonnie Goldberg, New Haven Register: The music is spot-on marvelous, from Eliza's daydreaming "Wouldn't It Be Loverly?" to her papa's ruminating "With a Little Bit of Luck" to Higgins' observations in "I'm an Ordinary Man" to Eliza's "I Could Have Danced All Night." Each one is a gem.
Fox Theatre - St. Louis, MO
Mark Bretz, LaDue News: Bartlett Sher's 2018 Lincoln Center Theater revival of the 1956 Tony Award-winner for Best Musical brings its polish, panache and exuberance to The Fabulous Fox Theatre for an exhilarating evening of entertainment. It's filled with splashy musical numbers, stirring singing and a spitfire performance by Shereen Ahmed as Eliza.
Calvin Wilson, St. Louis Post-Dispatch: It's the kind of show that you get the feeling will still be performed and appreciated centuries from now, if humanity manages to hang around that long. And the Lincoln Center Theater production, directed by Bartlett Sher and onstage through April 3 at the Fox Theatre, is as mesmerizing as it is memorable.
Barbara B. Mann Center - Ft. Myers, FL
Dave Elias, NBC 2: Ahmed's portrayal of the quick-witted character is spot-on as she masters the slang English dialect before becoming a sophisticated lady turning in a perfect transformation. But it's her powerhouse voice alone that deserves a standing ovation that hits every tune with perfection.
Artis-Naples - Naples, FL
Harriet Howard Heithaus, Naples Daily News: Shereen Ahmed, understudy from this production on Broadway, is an impressive Eliza Doolittle, with a strong, confident voice that can wail with the best Cockney flowerseller around and sell a romantic "I Could Have Danced All Night." She has a worthy opponent in Laird Mackintosh as her self-absorbed, yet penetrable, mentor, Henry Higgins; you really do want to shake him. Kevin Pariseau is a cooling breeze as Alfred Pickering, the sort of successful peacemaker who knows when to be forceful and when to be gentle.
Kravis Center for the Performing Arts - West Palm Beach, FL
Mary Walker, Palm Beach Daily News: Shereen Ahmed, the first woman of Arab descent to play Eliza Doolittle in a major production, is breathtaking. She understudied the role in the Broadway revival, and got to perform Eliza nearly a dozen times before starring in this tour. She excels at all aspects of Eliza's journey - her comedic timing is terrific and her voice is soaring and gorgeous. Her renditions of "Wouldn't It Be Loverly?" and "I Could Have Danced All Night" are two of the many high points of the show.
Durham Performing Arts Center - Durham, NC
Jeffrey Kare, BroadwayWorld: Shereen Ahmed has been starring as Eliza in the tour, but she was out for the performance I attended. So her understudy, Nicole Ferguson, went on, and I thought she did a pitch perfect job in the role. From the moment she makes her first entrance near the end of the overture, the audience is right by her side as she goes on one of the best character arcs ever written for any story. Before the song, 'The Rain in Spain,' begins in the middle of Act I, applause comes in when she finally nails the sentence, "The rain in Spain stays mainly in the plain." Did I mention that she also provides some great humorous moments? Laird Mackintosh gives such a complex performance as Higgins. He mistreats Eliza by making her struggle with a lot of the lessons she doesn't even wanna do throughout the first act. Yet by the time he performs 'I've Grown Accustomed to Her Face' near the end of the show, that is when the audience officially sympathizes with him. Plus without giving anything away, the final scene between Eliza Doolittle and Henry Higgins is staged in such a smart and effective manner.
Providence Performing Arts Center - Providence, RI
Barb Burke, BroadwayWorld: Shereen Ahmed is utterly convincing as a sassy Eliza Doolittle, brave enough to leave everything she's ever known to seek out the brilliant but bullying professor who holds he knowledge she needs to improve her station in life. But most importantly, Ahmed's voice thrills. Her renditions of "Wouldn't It be Loverly" and "Show Me" stand up to any memory you may have of these songs.
Kimberly Rau, 997WPRO: Whether you saw the original on Broadway, did "Pygmalion" in high school or grew up with the Audrey Hepburn movie musical, this is one of those stories that you can't help but love, and with a little tweaking here and there, it stands the test of time. Regardless of how you came to know Eliza Doolittle, this tour is one you won't want to miss.
Proctor's Theatre - Schenectady, NY
Marc Savitt, BroadwayWorld: As the production's opening night at Proctor's approached, I anticipated a night of classic Musical Theatre that would undoubtedly prove to be (borrowing from one the show's many familiar songs) "loverly". This tour of The Lincoln Center Theatre Production also suggested to me that the evening would be filled with first-class vocal talent. Not surprisingly both thoughts were proved correct. That said, the night was filled with surprises as well.
J. Peter Bergman, The Edge: This production's success is principally due to the physical production, and its only real star - the orchestra under the musical supervision of Ted Sperling. What true life, or liveliness, existed came from the orchestra pit, as the show's eight musicians generated energy, melody and emotion. The only other genuine verve came from the character of Alfred P. Doolittle, Eliza's father, played with earnestness by Martin Fisher. Sadly, this is the only time I've seen this character played with absolutely no charm, which is what is needed to redeem Doolittle, a fairly worthless drunk whose personal philosophy lands him in moneyed trouble. Fisher has a remarkable bass voice, but there was no joy in his character.
Bob Goepfert, WAMC: George Psomas as the obsequious Freddy finds a dignified elegance in the love-struck suitor. His solo "On the Street Where You Live" is a highlight of a show that has many highlights. They include the ballroom scene, "The Rain in Spain" number and the celebratory "I Could Have Danced All Night." Indeed, it's a joy to have scene after scene filled with memorable music.
Altria Theater - Richmond, VA
Rich Griset, Style Weekly: In the Lincoln Center Theater Production coming to the Altria Theater on Tuesday, this is no longer the case. Here, Eliza has been pumped up from Higgins' pawn to a proto-#MeToo hero with the help of new additions drawn from George Bernard Shaw's play "Pygmalion," from which the musical is based, and from Shaw's screenplay from the 1938 film that starred Wendy Hiller and Leslie Howard.
Playhouse Square - Cleveland, OH
Roy Berko, BroadwayWorld: The statuesque Shereen Ahmed, who has a lovely look as well as a strong voice, gives her own slant to Eliza. She gives us a young lady, caught in the British societal system that has cast her as a "prisoner of the gutter," but who has the instinct and grit to rise above her surroundings. The performance makes clear that her "I want" desires, as expressed in "Wouldn't It Be Loverly?," are destined to be accomplished. Achieved with Henry Higgins assistance, but by Eliza's own gumption, once she has the needed tools to go forth and become an independent woman. She sings meanings, not just words. Bravo!
Cadillac Palace Theatre - Chicago, IL
Kathleen Anwar, BroadwayWorld: After a clunky opening scene full of rapid-fire dialogue, Shereen Ahmed as Eliza Doolittle rescues the audience with Wouldn't It Be Loverly. "Angelic" does not do Ms. Ahmed's voice justice. Seldom has a performer brought tears to my eyes not based on the subject matter of the song, but purely on their exquisite vocal quality and performance. Ahmed delivers a beautiful and nuanced transformation of Eliza's character over the course of the evening.
Chris Jones, Chicago Tribune: In this tour, the latter works stupendously well, since Shereen Ahmed (why is this phenomenal singer and dancer not a bigger star?) is so excellent. The former works fine and Laird Mackintosh leans generously and self-effacingly into the conceit.
Dennis Polkow, New City Stage: In a Me Too climate, Higgins comes off as brutish and abusive, despite what he does for Eliza to win a bet. She temporarily acquiesces because she wants more out of life than having been given nothing and no one. But this Eliza is not going to stay and live a life of fetching slippers for Higgins any more than she is likely to marry a simpleton like Freddy who sings up and down on the street where she lives.
Detroit Opera House - Detroit, MI
Encore Michigan: So then why, with everything stacked in its favor, does the current tour seem misguided? It begins with an ensemble who struggle to enliven a nearly three-hour production where even if you know the music ("Wouldn't It Be Loverly") the low-stakes energy and at times inaudible dialogue, thanks in no small part to horrendous sound mixing and questionable artistic choices, it makes for a long, tedious evening of theater.
Carmichael Cruz, Click On Detroit: Shereen Ahmad, as the Cockney street seller, crafts a beautifully well-developed and headstrong Eliza. Not only does Ahmad bring the effortlessly gorgeous vocals necessary for the role (especially in "I Could Have Danced All Night"), but she also brings the comedy in all the right places. The way Ahmad maneuvers between the Cockney and "proper" accents, especially in tense moments of drama, is expertly integrated and adds these wonderfully complex layers to her arc.
Orpheum Theatre - Memphis, TN
AniKatrina Fageol, BroadwayWorld: Shereen Ahmed captures the audience almost immediately with her sweet albeit dirty face and even sweeter tones. Iconic tunes such as "Wouldn't It Be Loverly" and "I Could Have Danced All Night" seem to flow right off the stage. Her headstrong Eliza is the perfect sparring partner for Laird Mackintosh's Henry Higgins, who becomes a sort of man-child in this production, throwing fits and crying for his mother.
Coco June, Memphis Flyer: Notably - insert large spoiler alert here - the loudest comment on women's rights happens in the last five seconds of the show. In Sher's version, Eliza Doolittle walks offstage ("strides" is honestly a more apt description) in response to Professor Henry Higgins' question, "Where the devil are my slippers?" This ending is true to Pygmalion, but differs from what audiences may be familiar with from the 1964 movie version. In the wake of the "Me Too" movement and the overturning of Roe v. Wade, I personally loved the changed ending. Find your own damn slippers, Henry Higgins! The change completely shifted the dynamic for Eliza's character, allowing her to be seen as a powerful, independent woman. Having Eliza retain her autonomy makes more sense with what we see from her character throughout the musical, making for a more cohesive ending than what's become traditional for the show.
Civic Center Of Greater Des Moines - Des Moines, IA
DC Felton, BroadwayWorld: One of the things I appreciated about the show was the direction of Bartlett Sher. He does a fantastic job of telling a classic story but tells it through a modern lens. He does this by putting the character of Eliza and her story at the forefront, as though it is being told through her eyes. This beautifully ties in with the gorgeous Tony Nominates sets by Michael Yeargan and the dazzling costumes by Catherine Zuber. If Des Moines Performing Arts season ticket holders love how this team works together, as I do, then they are in for a treat, as this is the team behind the upcoming tour stop of "Fiddler on the Roof."
Lily DeTaeye, Little Village: Laird Mackintosh as Professor Henry Higgins played up Higgins' childishness in several of his conversations with his mother and Eliza. With exaggerated movements and facial expressions, Mackintosh's portrayal of Higgins was of a slightly unhinged, self-centered genius. Even though Higgins is supposed to be the one exemplifying high society behavior, his lack of maturity during conflict does lead the audience to distrust him a bit. But only a bit.
To read more reviews, click
here
!