Review Roundup: Irish Repertory Theatre Presents ENDGAME
Endgame is a tragicomedy of epic proportions. The production runs through March 12.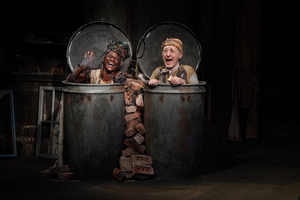 Endgame officially opened last night, February 2, at Irish Repertory Theatre. Check out reviews for the show below!
Endgame is a tragicomedy of epic proportions. Written in a macabre intensity of mood, it represents the playwright's fierce declaration of oblivion in a world populated with its last survivors. The play, about the end of everything, moves inexorably to its own conclusion, with its own humor bursting out of the bounds of Beckett's dark account of the Earth's last whimper.
The production runs through March 12.
Endgame tells the story of Hamm (John Douglas Thompson), who is reduced to living in one room, in which he sits, blind and chair bound. His only escape from his solitary world is the company of his aging, legless parents (Joe Grifasi and Patrice Johnson), who live in garbage bins, and his shuffling servant, Clov (Bill Irwin), who is at his beck and call, and who, like a dog, comes when whistled for. The only thing left for Hamm is to wait for the inevitable end.
---
Laura Collins-Hughes, The New York Times: Joy is hardly the operative word, of course, in this post-apocalyptic play about the direness of the human condition. But pleasure? There's plenty of that to be found in Ciaran O'Reilly's main-stage production, whose requisite grimness is edged with the gorgeousness of performances that are sly, vivid and pulsingly alive.
Charles Isherwood, The Wall Street Journal: The Irish Repertory Theatre production, directed with a firm hand by Ciarán O'Reilly, ranks as the best I've seen, in no small part due to the masterly casting in the leading roles. Mr. Thompson is among the country's pre-eminent classical actors; his performance at this theater in "The Emperor Jones" was an astonishment.
David Finkle, New York Stage Review: Is the sly playwright suggesting that often the whole is greater than the sum of its parts? In the end of this endgame is Beckett implying that Hamm and Clov are better off than they would be if separated? At fadeout is that what both characters are pondering? It's a question this grade-A production might neatly be asking audience members to assess.
Brian Scott Lipton, Cititour: Indeed, despite its less-than-cheery subject matter, the Irish Repertory Theater's latest revival of this admittedly difficult and sometimes unfathomable play, keenly directed by Ciaran O'Reilly, is worth seeing for the opportunity to witness two of our finest actors, John Douglas Thompson and Bill Irwin, hand in unforgettable performances in exceedingly difficult roles.