Review Roundup: HAIRSPRAY Returns to the West End; What Did the Critics Think?
The cast stars Michael Ball, Lizzie Bea, Marisha Wallace, and more!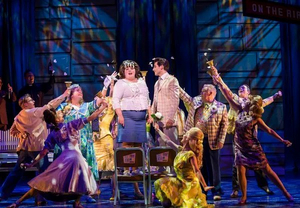 Hairspray has officially returned to the West End, playing at the London Coliseum through 29 September 2021.
In the revival, Olivier Award-winner Michael Ball makes his return to the role of Edna Turnblad opposite one of the UK's greatest comedians, Paul Merton, who makes his West End musical debut as Edna's husband, Wilbur. Lizzie Bea stars in the iconic role of Tracy Turnblad and Marisha Wallace portrays Motormouth.
Check out photos from the show here!
Tickets can be purchased at at https://www.hairspraythemusical.co.uk/.
Let's see what the critics are saying...
---
Louise Penn, BroadwayWorld: As Edna Turnblad and Motormouth Maybelle, Michael Ball and Marisha Wallace inhabit the roles for which they were surely born (Ball returning to the first of his Olivier Award-winning gigs just as funny and tough as before). Wallace stopped the show with her own standing ovation for "I Know Where I've Been": a song which outlines all her character's pain and resilience.
Alun Hood, WhatsOnStage: Lizzie Bea is a clarion-voiced, endlessly lovable whirlwind of energy and pathos as our heroine Tracy. Ball (returning to Edna after 14 years) and Dennis are utterly charming together, succeeding in making this outlandish couple into figures of genuine affection, and there are invaluable contributions from Michael Vinsen as a toothsome TV host, Georgia Anderson as Tracy's spiteful arch-nemesis, Mari McGinlay as a winsomely daffy best friend, and Jonny Amies and Ashley Samuels as a pair of adorable all-singing, all-dancing love interests.
Marianka Swain, LondonTheatre.UK: The knockout performance comes from Marisha Wallace as Motormouth Maybelle, whose "I Know Where I've Been" begins as an intimate, bluesy number, sung to her children, and builds to a great cry, testifying about her experiences and beseeching the heavens for progress.
Greg Stewart, TheatreWeekly: We've been waiting a very long time to see Lizzie Bea make her debut as a lead in the West End, and it's been worth every second. Bea plays the part of Tracy Turnblad to pure perfection, aside from stunning vocals, Bea's energy lights up the stage, and the demanding role seems to pose no problems for this talented performer.
Patrick Marmion, Daily Mail: Jack O'Brien's production has jet fuel running through its veins, thanks to Jerry Mitchell's formation choreography, William Ivey Long's colourful costumes and David Rockwell's cartoon sets. Replacing the previously booked Paul Merton as Tracy's dad, Wilbur, Dennis is a perfect fit with Ball as Tracy's washerwoman mum. But this is Bea's show as gutsy Tracy. She can move, she can croon and she can light the show's blue touch paper - and possibly ignite the whole West End too.
Gary Naylor, Arts Desk: There's super work throughout the cast, Jonny Amies lovable as Link, Rita Simons vicious as Velma and Mari McGinlay and Ashley Samuels delightful as the colour-bar crossing sweethearts, Penny and Seaweed. A frisson of excitement crackles from those in the know when Dreamgirls alumna Marisha Wallace embarks on "I Know Where I've Been". The American powerhouse gives full belting value to Marc Shaiman and Scott Wittman's epic, emotional explanation of the roots and persistence of racial injustice - a guaranteed foot-stamping showstopper.
Jessie Thompson, Evening Standard: I'd love to herald this sweet, well-meaning show as the big, bombastic return of musical theatre to the West End. It has some great numbers and some stand-out performances (Marisha Wallace, given a standing ovation on press night, needs her own show, stat), but it sometimes feels functional and the plot is dated. It all feels a bit 'white people solve racism' - not to mention the eyebrow-raising lyric "now I've tasted chocolate and I'm never going back" - and Tracy's trajectory is too neat and tidy.
Philip Fisher, British Theatre Guide: The Shaftesbury Theatre has been jinxed for so long that its owners must have wondered if it was ever going to have another major hit. The drought must surely be over as this wondrous US import has to be destined for the longest of London runs.
Sam Marlowe, iNews: Newcomer Lizzie Bea is instantly adorable as Tracy, the irrepressibly optimistic, generous-figured schoolgirl who dreams of glory on dance-party programme The Corny Collins Show, and of winning the heart of budding teen idol Link Larkin (a smooth Jonny Amies). Ball effortlessly slips back into the double E cups and heels of her mama Edna, transforming from a meek, lank-haired domestic drudge to a marabou-bedecked butterfly. Les Dennis as her devoted husband Wilbur is pallid, but their partnership blossoms in a duet that they ham up like a couple of vaudevillian hoofers, Ball's Edna quivering with delight as Wilbur makes free with her ample assets.
Abbie Grundy, The Upcoming: Since bursting the stage in 2002, Hairspray has remained a firm favourite amongst theatregoers - and for good reason. The all-singing, all-dancing hit, with a score by Marc Shaiman and Scott Whittman, is an unflinchingly entertaining story about overcoming adversity and doing the right thing. Set in 1960s Baltimore, Hairspray follows the story of Tracy Turnblad, a girl whose unlikely stardom enables her to join the fight against segregation. With decades of tours (and a beloved film release), it's easy to presume that a new production of Hairspray will fail to do anything unique, but last night's performance at London Coliseum proves this to be false. In fact, the new production, directed by Jack O'Brien, is nothing short of groundbreaking.
Matthew Hemley, The Stage: Occasionally the words get swallowed up - possibly due to the vastness of the space - and there are moments when the energy seems to drop, but there's no denying the fun that Hairspray offers. With its witty and genuinely funny book from Thomas Meehan and Mark O'Donnell, and excellent, catchy numbers from writing duo Marc Shaiman and Scott Wittman, it might just be the tonic that we all need right now.
Clive Davis, The Times: Who would have thought that one of the highlights of the summer would be watching Les Dennis fondle Michael Ball? No wonder that the old stagers, playing Wilbur and Edna Turnblad in Hairspray, looked close to corpsing during their vaudeville-style celebration of marital bliss on (You're) Timeless to Me. They were having enormous fun, and so was the socially distanced audience. Ball's impromptu speech at the end of a vivacious opening night was a reminder of how much actors have missed the thrill of live performance.
---
Shop BroadwayWorld

Shop this season's new musicals! Get dressed up for a night at the theatre, or just a night at home, with merch from some of Broadway's biggest hits including SOME LIKE IT HOT, KIMBERLY AKIMBO, and more!
---
Related Stories