Click Here for More Articles on PRETTY WOMAN
Review Roundup: Did Critics Fall In Love with PRETTY WOMAN?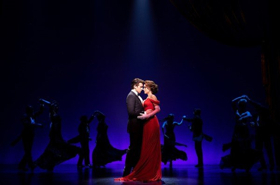 PRETTY WOMAN: THE MUSICAL, with original music and lyrics by Grammy Award winner Bryan Adams and his longtime songwriting partner Jim Vallance, a book by Garry Marshall and the film's screenwriter J.F. Lawton, and direction and choreography by two-time Tony Award winner Jerry Mitchell, opens tonight, Thursday, August 16, 2018, at Broadway's Nederlander Theatre.
Based on one of the most beloved romantic comedies of all time, this modern spin on Cinderella is the story of Vivian, a spirited diamond in the rough who dreams of a better life. A star-crossed meeting with Edward, a shrewd corporate raider from New York who is lost in Hollywood, turns a simple business deal into a week of romance and a journey of self- discovery for both Vivian and Edward. This contemporary theatrical take on the iconic love story will sweep a new generation off their feet and make them believe in the power of "Happily Ever After."
Let's see what the critics had to say!
Ben Brantley, The New York Times: Directed and choreographed as if on automatic pilot by Jerry Mitchell, "Pretty Woman: The Musical" has a book by the original film's director, Garry Marshall (who died in 2016), and screenwriter, J.F. Lawton, with songs by Bryan Adams and Jim Vallance. Its creators have hewed suffocatingly close to the film's story, gags and dialogue.
Matt Windman, amNY: To its credit, "Pretty Woman" is adequately and competently handled - and it is far better than the other two new Broadway musicals to open this summer: the bewildering Go-Go's jukebox musical "Head Over Heels" and the embarrassingly amateurish "Gettin' the Band Back Together."
Chris Jones, Chicago Tribune: In essence, "Pretty Woman" has found a smart sweet spot somewhere between nostalgic retro romanticism - unlike at the Chicago tryout, the show now fully and wisely embraces its original era, big hair and all - and the current necessity for heroines to take charge of their fumbling Prince Charmings and self-actualize their tickets to happiness.
Bob Verini, Variety: There's also no doubt about anyone's frame of mind, since the country-tinged pop numbers consistently announce each singer's subtext. Though the lyrics teem with cliche, the cast gives its all to sell them, starting with the vocally confident Barks and Karl. Orfeh's Kit - all gospel-worthy pipes and Jersey Shore attitude - is utterly tangential to the story but welcome in every appearance...An iconic movie bids to become "My Fair Lady of the Evening," but isn't quite so loverly.
Alexis Soloski, The Guardian: Tuneful, schlocky, and deeply offensive unless you have a take-it-or-leave-it approach to female agency, the Broadway musical Pretty Woman turns on the adorably chaste question of whether or not a boy and a girl will kiss on the lips. They will. But only after they've kissed everywhere else first. Not that you will see any sex. This love story about a free-spirited prostitute and her john is a family show! Get your mind out of the proscenium.
Terry Teachout, The Wall Street Journal: Not that "Pretty Woman" is terrible-it's just mediocre, albeit to a mind-boggling degree. The only noteworthy thing about "Pretty Woman," in fact, is the incalculably wide gap between the time, money and talent that went into moving it from screen to stage and the comatose tedium of the results currently on view at the Nederlander Theatre.
David Rooney, Hollywood Reporter: End-of-the-'80s nostalgia rules at the Nederlander Theatre, where the cut-and-paste musical version of Garry Marshall's 1990 romantic comedy, Pretty Woman, is re-creating the cultural-touchstone movie beat for beat, set to a score by Bryan Adams and songwriting partner Jim Vallance that could easily pass for vintage FM-radio pop-rock singles. Just as the film was a stellar vehicle for Julia Roberts, the musical showcases a radiant performance from Samantha Barks as the Hollywood Boulevard prostitute that becomes the "beck and call girl" of a corporate raider.
Greg Evans, Deadline: We're instructed time and again that the down-on-her-luck Vivian just won't give up on her true dreams, though if Pretty Woman bothers to explain dreams of what exactly, I missed it. We know she doesn't want a Prince Charming to rescue her - that much is stated and re-stated - but in the end, well, let's just say No fairy tale was harmed in the making of this musical.
Robert Hofler, TheWrap: Mitchell, overusing the game Anderson and Bracco, crams far too much extraneous comic business into "Pretty Woman." It's as if the questionable levity of men paying top dollar for hookers and those hookers holding out for the much bigger ticket of a wedding ring needed to be gussied up with silly same-sex diversions.
Adam Feldman, Time Out New York: The cast makes the most of what Pretty Woman allows them. The winsome Barks, who played Éponine in the movie Les Misérables, sings very well and has a believable connection with Karl, who undersells his sexiness wisely. Orfeh provides sass and power vocals as Vivian's best friend, and Jason Danieley is a solidly smarmy villain; Eric Anderson injects humor and showmanship into his dual roles as a street-singing narrator and a benevolent hotel manager. But although it is capably staged, the show has no reason to exist beyond, one assumes, a desire to make money by pimping out a familiar property. Broadway can do better than the same old tricks.
Chris Nashawaty, Entertainment Weekly: Pretty Woman doesn't quite work as a musical. Or, at least, not this musical. There are a couple of numbers that work well enough (Barks' heartfelt "This is My Life," for example). But overall, the songs by Bryan Adams (yes, that Bryan Adams) and Jim Vallance feel uninspired, a little cheesy (again, that Bryan Adams), and lifeless - try as they might to rev them up with Bon Jovi-esque guitar power chords. The lyrics can be downright lazy. For the record, any song that contains the line "For the first time I can see..." should be banned from Broadway from this moment into perpetuity.
Michael Schulman, The New Yorker: Stepping into Julia Roberts's leather boots, Samantha Barks, from the "Les Misérables" film, is agreeable as Vivian, and Andy Karl-who proved how well he could play charming assholes in "Groundhog Day"-is an appealingly handsome Edward. The bright spots, though, come from the supporting cast, including Eric Anderson, double cast as Barney and a street vender selling maps to the stars, and Orfeh, who, as Kit, actually seems to be having fun. But it's clear that the all-male creative team hasn't interrogated the story, beyond selling T-shirts that pair the title with phrases like "Funny Woman" and "Strong Woman."
David Cote, The Village Voice: It's a typical Jerry Mitchell joint: all bright, sliding surfaces (L.A.-tacky sets by David Rockwell) and colorful chorus folk in constant motion. The highly likable Andy Karl, lately of Groundhog Day, plays Edward, yet another damaged male in need of healing, preferably from the fairer sex. As damsel-savior Vivian, Samantha Barks dutifully pours herself into a series of attractive dresses (by Gregg Barnes) modeled after the ones in the movie, and plies her strong pop soprano. Orfeh makes what meal she can from her leftover of a role, Vivian's co-sex worker Kit.
Tim Teeman, The Daily Beast: The oddest thing about Pretty Woman is that it does all the things it needs to do badly, and the rare moments it skis off-piste away from the movie's central storyline are done so well. Such moments are rare and Bracco, the show's breakout star, features in every one-hence the deserved audience acclaim he and Thompson receive at the curtain call.
David Finkle, New York Stage Review: Not to keep in suspense those begging to know how the transformation has turned out, here's the skinny: What's called, natch, Pretty Woman, at the Nederlander, is a solidly mediocre entertainment-its mediocrity making it look like much more in a season so far overloaded with barely speakable Broadway and off-Broadway competition.
Steven Suskin, New York Stage Review: Theatergoers streaming into the new musical Pretty Woman, at the Nederlander, are understandably likely to do so with visions of Julia Roberts in their mind's eye and the strains of the Roy Orbison pop hit-"Pretty woman, walkin' down the street"-in their mind's ear. While there are more than a few delights on display here, neither the visions of movie star magic nor the urge to hear that song are satisfactorily fulfilled. While a sizable portion of the audience is likely to enjoy the musicalized Pretty Woman, I'd wager that few are likely to walk away saying: Gosh, it's even better than the movie!
Diane Snyder, Telegraph: The purest prostitute on Hollywood Boulevard is plying her trade on Broadway in Pretty Woman: The Musical. The romcom that catapulted Julia Roberts to stardom in 1990 has been repurposed for the stage in a joyous production that should do the same for the career of British actress Samantha Barks. Despite the movie's enduring popularity, its appeal has always eluded me, not so much because of its sanitised depiction of streetwalking as its hazy characters and sluggish pacing.
Sara Holdren, Vulture: As you approach the Nederlander Theatre, the marquee flashes a series of bold all-caps phrases: "BOLD WOMAN - FIERCE WOMAN - FUNNY WOMAN - SMART WOMAN," and finally, inevitably, the title: Pretty Woman. Inside the theater, posters and T-shirts at the merch stand bear the same messaging. The show's producers have been trying to get out in front of the fact that their material doesn't exactly scream 2018 for a while, now opting for this catechism of empowerment. They needn't have bothered. For one thing, more adjectives are never the solution to a problem. For another, Pretty Woman: The Musical has plenty of problems outside of its politics. If the show were a witty, brilliantly scored, fleet-footed theatrical gem, then it might be worthwhile to attempt a nuanced excavation of the kind of worldview it's espousing beneath the top-notch presentation.
Joe Dziemianowicz, NY Post: It takes guts to step into Roberts' thigh-high boots, but Barks, late of the film version of "Les Miserables," sings the hell out of the part, especially in her song of defiant reckoning, "I Can't Go Back." At times, she comes close to overselling, but she always has you rooting for her.