Review Roundup: Bruce Norris' A PARALLELOGRAM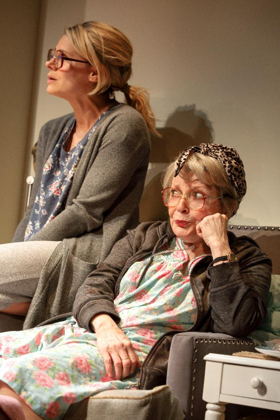 Second Stage Theater presents The New York premiere production of Pulitzer Prize, Tony Award and Olivier Award winner Bruce Norris' play, A Parallelogram, directed by current Tony nominee Michael Greif. The cast includes Juan Castano, Tony nominee Anita Gillette (Chapter Two), Celia Keenan-Bolger (The 25th Annual Putnam County Spelling Bee), and Stephen Kunken (Enron).
If you knew in advance exactly what was going to happen in your life, and how everything was going to turn out, and if you knew you couldn't do anything to change it, would you still want to go on with your life? That is the question facing Bee who, much to Jay's confusion, can click through different moments in her life with the touch of a remote control. Past, present and future collide in this sharp existential comedy that questions whether we can make peace with those things we don't have the power to change.
Let's see what the critics had to say...
Jesse Green, New York Times: Everybody complains about the future, but nobody does anything about it. That's the bug of irritation that sets Bruce Norris's "A Parallelogram" swatting for more than two hours at a target it can't hit. The 2010 play, which had its belated New York premiere on Wednesday at Second Stage Theater, offers plenty to think about and much to enjoy in Michael Greif's sleek production. But as drama it's not only a nonstarter but a nonender; it's a red herring that swallows its own tail.
Robert Kahn, NBC New York: "Dear Evan Hansen" director Michael Greif allows Norris's misanthropy to creep slowly into the proceedings, like smoke from the older Bee's Marlboro's. "A Parallelogram" is a dark piece that argues we're unlikely to emerge from the primordial muck of our own creation. That said, I'd gladly grab that remote control if it, by chance, could provide gentler conclusions to some of the more abrasive endings in my own life.
Frank Scheck, Hollywood Reporter: If you think grim subjects like the pointlessness of human existence and our inability to control our own destinies seem like ripe prospects for humor, then this new play by Bruce Norris is for you. Owing debts to Samuel Beckett and Harold Pinter, with a smidgen of Woody Allen thrown into the mix, A Parallelogram is the sort of existential absurdist comedy designed to be thought-provoking. But more often than not it seems to be spinning its own wheels. To its credit, the play appears to acknowledge this, with one character breaking the fourth wall about a quarter of the way through to tell the audience, "Thirty-one minutes of your life you're never gonna get back."
Joe Dziemianowicz, Daily News: If you knew in advance what was going to happen in your life and couldn't change it, would you still want to go on? That's the $64,000 question posed by an addled young women early on in the play, "A Parallelogram." Audiences at Bruce Norris's' darkly funny but frustrating 2010 comedy spinning around the mysteries and murk of relationships are likely to walk away with a different query: Is that all there is? Alas, yes. Despite pungent performances all-around and a crisp staging by director Michael Greif ("Dear Evan Hansen") that goes from bedroom to hospital and back again, the play leaves you wanting.
Sara Holdren, Vulture: A Parallelogram is interested in the ways in which we fail - constantly, painfully - those nearest to us while trying to expand the net of our theoretical empathy ever wider. If there is any hope to be found in Norris's unsparing send-up of our human attempts to give a shit - and then to do something, anything with our compassion - then it is a Pandora's box kind of hope, frail and perhaps doomed with the rest of our efforts: "Why not go back to the very beginning and just be nice to people?!" Bee cries. It's not much, but sometimes it feels like the only place to begin.
HeLen Shaw, TimeOut NY: Norris is stirring a witch's brew, mixing cynicism about relationships with a belief that no amount of knowledge can make mankind avert disaster. Whether you'll want to see A Parallelogram depends on your palate for poison. Norris excels at writing conversations you heartily wish would end, and Keenan-Bolger and Kunken talk at each other with the kind of blank insistence that does, in fact, make you fear for humanity. I certainly came away with a bad taste in my mouth; the play is successful, as far as it goes, in making even the pre-apocalypse savor of ashes.
Photo Credit: Joan Marcus