Click Here for More Articles on REVIEW ROUNDUP- THEATRE
Review Roundup: Berkshire Theatre Group's GODSPELL - The First Equity-Approved Production Since March
The production is scheduled to run through September 4.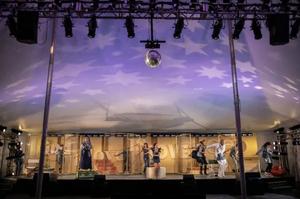 All eyes are on the Berkshire Theatre Group, as the first musical in the United States to be approved by Actors' Equity Association has officially begun performances.
Godspell is being presented outdoors in an open-air tent adjacent to The Colonial Theatre in Pittsfield, and is scheduled to run through September 4.
Get a first look at photos from the production here.
Casting includes: Nicholas Edwards, Alex Getlin, Najah Hetsberger, Kimberly Immanuel, Emily Koch, Hanna Koczela, Brandon Lee, Tim Jones, Isabel Jordan, Dan Rosales, Zach Williams, and Michael Wartella.
Let's see what the critics are saying...
---
Ben Brantley, The New York Times: *CRITIC'S PICK* I hasten to add here that this "Godspell" isn't just better than nothing. And it's as deeply affecting as it is not despite, but because of, its well-worn material. In reimagining a string of biblical life lessons and folkified hymns and gospel songs for the age of the coronavirus, Mr. Filderman and company are speaking to contemporary fears bred by isolation and inaction.
This style of performance also has the advantage of scaling back the antic, exhibitionist quotient of "Godspell." As in most latter-day productions, there are interpolated cute contemporary references (they here include Dad jokes and the Occupy movement). But there's a new sense of reflectiveness here, and you actually feel you're seeing the show's precepts put into action.
Marc Savitt, BroadwayWorld: Contemporary and relevant threads are woven throughout. We encounter re-tweeting angels, sourdough bread making, Hell which we learn is a Walmart, and a Karen who wants to speak to the manager. Musical numbers are, not surprisingly, the highlight of the evening and the vocal talent of the entire cast is ample. Each having their own individual moment to shine and share those vocal skills during the course of the evening.
The audience was particularly responsive to "Bless The Lord" with lead vocals from Emily Koch. "All For The Best" performed by Nicholas Edwards (Jesus) and Tim Jones (Judas) with yard sticks to maintain distancing and soft shoe reminiscent of Pippin (a later piece from Stephen Schwartz) was especially memorable. It allowed a delightful opportunity to showcase the well-balanced talents of the two lead performers.
Lily Goldberg, The Berkshire Eagle: With minimal plot and antiquated language, "Godspell" invites directors to modernize the show's content by reinterpreting the biblical text and peppering the parables with contemporary ad-libs, a challenge Filderman jumps to with gusto. Additions to the script include one-liners about stimulus checks, quarantine sourdough and mask acne, jokes which, for the most part, still feel too raw.
But, sanitizing and social distancing can (and does) become delightful fodder for physical comedy: During the vaudeville-inspired number "All for the Best," for example, Jesus and Judas (Tim Jones) keep each other 6 feet at bay with yardsticks-turned-canes as company members rub hand sanitizer into their palms with exaggerated percussion.
Bob Verini, New York Stage Review: Still, awkwardness is the current normal, is it not? And being safe requires everyone to put up with the precautions of the day. Undeterred by the need to respect those strict requirements, BTG's Godspell offers lots of pleasure, deserving of our thanks. If, to quote one last rock star, you can't always get what you want, it's awfully nice to want what you can get.
Kobi Kassal, Theatre Talk Boston: Edwards captivates the audience and ensemble as Jesus, leading us all through vignettes of his stories and teaching. Tim Jones balances Edwards as an emphatic Judas; he returns to the role after discovering theatre with this part at the age of 15. Both produce a delightful rendition of "All For The Best" riddled with almost every corona-themed joke in the book, gloves and Clorox wipes included.
Steve Barnes, Times Union: The 10 cast members pull masks up over noses and mouths whenever within 6 feet of each other. If anyone sings while standing behind a fellow performer, a rolling divider of clear vinyl sheeting stands between them. Bottles of hand sanitizer appear from costume pockets, a Vaudeville-style number employs distance-gauging yardsticks instead of canes, and patrons in the front row sit at least 25 feet from the lip of the small stage, which of course is under a tent in a parking lot, indoor performances not yet being allowed in Massachusetts.