Photo Flash: Off-Broadway's 'Blackout'
The Cell Theatre Company is presenting its inaugural production Blackout, a new play by Michael I. Walker, based on an original story by Kevin Quinn and Walker.
The show runs January 6- 27 in the Kirk Theatre, Theatre Row (42nd Street between 9th and 10th). Emmy Award-winning actors Kevin Mambo ("The Guiding Light") and Darnell Williams ("All My Children") star, with Kira Simring directing. Opening night is set for January 11.
"When the lights go out on New York City in the blackout of 2003, six strangers collide on a street corner in Hell's Kitchen. Their lives quickly intertwine, but when the power is restored, this newly formed community struggles to hold on to what they found in the dark. Inspired by the works of James Baldwin, Blackout is a smart, topical illumination of sex, race, faith, and electrical power," press materials state.  Ryan Patrick Bachand, Teddy Bergman, Almeria Campbell and Kate Goehring complete the cast.
"The Cell Theatre Company, Off-Broadway's newest not-for-profit theatre company, is founded on the belief that the structure of a biological cell provides an artistic model for essential, collaborative theatre. The Cell Theatre Company aims to create vital new plays with a vision to elevate social awareness in an evolving society."
Visit www.Blackouttheplay.com for tickets and more information.
Photos #1, 5 and 6 by Serge Nivelle; photos 2, 3, 4 and 7 by Jesse Chan-Norris

The cast of Blackout

Teddy Bergman and Kevin Mambo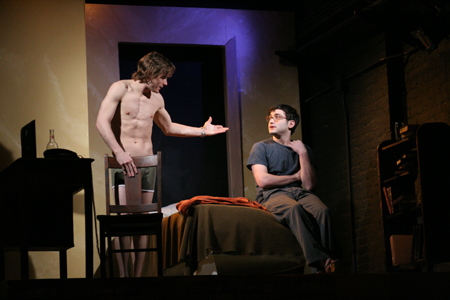 Ryan Patrick Bachand and Teddy Bergman

Kevin Mambo and Kate Goehring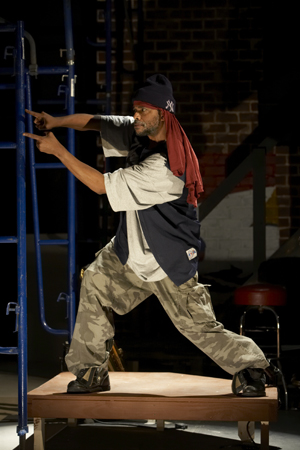 Darnell Williams

Almeria Campbell and Kate Goehring

Almeria Campbell and Kevin Mambo