New Musical by Andy Mientus, Alanis Morissette's JAGGED LITTLE PILL, Bedlam's SENSE AND SENSIBILITY and More Coming to A.R.T. in 2017-18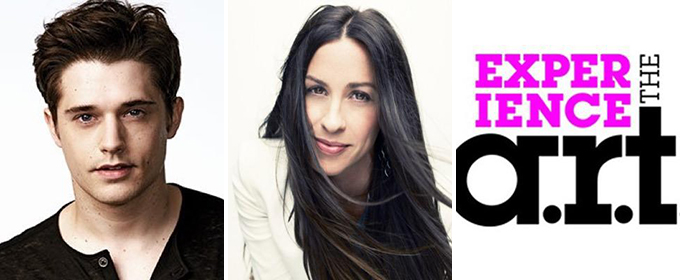 American Repertory Theater (A.R.T.) just announced its 2017/18 season, which draws inspiration from pop art to a landmark alt-rock album, from poetry to classic literature. Scroll down for details!
---
WORLD PREMIERE MUSICAL
BURN ALL NIGHT
Book and Lyrics by Andy Mientus
Music by Van Hughes, Nick LaGrasta, and Brett Moses
Directed by Jenny Koons
Starts August 2017
In an age of uncertainty, four lost souls come to the city in search of themselves. An unflinching look at being young on the eve of global catastrophe, this world premiere musical directed by Jenny Koons (A Sucker Emcee, In This Moment) and choreographed by Tony nominee Sam Pinkleton (Natasha, Pierre & The Great Comet of 1812) features a synth-pop score by Teen Commandments members Van Hughes, Nick LaGrasta, and Brett Moses with a book and lyrics by Andy Mientus ("SMASH").
WORLD PREMIERE PLAY
WARHOL CAPOTE
From the words of Truman Capote and Andy Warhol
Adapted by Rob Roth
Directed by Michael Mayer
Starts September 2017
Somewhere in the disco-drunk 1970s, Truman Capote and Andy Warhol decided that they were destined to create a Broadway play together. On dozens of tapes, Warhol recorded their conversations about the show-and about everything else, including Studio 54 scandals and America's obsessive relationship with celebrity. Warhol and Capote never finished their play, and the tapes were forgotten-until now. With the support of the Andy Warhol Foundation for the Visual Arts and the Truman Capote Literary Trust, Tony Award nominee Rob Roth (Beauty and the Beast) has edited Warhol's unpublished recordings into an incisive portrait of two of America's most enigmatic artistic personas. Tony Award winner Michael Mayer (Spring Awakening, Hedwig and the Angry Inch) directs this world premiere "non-fiction invention."
Bedlam's SENSE AND SENSIBILITY
By Kate Hamill
Based on the novel by Jane Austen
Directed by Eric Tucker
Starts December 2017
Eric Tucker's exuberant, inventive staging of Jane Austen's classic novel follows the adventures (and misadventures) of the Dashwood sisters-sensible Elinor and hypersensitive Marianne-after their sudden loss of fortune. Bursting with humor, emotion, and bold theatricality, Sense and Sensibility asks: when reputation is everything, how do you follow your heart?
HEAR WORD! NAIJA WOMAN TALK TRUE
Directed by Ifeoma Fafunwa
Starts January 2018
Featuring a cast of leading actresses from the Nigerian stage and screen, Hear Word! Naija Woman Talk True is inspired by multi-generational stories of inequality and transformation. Staged by director and writer Ifeoma Fafunwa, the show grapples with the issues affecting the lives of women across Nigeria, and the factors that limit their potential for independence, leadership, and meaningful contribution in society. Combining song and dance with intimate portraits of resilience and resistance, the show celebrates the women who have broken the culture of silence, challenged the status quo, and moved beyond barriers to achieve solutions. The critically-acclaimed production of Hear Word! returns to the A.R.T. after its US premiere in a limited run last season.
WORLD PREMIERE PLAY
THE WHITE CARD
Written by Claudia Rankine
Directed by Diane Paulus
Co-produced by ArtsEmerson and A.R.T.
Starts February 2018 at the Emerson Paramount Center's Robert J. Orchard Stage
At a dinner party thrown by an influential Manhattan couple for an up-and-coming artist, questions arise about what-and who-is actually on display. Claudia Rankine's 2014 New York Times best-selling book, Citizen, unpacked the insidious ways in which racism manifests itself in everyday situations. Now, this world premiere play poses the question, "Can American society progress if whiteness stays invisible?" White Card is commissioned by ArtsEmerson, Boston, MA, in association with American Repertory Theater, Cambridge, MA, and The Broad Stage, Santa Monica, CA.
WORLD PREMIERE MUSICAL
JAGGED LITTLE PILL
Music by Alanis Morissette and Glen Ballard
Book by Diablo Cody
Directed by Diane Paulus
Starts May 2018
Introducing nineties anthems including "Ironic," "You Oughta Know," and "Hand In My Pocket," Jagged Little Pill (1995) established Canadian singer-songwriter and Grammy Award winner Alanis Morissette as an alternative rock icon. Diane Paulus (Waitress, Finding Neverland, Pippin, The Gershwins' Porgy and Bess) directs this world premiere musical based on the groundbreaking album with a book by Academy Award-winning screenwriter Diablo Cody (Juno).
Additional Programming:
THE 2017/18 OBERON PRESENTS SEASON
The 2017/18 OBERON Presents season will include artists as Keith A. Wallace, 600 HIGHWAYMEN, Sara Porkalob, Company One Theatre, Kit Yan, Justin VivIan Bond, Lady Bunny, Penny Arcade, and more. Click here to see the full listings.
CHARLOTTE'S WEB
Adapted by Joseph Robinette
Based on the story by E.B. White
Directed by Dmitry Troyanovsky
Featuring the A.R.T. Institute for Advanced Theater Training Class of 2018
Starts December 2017
On the Arable family farm, a miracle is about to begin. In order to save young Wilbur from the butcher, Charlotte-a very special spider-hatches a plan to show the world how "radiant" one pig can be in the eyes of a true friend. Adapted from E.B. White's beloved children's classic and directed by Dmitry Troyanovsky (James and the Giant Peach), Charlotte's Web will feature graduate students from the A.R.T. Institute for Advanced Theater Training Class of 2018.
---
Please note: 2017/18 season subscriptions will be on sale to renewing subscribers at noon on June 1 and on sale to the general public at noon on June 8.