Michael R. Jackson To Talk WHITE GIRL IN DANGER At Guggenheim Works & Process
Jackson, choreographer Raja Feather Kelly, and director Lileana Blain-Cruz will discuss the show and their creative process.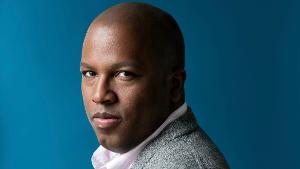 Ahead of its world premiere, go behind the scenes of this epic and viciously funny new musical by Michael R. Jackson, the Tony Award- and Pulitzer Prize-winning creator of A Strange Loop.
In White Girl in Danger-a fever dream mashup of classic daytime and primetime soap operas, Lifetime movies, and red-hot melodrama-the citizens of the soap opera town Allwhite face high-stakes drama and intrigue all the days of their lives. Meanwhile Keesha Gibbs and the other Blackgrounds have been relegated to backburner stories of slavery and police violence for all of theirs. But Keesha is determined to step out of the Blackground and into the center of Allwhite's juiciest stories.
Can Keesha handle the Allwhite attention-especially from the Allwhite Killer on the loose? What role do the other Blackgrounds play in Keesha's Allwhite schemes? And just whose story is this anyway? Find out as Jackson, choreographer Raja Feather Kelly, and director Lileana Blain-Cruz discuss the show and their creative process. Cast members perform highlights before the start of previews on March 14.
For tickets and more information, please visit click here.
Championing the creative process from studio-to-stage, Works & Process, is an independent performing arts organization that supports artists from both the world's largest organizations and from underrecognized performing arts cultures by providing rare, sequenced and fully-funded creative residency, commissioning, and iterative presenting support. Blending artist discussions and performance highlights, each program provides unprecedented behind the scenes access to support our goal of broadening representation and fostering greater understanding and appreciation of the performing arts. Works & Process celebrates New York artists and street and social dance with programs at the Guggenheim Museum, Lincoln Center, and The New York Public Library for the Performing Arts, with the Jerome Robbins Dance Division. LaunchPAD "Process as Destination" partnerships with 12 residency centers across New York State amplify our support for artistic process.