Marga Gomez Opens BAAD!Ass Women Festival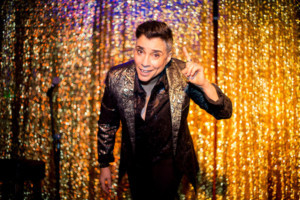 BAAD! - The Bronx Academy of Arts & Dance forges forward with the 19th annual BAAD!ASS WOMEN FESTIVAL, celebrating the empowerment of women through art, culture and performance. As BAAD! celebrates "20 years of Being BAAD!," the festival kicks off on March 1 with the return to BAAD! of the powerful and celebrated comedic theatre/performance artist, Marga Gomez, who first performed for the space in 2002. The festival continues through March 30 with seven evenings, mostly driven by the organization's anchor art form, dance, and also includes theatre, performance and film featuring strong and poignant women. The festival takes place at BAAD!, 2474 Westchester Avenue in the Westchester Square section of the Bronx. Ticket prices vary from free to $25. Participants can take advantage of the Five for $5 special (you and four "girlfriends" make a group of five and pay only $5 each with a prior reservation.) BAAD! offers discounts to BAAD! members, BCA cardholders and NALAC members, and free admission to residents of 10474 and 10461 zip codes. Ticket offers cannot be combined. Visit www.BAADBronx.org for more details.
The schedule for the shows and events is as follows:
Friday & Saturday, March 1 & 2 | 8PM | $25 General Admission, $20 Student/Senior
Marga Gomez in LATIN STANDARDS
Latin Standards was named The New York Times "Critic's Pick" for its "winning heart and humor." Written and performed by GLAAD award winner Marga Gomez, the show recalls her childhood in Washington Heights with her father, Willy Chevalier, comedian, producer, songwriter, Cafe El Pico spokesperson, and prominent figure in the golden era of New York's Latino variety shows. Latin Standards is an energetic, funny and poignant story of perseverance and creative addiction passed down from immigrant father to lesbian daughter. Directed by David Schweizer.
Friday, March 8 | 8pm | Free
TRANSVISIBLE: BAMBY SALCEDO'S STORY
An inspirational documentary about Bamby Salcedo, a Trans Latina woman, now a renowned international leader and Trans community advocate. Bamby's story honors the human spirit and celebrates the victories of winning in the face of adversity, with a special message to Trans immigrant women that face multiple challenges and oppressions. Directed by Dante Alencastre, screening hosted by Barbra Herr.
Friday, March 15 | 8pm | $20 General Admission, $15 Student/Senior
THEATRICAL TREMORS
This shared evening of theatre and performance features three young women pushing boundaries and shaking up stereotypes with Amelia Bande, Julissa Contreras and Qurell-Amani Wright.
Saturday, March 9 | 8pm | $20 General Admission, $15 Student/Senior
FLAMENCO TABLAO CURATED BY NELIDA TIRADO
Bronx-based Flamenco dancer and performer, Nelida Tirado, curates a journey to Spain in celebration of the dynamic rhythmic elements of the traditional flamenco art form: baile (dance), cante (singing), toque (guitar) and jaleo (vocals). Born of the old "Café Cantantes" where spectators enjoyed drinks and a great show, Tirado curates a performance that features a collection of NYC's best Flamenco dancers, singers, and instrumentalists.
Friday, March 22 | 8pm | $20 General Admission, $15 Student/Senior
ALICIA BAUMAN-MORALES presents HURACÁN: STORM MEDICINE
Alicia Bauman-Morales' huracán: storm medicine is a personal dance story, living altar and town hall about destruction, translation, and the transformative power of storms. Told from the body and voice of a queer, light-skinned Oakland boricua, storm medicine is queer spanglish dance ritual in homage to the unseen powers that trip us up, shake us awake and call us home.
Saturday, March 23 | 8pm | $20 General Admission, $15 Student/Senior
SOLE SISTERS
The BAAD!ASS Women dance concert is no-holds-barred, daring event with eight choreographers from the Bronx and beyond including Amber Funk Barton, Beatrice Capote, Deborah Conton, Mai Lê Hô and Tamara Williams.
Friday & Saturday, March 29 & 30 | 8PM | $20 General Admission, $15 Student/Senior
DAVALOIS FEARON DANCE presents FOR C.J.
For C.J. is dedicated to Artistic Director Davalois Fearon's nephew C.J., who was the victim of a fatal asthma attack in 2017. It uses nature to explore themes of loss and remembrance. The dance work celebrates C.J.'s life by telling his story through Fearon's fluid yet assertive movement vocabulary, with original music by multi-reedist Mike McGinnis, wearable sculpture, costume, makeup designed by interdisciplinary artist Jasmine Murrell and set design by performer and visual artist Myssi Robinson.
Crowned "a funky and welcoming performance space" by The New York Times, BAAD! is a performance and workshop space that presents cutting-edge works in dance and all creative disciplines empowering to women, Latinos and people of color and the LGBTQ(lesbian, gay, bisexual, transgender and queer) community. BAAD! is home to Arthur Aviles Typical Theatre (AATT) and the Bronx Dance Coalition and was founded by Arthur Aviles and Charles Rice-Gonzalez in 1998 in Hunts Point. BAAD! moved to Westchester Square in October 2013 to a gothic revivalist building on the grounds of St. Peter's Church.
BAAD!/AATT receive support from The Ford Foundation, The NYC Department of Cultural Affairs, The SHS Foundation, The Mertz Gilmore Foundation, The Howard Gilman Foundation, The Lincoln Center Cultural Innovation Fund, The New York State Council on the Arts, Councilmember Mark Gjonaj, The Jerome Foundation, The Emma A. Sheafer Charitable Trust, The New York State Regional Economic Development Corporation, The Yankee Community Benefit Fund, The Rubin Foundation, The Harkness Foundation for Dance, and private donations.