Windmills on the Horizon! 54 SINGS MAN OF LA MANCHA Set for Tonight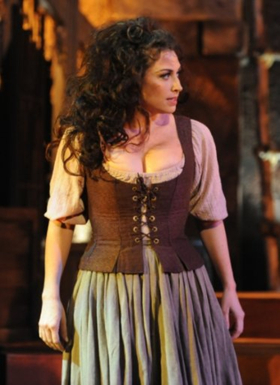 Lesli Margherita (Matilda, Dames at Sea) has joined the cast for 54 SINGS MAN OF LA MANCHA tonight at Feinstein's/54 Below. She will reprise her role as 'Aldonza/Dulcinea' after appearing in a production at Musical Theatre West in 2012.
Man of La Mancha is among the greatest of all Broadway musicals; its enduring appeal is marked by four Broadway revivals as well as productions all over the world that continue to this day. It won the Tony Award for Best Musical, made Richard Kiley a star, and has since been a star vehicle for the likes of Raul Julia and Brian Stokes Mitchell.
But the show's greatest achievement is its magnificent score, highlighted by the classic hit song, "The Impossible Dream." In the upcoming concert version of the show, you will hear the remarkable story of how this show came to be, plus witness, in live performance, the exciting, rich, and vibrant songs that propelled this exquisite, emotionally towering saga into musical theater history.
The concert version of Man of La Mancha is conceived, directed, and hosted by New York impresario Scott Siegel, who is the creator/writer/director/host of the critically acclaimed Broadway by the Year series at Town Hall which begins its 17th season on Feb. 27th. He has written/directed/produced concerts for Michael Feinstein, in addition to more than 300 concerts events all over the world.
The production will also feature William Michals (South Pacific, Scarlet Pimpernel) as Don Quixote de La Mancha, Bob Stillman (Two-time Tony nominee) as The Padre and Anthony Santelmo, Jr. as Sancho Panza.
The concert is set for tonight, July 12, at 7 and 9:30 p.m. at Feinstein's/54 Below. For tickets and more information, click here.
Pictured: Lesli Margherita in MAN OF LA MANCHA at Musical Theatre West in 2012. Photo by Ken Jacques.