Jukebox Musical THE KING, THE FINAL HOURS Announces New Consulting Producer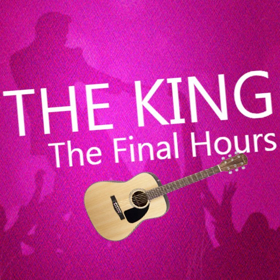 Producers for the Off-Broadway theatrical play, The King, The Final Hours, have announced the award-winning journalist and writer, John Aidan Byrne, is joining the creative team as a consulting producer.
Byrne is a contributing writer, editor and journalist with many prominent news publications and his stories and work have appeared in the New York Post, Wall Street Journal, Institutional Investor, REP. Magazineand numerous other media.
The playwright, Mark Macias, said Byrne has already brought a unique story-telling perspective and contribution to the play.
"Byrne really knows how to tell a story and sell it to the public," said Macias. "He finds unique angles that lure you in. He's also an experienced and award-winning journalist. I'm super excited to be working closely with him as we find new ways to introduce this play to theater lovers, New Yorkers and music lovers."
Byrne said he was captivated with the script and concept from the moment he heard about it.
"It didn't take very many pages to read before I knew Mark Macias had a hit on his hands," said Byrne. "He's telling a story of Elvis Presley that hasn't been told. This isn't the cliche story of the King that is told in a way the Elvis Presley branding machine wants you to hear. This play meshes the arts and history to bring Elvis Presley alive and take you into his final hours on earth."
The King, The Final Hours is not affiliated with Elvis Presley Enterprises. The jukebox musical is an unauthorized, unfiltered and artistic interpretation of what went through the King's mind during his final hours on earth. This is the first Off-Broadway or Broadway performance to explore the King's final hours on earth as he reflects on his life, failures and former loves.
The biggest entertainment vendors are already on board with ticket sales, and Macias said early ticket sales suggest the 10-day limited run could be sold out by September. During the show's preview run, Macias will be holding a Q&A session with all ticket holders, answering their questions on the play, interpretation or the characters.
"We haven't started any publicity campaigns yet, and people are buying tickets," said Macias. "We're integrating digital media into this story line, transporting theatergoers back in time. And this cast is authentic, right down to our main character who grew up outside Memphis and looks like Elvis Presley."
The King will be played by Memphis native, Brett Michael Bullard who graduated from the American Academy of Dramatic Arts in 2016. Bullard grew up idolizing Elvis as a boy, singing his famous songs to family. He even grew up in a religious home, like the young entertainer, going to Vacation Bible School and attending church on Sundays.
"Every boy in Memphis pretends to be Elvis Presley at some time in his life," said Bullard. "I can't wait to channel my childhood and Memphis roots when I dig deep into this character."
The King, The Final Hours will explore the internal conflicts the King likely faced as a man in love with two women at the same time. Throughout the play, the King reflects on what might have been had he made different choices.
"I hope this story makes everyone think and reflect," said Macias. "What will you remember in your final hours? What choices will you reflect on? Who will you want to speak with again when your hours are near an end? This play allows every theatergoer to experience that moment through the eyes of Elvis."
Producers for The King, The Final Hours have obtained the licensing rights to several songs performed by The King. Bullard will perform those songs with a live guitar and pianist.
The jukebox musical will debut at the Producers Club Theater in New York City on Oct. 17, 2018 with a limited 10-day preview run.
"The best theater should be intimate," said Macias. "Unfortunately, with some of the biggest Broadway shows, fans are pushed to the rafters. The King, The Final Hours is an intimate experience with a smaller theater that puts you close to the cast. This is as raw and pure as art can get."
The playwright, Mark Macias, is an Emmy-award winning producer and storyteller. He's a former Executive Producer with NBC and Senior Producer with CBS in New York. His TV peers nominated him with 5 Emmys and awarded him one Emmy. Macias now runs his own PR firm - MACIAS PR, which was named the 2015, 2016 and 2017 PR Firm of the Year by both marketing peers and journalists. He's also the author of the business book, Beat the Press: Your Guide to Managing the Media.