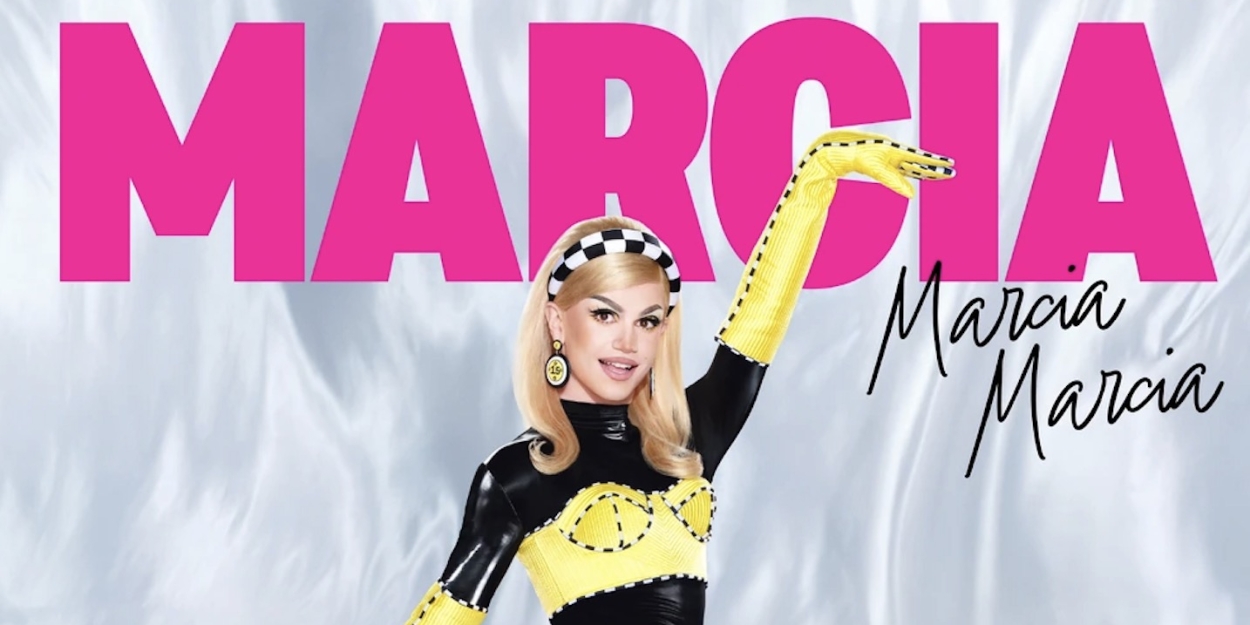 Interview: From Broadway to Runway- How Marcia Marcia Marcia Brought Her Theatrical Talents to RuPaul's Drag Race
New episodes of RuPaul's Drag Race air Fridays at 8pm on MTV.
Many queens wrap up their experience on RuPaul's Drag Race with big dreams of what comes next. For some, that dream is Broadway (see Jinkx Monsoon slaying as Mama Morton in Chicago). Marcia Marcia Marcia has already been there done that... but really! As the resident Broadway baby of Season 15, Marcia let their theatrical talents shine throughout their time on the show, which sadly concluded last week.
A graduate of Boston Conservatory, Marcia made their Broadway debut in Kinky Boots in 2018 before joining the national tour of Hello, Dolly!. More recently you might have caught them as an Angel in Kinky Boots' off-Broadway run, which just concluded in November.
BroadwayWorld just checked in with Marcia to get the scoop on their Broadway roots and find out what's next!
---
What were your early creative outlets as kid and when did performing become a part of your life?
When I was very little, I was in love with the Wizard of Oz. It was my favorite movie in the world and I watched it every single day. That led to me loving a lot of other movie musicals. My parents were always trying to get me to start doing theatre, but for whatever reason I didn't want to. I wasn't a shy kid, but I was hesitant. I think I finally gave in by 8th grade. I auditioned and ended up being Charlie Bucket in Willy Wonka Jr.
All through high school I really stuck with it and then I started dancing more. That led to college- I went to the Boston Conservatory and my time there was amazing. It was a dream school for me because their dance program is so incredible. I really wanted to improve as a dancer.
Were you there at the same time as Jan [Sport]?
Yes! Jan and I were in Jazz 3 together my freshman year!
And then Kinky Boots happened for you after graduation?
Right. I was working at Theatre by the Sea and I left on a Monday to go to a call back for it. A couple of weeks later my agent called me and he said, "Hey, Kinky Boots wants to know if you'd wanna be a Vacation Swing!" And I was like, "Yeah, of course!"
Swingin' ain't easy! Was that a learning experience for you?
Swings are the unsung heroes of Broadway... and Vacation Swings maybe even more so. It's a difficult job because it's not consistent- you're not surrounded by the material all the time. I'm not sure if I really have a swing brain. I get really anxious when I don't do thing correctly.
Then came Hello, Dolly!?
Yes, the next fall I joined my boyfriend on the national tour of Hello, Dolly!, which was absolutely magical because it was another one of my favorite movies when I was little. Getting to do it eight times a week, all around the country, with my loved one... it was incredible. And Carolee Carmello was the sweetest person in the world. She would come to our birthday parties! She was so connected with all of us. We had a reunion moment at Bad Cinderella recently and it was very nice.
And then after filming Drag Race you went back into Kinky Boots off-Broadway?
I did! It was really nice to come back and have something to focus on. For a lot of other queens in the cast, being a drag queen is their full-time job! I got to have a little bit of a distraction, which was really nice.
I'm sure it felt great to flex a different set of muscles for a bit too...
There's small part of you when you get an opportunity like Drag Race, that makes you think, "Oh gosh, does this mean drag is now my all-the-time thing?" But especially in what we are seeing with current casting practices, I don't think it's true. I think it's possible to do more than one thing. So going back to Kinky Boots was really comforting. I could return to the thing that I love. Theatre will always be home base for me.
To what extent do you think that your theatre background helped you on this show and bigger picture, has made you a better drag artist?
Working in theatre obviously teaches you how to sing, dance, and act- all helpful skills, especially on Drag Race. It also teaches you how to adapt quickly and how to remain calm in high pressure situations. For example, when three people are out of your show! [laughs] It teaches you to multi-task and to be a good team player.
The fact that you're gone one week before the Rusical shatters my heart...
I was a little bummed, I'm not gonna lie. But I filmed a little project that will be released [tonight].
At least you had an awesome musical moment with your Moulin Rouge! music video. How did that come together?
So for that design challenge, I actually had a different design drawn up, and then in my walk-through they asked for something a little sexier. So I was like, "Ok, how about I go can-can girl?" Then when I got home I knew I'd love to shoot at Moulin Rouge! because it was the 200th episode and I wanted to do something big. So I have a couple of friends in the show and they put me in contact with their stage manager and that led me to the marketing people. Everyone was so gracious and I honestly can't believe they let me do it.
And you were back at the Hirschfeld!
Absolutely. It felt like home for the New York theatre part of my life.
Have any particular Broadway performers inspired you throughout your career?
Ever since I was young I have loved Gavin Creel. His voice is butter! It's so smooth and effortless. In high school I got to do Thoroughly Modern Millie and I was Jimmy. That's what really cast it off for me.
So you're back in New York now! Have you been seeing any shows that you love?
I have friends in like everything! I've been able to pop in so many places. Something I have not seen yet is & Juliet. I have so many friends in that and I'm so looking forward to it. I love that there is non-binary representation in the cast. I think that is so important. And I also really want to see Shucked! I've heard such incredible things about it being a laugh a minute.
So what's next for Marcia? What's the dream?
I have dipped my toes into so many things in my life. I want to keep up with all of them! Having platform like the one that Drag Race gives you allows you so much access to people and access to artists that you admire. I'd love to do TV /film, theatre, music... I wanna do it all! I love entertainment and art. I'm inspired by so many different things. I'm trying to do all of it!
---
The Rusical episode of RuPaul's Drag Race airs tonight, March 17, at 8pm on MTV. Until then, recap some of our favorite Rusical moments.