Infamous Skating Rivalry to Hit Feinsteins'/54 Below in TONYA & NANCY: THE ROCK OPERA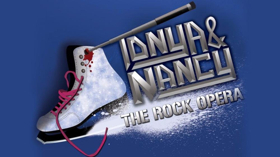 Feinstein's/54 Below, Broadway's Supper Club, presents Ashley Spencer as 'Tonya' and Lauren Worsham as 'Nancy' in a concert of songs from Tonya & Nancy: The Rock Opera' on Feb. 13, 2018 at 9:30 PM.
Marking the 2018 Winter Olympics and the 24th anniversary of the Harding/Kerrigan 'knee whack' scandal, Broadway stars Spencer and Worsham play the rival skaters in this show. Before there was the new Tonya Harding bio-pic, there was this Rock Opera, which played Boston, LA, had a sold-out run at NYMF, and an acclaimed run in Chicago last year. Now, Tonya & Nancy returns to NYC in a concert produced by Paul Boghosian/ Harborside Films, with a concert CD by Broadway Records.
Lauren Worsham, Drama Desk Award winner and Tony nominee for A Gentleman's Guide to Love and Murder, will lend her soaring operatic voice to Nancy arias like 'Why Me'. Ashley Spencer, who starred on Broadway in Grease, Hairspray, and Priscilla Queen of Desert, brings comedic flair and vocal power to rocking 'Tonya' ballads like 'Watch Your Back.' The dual role of Tonya's 'bad Mom' and Nancy's saintly one will be played by one powerhouse actress. In both the 2016/2017 Jeff Theater Awards and at NYMF, the actress playing the Mom(s) won Best Featured Actress. Further casting announcements are coming soon.
Tonya & Nancy: The Rock Opera plays Feinstein's/54 Below (254 West 54th Street) on Feb. 13, 2018 at 9:30 PM. There is a $35 cover charge and a $25 food and beverage minimum. Tickets and information are available at www.54Below.com. Tickets on the day of performance after 4:00 are only available by calling (646) 476-3551.
TONYA & NANCY: THE ROCK OPERA has drawn national and international media attention and has been featured in The New York Times (2017) as well as on People.com, CBS This Morning, Good Morning America, and more. It was named a 'Top 5' show of 2016 in Chicago. The book and lyrics by Elizabeth Searle and music by Michael Teoli were praised by BACKSTAGE for "a blend of dark comedy and surprising depth." Searle conceived of the show years before 'I, Tonya,' the Hollywood feature film. Harding herself attended the rock opera's premiere in Portland, OR, where Portland Mercury called the show 'brilliant and touching.' Of the NYMF production, Mediaite wrote: "This is beautiful and perfect and you're just upset you didn't think of it first." Searle and Teoli were, in fact, 'the first' to think of dramatizing the Harding/Kerrigan saga. In its review of the NYMF production, Theater Mania decreed: "This story was always meant to be a rock opera... Don't miss it."
Feinstein's/54 Below, Broadway's Supper Club & Private Event Destination, is a performance venue in the grand tradition of New York City nightlife. A few blocks from the heart of Times Square and just below the legendary Studio 54, Feinstein's/54 Below is a classically designed state-of-the art nightclub in the theatre district that hosts audiences with warmth and style. Feinstein's/54 Below presents iconic and rising stars from the worlds of Broadway and popular music. Located at 254 West 54th Street, Feinstein's/54 Below features up to three shows nightly with cover charges ranging from $5-$105.