Industry Interview: Scott Sanders Is Breaking the Mold to Create Experiential Entertainment for All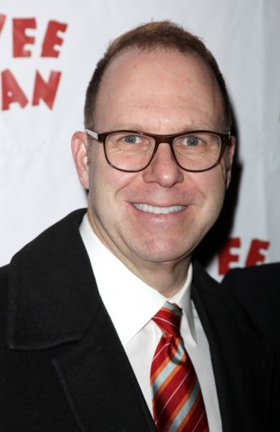 Now through December 31

, Westfield Topanga will be home to

UP CLOSE: MICHELANGELO'S SISTINE CHAPEL

, a limited time museum quality exhibit of the iconic master work, beautifully displayed in a series of near life-size recreations. The stunning exhibit allows visitors to experience one of the world's greatest artistic achievements: Michelangelo's renowned ceiling frescoes from the Vatican's Sistine Chapel, reproduced in near original size in a format that allows viewers to get face to face with the artist's masterpieces.
Through an in-depth exhibit of 34 reproductions artfully displayed on oversized panels, this innovative interpretation allows visitors to experience timeless masterpieces like The Creation of Adam and The Last Judgement as only a few have before -up close and personal.
Broadway producer and Westfield Creative Head Scott Sanders is the mastermind behind this kind of experiential entertainment and he's telling us all about how the concept came to be.
---
What first attracted you to this opportunity to work with Westfield?
The idea of broadening the palette of working in experiential entertainment was very intriguing to me and experiential entertainment can be very theatrical in its nature. It's live entertainment at its core and I've had the privilege of working and the opportunity to work in a variety of forms of live entertainment from Radio City Music Hall to the music business and the concert business and Super Bowl, and Broadway and off-Broadway. It's been in my blood for a long time and I love to play in non-traditional spaces. So having the opportunity to create and to build a production company out that includes experiential entertainment in addition to theater and film and television, seemed like a really cool opportunity.
This is a venerable company who has very forward thinking about wanting to curate experiences for our customers. I thought it very much fit sort of into my background and the kinds of talent relationships I have and the kind of shows that I've worked on in my life.
And what sort of stuff has preceded this new Michelangelo exhibit that you worked on with them?
Well, I wanted to do something like a tour within the first year of being there. We have The Color Purple tour that just launched in Baltimore two weeks ago. And that's its own living, breathing musical that will move around the country for the next 50 weeks. I wanted the first Westfield touring experience or project to be inanimate object, so that it would be easier to try to figure out how to create a touring model for experiential entertainment if we didn't have 30 people that have to move around at the same time.
So I wanted to do something in the public arts space. As we started looking at different opportunities, I was reading about Santiago Calatrava's initial thinking as he was designing the Oculus for World Trade Center. He noted that he was envisioning a cathedral when he was drawing and starting to design it. So I thought, "Oh, that's sort of interesting." I had heard about a production of Michelangelo's Sistine Chapel as adapted from Erich Lessing's photographs that was done in Vienna. I reached out to the company who was working on it and we made a deal for us to be able to get access to the art.
Then we had a Brooklyn-based design company come in and create the actual exhibition- everything from how the art's displayed in its life-size form, how it's back-lit. We decided that we were going to create an entire experience -- when you go into the exhibit, you'll be teased with all different kinds of stimuli. One of course is seeing Michelangelo's work up close and in a more intimate way than you can if you are in Rome. You can take photographs of it. You can sit down and immerse yourself in the art. You can bring your sketch pad and work on it. But we also have music and we also had a scent created for us that we put into the air through diffusers and have come up with a variety of ways for this to be a very unique, live attraction for our customers.
And so we launched it in June in the Oculus and it was hugely popular and a wonderful way for us to kick off public art in Westfield World Trade Center. Then we began the tour at Garden State Plaza in Paramus and now we installed the exhibition in a tent on the property there and now we've just moved it to Los Angeles and we're in Westfield Topanga. We took ten thousand square feet and made a pop-up art gallery.
We're loving the idea of being able to take this kind of public art and and really give our customers a unique way to experience this art in an 8-week engagement per market. It will run through December 31 in Los Angeles and so it will be another attraction over the holiday period in LA for folks who come to the mall. It's just a really fun way to, again, extend the kind of theatricality that we work on when we're on Broadway or touring a theatrical show on the road, but bring those sensibilities to experiential entertainment at Westfield.As it moves from city to city, is it being changed just to adapt the space, or are things being added, or are there other tweaks that are made?
We added the scent in Los Angeles-- that was a new edition that we did not do in the Oculus in New York because the Oculus is so big. But indeed, largely it's about readapting the space and creating a pop-up gallery from within the unique spaces that we have in our various Westfield centers.
What is the scent of Michaelangelo like? How do you come up with something like that?
The scent was designed by Calder Singer, a New York City-based perfumer and artist. The notes are frankincense, myrrh, tulsi, rosemary, and juniper.
Fascinating. We're going to have to try and recreate that here!
We've also hired in New York City a muralist by the name of Ashley Zangle. Ashley going to paint a mural on site outside of the exhibition-- on the exhibition's facade for seven days. Our customers will be able to come and see it in progress and watch Ashley paint and it becomes a whole sort of again, 360 experiential exhibition about painting and art and it just changes what people's expectations are when they go to a Westfield center.
Is she recreating a Michaelangelo painting or doing something original?
No, she's going do something of her own.
How do you measure the success of something like this? I mean, obviously its not ticket sales. So how do you know that it's doing a good job?
It's a great question. We are selling tickets, custom merchandise and renting audio guides in four different languages. It's not just the ticket revenue. Its really about creating surprises and unique experiences for our guests at Westfield. We intend to do more of these. Some will be touring projects and some will be location-based experiential attractions created specifically for a particular market like Los Angeles, New York, or London. We're developing a variety of different kinds of experiences in the entertainment space and we'll decide the best distribution plan for each one.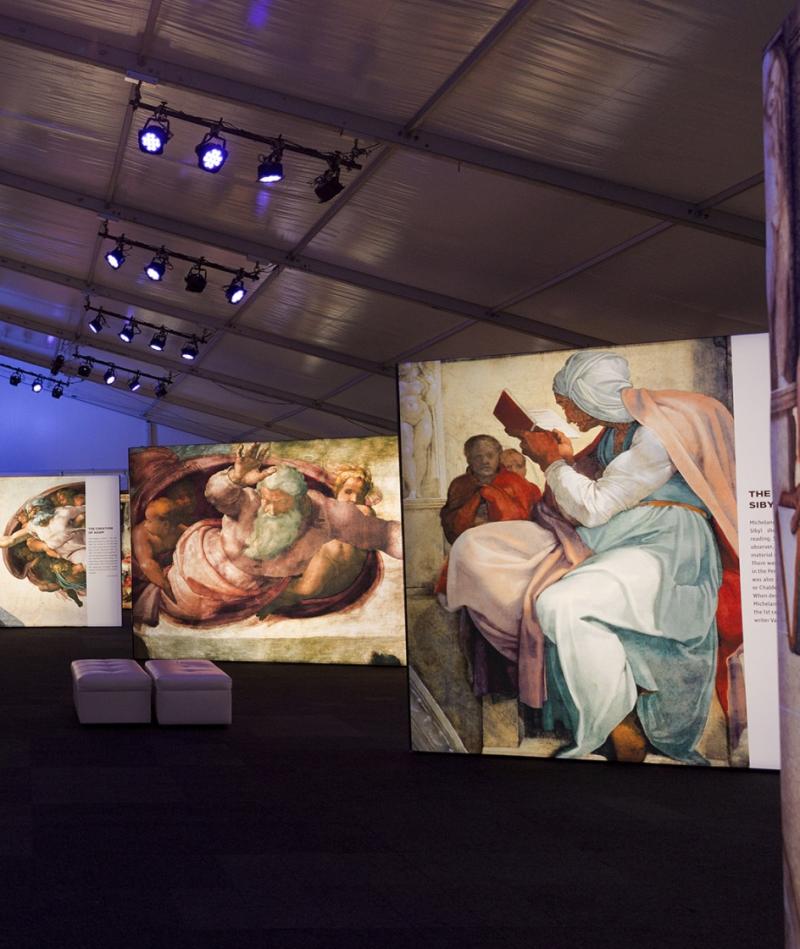 And how do you determine which markets are good fits for which installations?
It's interesting you ask that question, because there are certainly entertainment markets in the US, if you just look at what the level of business and of population is in a particular market. There are the Top Ten markets in the US for live-ticketed entertainment, the Top Fifty... most of those correlate with where Westfield has centers. Certainly the largest three media entertainment markets are London, New York and Los Angeles in our portfolio. But then we have other properties in Chicago, in Seattle and San Diego and other markets that are clearly strong entertainment markets. Those centers are very muscular and healthy as well, and they get a good amount of traffic on a month-to-month basis. So, we think it's the perfect cross-section of taking a destination that already has built-in traffic and then layering on this traditional element of live experiential entertainment, it just gives people more reasons to come, more reasons to hang out longer.
What's the sort of education process like of people discovering it just because they're there as well sort of getting people to come just for the that purpose as opposed to just shopping?
I think that it is an education process because people show up and many people come to the mall and they don't even have a particular agenda. They're just going there because they want to spend time there and they're willing to explore and figure out what it is that they're going to do once they get there. That's the majority of the people, and so having something that's an element of surprise in the entertainment space is going to enhance their experience.
At the same time, we want over a period of time for people to ultimately come to expect that this is part of the offering that Westfield is going to bring to a customer or family if they come visit our center on a regular basis.
I think about many years ago when I started to work at Radio City Music Hall and it had a programming philosophy geared towards Rockettes family shows. It was largely appealing to tourists and not so much to the mixed urban market that Radio City lives in. I realized that most of my friends in their 20's and 30's weren't going to Radio City and so I went about adding shows and concerts to appeal to a broader mix of ticket buyers. We started bringing in the Grateful Dead and Diana Ross and the MTV Awards and all different kinds of shows that would appeal to the strong local New York Market.
Within about 2 to 3 years we had a 50% market share of the concert business. But that took time for that brand identity to be developed and it took time and repetition of hearing, "Oh! Look, they're doing that there now!"
So I think we take a similar approach at Westfield. Over a period of time as people come to visit, they'll realize that this is a whole new piece of the puzzle of what we are bringing to our guests. In the same way that we're upgrading the dining experiences in our centers, bringing the first-ever Eataly to Los Angeles... For the opening weekend, there were lines that were an hour long waiting to get in. For those who live in New York and all go to Eataly all the time that may seem a little crazy, but at the same time, Eataly opening in Beverly Hills on the west side of Los Angeles was like Beyonce coming to Madison Square Garden. Two of our hottest shops in the Century City are Apple and Eataly.
It's been a remarkable experience to watch how people are viewing all different kinds of things in their life as exciting highlights and experiences. There would have been a day that you would've thought that would've been one of the big department stores and you start to realize: people's habits and tastes and interests are changing. So we think it's very organic to now add entertainment to that mix as well.
What has the excitement been like for the artist and creators to be able to bring staff to totally new venues and totally new audiences?
I wasn't sure when I started what the talent and creative community was going to think. We found that to a person, every single person we've talked to about doing things -- whether they be IP holders or artists or performers in their own right- they're very excited to get in front of the public, in a place where they feel like these people are entertainment seekers. They are people interested in fashion. They're interested in film. So going to a place, as long as we've got a first class way for them to be presented, (which we do), and an infrastructure to back that up (which we do), they're very excited to get in front of the public.
You also realize that there's a lot of artists whether they be in the film industry, music industry, or pop culture industry, who also are multifaceted. They've got commerce and they've got product, and we are the central point for where that product could be sold. So you've got artists that are interested in coming in and performing at our centers and then doing a pop-up shop to promote their products. We just made a deal with Will-I-Am at Century City to do just that. It's been really interesting for me as a producer to connect the dots beyond just the ticket sales component, and really work with artists and say, "Alright. You've got dreams that you're looking to accomplish- you're looking to sell an album, you're looking to sell your new perfume or your new sneaker. Why don't we come up with a customized way for you to be part of the Westfield entertainment family and we can accomplish all different kinds of things with you at our centers".
What sort of ideas or inspirations is this all giving you to bring back to the Broadway world?
We have a few shows that we've been working on for a while that are soon to come to Broadway and we've been really excited about continuing to nurture those and develop those. We'll have a show that will open out of town next year. I have the opportunity to work with music artists, I've done one person shows like Elaine Stritch and non-traditional theatricals like Pee-Wee Herman.
My favorite thing is to get engaged with an artist that we have a mutual respect in creativity and start to dream and start to think about what we might want to do together. Then we can figure out what the stage should be to launch it and/or tour it. All this comes after that. It's like what's the idea first? What are you looking to do? And sometimes Broadway is the best place to do that and sometimes it could be a concert venue, a large venue, a pop-up warehouse somewhere... I find after all these years of working in all different kinds of shapes and sizes of stages, that I'm really enjoying letting the idea drive where it happens.
But my heart and soul is in musicals and we have a couple, as I've said, that are on the cusp of launching and having their first day on stage. Carol Fineman and I stay very connected to that world and that community. In addition to The Color Purple, we will continue to have a very strong eye and voice and hand in working in the Broadway space.
We're seeing stuff like Charlie and the Chocolate Factory in front of a house looking like a candy factory and waitress packing pies in the lobby. Do you think we'll see more of that sort of experience to try and further enhance the live experience?
I hope so! I mean I think when it's appropriate... obviously, to do it just to be gimmicky doesn't make any sense, but if it's organic to what the show is or what the product is, or what the experience wants to be, then by all means! I think we've learned a lot from Cirque du Soleil over years about how you can break the fourth wall, and you don't have to just do things within the proscenium space for example. I do think that whenever a director decides to do something unique... you think about The Great Comet, the way that was designed and directed and staged. I do think that people are titillated and excited by things that break the mold from time to time. So yes, I think the opportunity to break the mold, if indeed the mold wants to be broken, is very exciting. To do it again, just for the sake of creating a stunt, usually backfires.
---
Scott Sanders won the 2016 Tony Award for Best Revival of a Musical as lead producer of The Color Purple and the 2017 Grammy Award for Best Musical Theater Album.
He is one of the entertainment industry's most creative and prolific entrepreneurs, with a proven track record of producing quality entertainment properties for a variety of media. In addition to his credit as lead producer of the 11 Tony Award-nominated hit original 2005 Broadway production of The Color Purple, he is widely credited with the historic turnaround of Radio City Music Hall. Additional credits include Elaine Stritch: At Liberty, which won the 2002 Tony Award, and the HBO special of "Elaine Stritch: At Liberty," which won two Emmy Awards, including one for Sanders for Outstanding Variety, Music or Comedy Special as well as the first ever Broadway revival of Evita, starring Ricky Martin, Elena Roger and Michael Cerveris. Sanders partnered with Queen Latifah in a groundbreaking music partnership to record and produce her first vocal album, The Dana Owens Album, which is approaching platinum sales status and received a Grammy Award nomination for Best Jazz Vocal Album.
He also produced the Tony Award-nominated Broadway production Dame Edna: Back With a Vengeance and pop star Josh Groban's Broadway debut in a concert version of Chess at the New Amsterdam Theatre. Sanders also launched film and television powerhouse Mandalay Entertainment with partner and chairman Peter Guber and served as president of Mandalay Television, executive producing six network series - in association with Columbia TriStar - including ABC's "Cupid" with Jeremy Piven and the WB's "Young Americans" with Kate Bosworth.