Industry Exclusive: How The Muny Snagged JEROME ROBBINS' BROADWAY For Their Centennial Season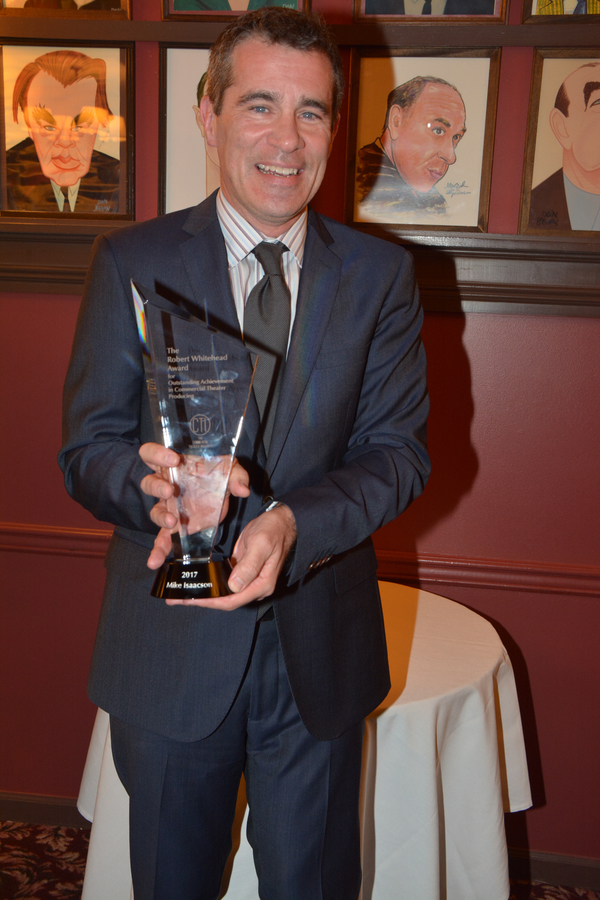 Programming a season for a major regional theatre can be a massive undertaking, to put it mildly. Funding, casting, public interest, and license availability are just some of the multitude of challenges and considerations that must be acknowledged - so its no surprise that programming The Muny's 100th season would be an exceptionally large challenge.
Artistic director Mike Isaacson has been at The Muny for seven years, but knew early on that he'd have to think big when it came to the St. Louis institution's centennial celebrations.
"Once I was a season or two in, I figured I was staying, and could see the 100th looming," he said, "and what that would mean to the institution and the community."
Early planning included many spreadsheets, with interns outlining all types of possibilities for the landmark theater season.
"Every time where I got to a point where there was a unifying idea, like the top seven composers or the top selling shows, it felt thinner than what we are."
Ultimately, Isaacson's programming for The Muny's 100th season would include THE WIZ, SINGIN' IN THE RAIN, JERSEY BOYS, ANNIE, GYPSY, MEET ME IN ST. LOUIS, and for the first time since its original stage production... Jerome Robbins' BROADWAY.
"If you're going to characterize it - it's a very populist season. I honor and respect that," Isaacson said. "This has always been a theatre of its people. With the 1,500 free seats a night and the incredible tradition of people going here, there is this energy and vibrancy that is very open and welcoming. This is a season that no matter who you are in St. Louis, if you look at this - there's something here for you."
Isaacson wanted the 100th season to reflect Broadway's "Golden Age," he notes. "But when you looked at that period, when you looked at my seasons here, I had done all the classics. When I was looking at other potential shows from that era - it was all sort of the less than classic ones. Still reputable, but not that iconic."
Regional theatres have to take their audience into consideration - with most devoted audience members catching all of the shows year after year, repeating a show too soon could be problematic.
"It really was frustrating because I didn't want to repeat," he said. "I wanted the audience on a new adventure. It was really getting me down. I just kept looking at lists and thinking about possibilities, and at one point - ok I'll just swallow my pride and repeat West Side Story. But that felt too soon to me (five years.)
"I don't know why my mind went to this place and I just realized: don't do one classic, do them all. Do Jerome Robbins' BROADWAY. I went and found the CD and realized not only would this be crazy and ambitious, but it allows us to have all of those people: Bernstein, Rodgers and Hammerstein, Comden and Green, Sondheim, they're all in there."
Of note, The Muny's centennial season coincides with The Jerome Robbins Foundation's celebrations of 100 years of Jerome Robbins.
Planning for The Muny's 100th season had been long underway by Fall 2016, when Isaacson first broached the idea of including Jerome Robbins' BROADWAY.
"So, I began trying to figure out would it be possible, and then if it would be possible, how is it possible?"
After a successful meeting with the Jerome Robbins Foundation, Isaacson set to work figuring out the logistics and legalities of performing the work, which has never been available for licensing and hasn't been seen since the 10-city national tour of the Broadway production.
"I knew once I had the foundation's blessing and partnership, the conversation with the writers would be easier," Isaacson said. "Then the key thing was the Jerome Robbins Foundation was able to find for me the contracts from the original Broadway production.
"That contract gave me the parameters for how the deal was financially structured - and then I called the original producer, Emanuel Azenberg, and he was a total mensch and helped me out explaining what the formulas were for compensating the writers and how that was done."
For the original production, and for The Muny's remount, each writer or group of writers is compensated based on whatever portion of stage time is allocated to their work. Isaacson spent hours putting together a spreadsheet, noting the timings and figuring out which percentage belonged to which author.
"The licensing houses gave me all the groups of contacts to reach out to," he said. "Sometimes it was managers, sometimes it was widows, descendants and I let them know what we were doing and in this great gypsy spirit - everybody was incredibly supportive, though shocked we were doing it - and that gave me the legal structure and foundation to do the show.
"The most common reaction [from license holders] was we never thought we'd see this again in our lifetime. How exciting, go for it."
Of course, once you have permission to do the show, next comes the actual work - putting it all together. "Once that was set, then we could dive into the artistic end of looking at all of the materials that were available - Jerome Robbins' original notes, dance captain notes, the Lincoln Center library was of course a huge help to us. The Jerome Robbins Foundation have been godsends in all of this," Isaacson said.
To put together a show as complex as Jerome Robbins' BROADWAY, The Muny is on-boarding Cynthia Onrubia, Robbins' assistant on the original production, to recreate the show.
"For Jerome Robbins' BROADWAY, we're doing more rehearsal time," Isaacson said. "We're adding an extra week. We'll also have guest artists who'll be coming in to work with the cast of 49 - in a dance company model - working on specific numbers."
"The orchestrations, everyone had thought was at Chelsey Music, and for reasons nobody knows ended up in the Shubert Archive - so we've reached out to them and they're partnering with us on those... We've got the dance and music knowledge, but we are, in a way - putting together the past. By any standard, it's an ambitious and enormous show."
Since The Muny's season announcement, Isaacson notes that many other theatres have reached out about the logistics of putting on Jerome Robbins' BROADWAY. He notes the formula and legal model definitely exists - but whether or not it'll ever end up available to more theatres is still unknown.
But, with The Muny paving the way, hopefully it won't be 27 years before we see another production of what is Broadway's most iconic revue.
---
The Muny's mission is to enrich lives by producing exceptional musical theatre, accessible to all, while continuing its remarkable tradition in Forest Park. As the nation's largest outdoor musical theatre, they produce seven world-class musicals each year and welcome over 350,000 theatregoers over their nine-week season. Now celebrating 100 seasons in St. Louis, The Muny remains one of the premier institutions in musical theatre.
For more information about The Muny's 100th season and tickets, visit muny.org.
Photos by Genevieve Rafter-Keddy