Heidi Duckler Dance Presents THE BEST OF THE QUEST DIGITAL BOOK
Heidi Duckler Dance publishes The Best of The Quest, HDD's first ever interactive digital book celebrates the company's 35th year.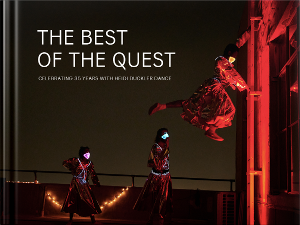 Los Angeles-based dance company Heidi Duckler Dance (HDD) publishes The Best of The Quest, HDD's first ever interactive digital book celebrating the company's 35th year anniversary.
The Best of the Quest documents THE QUEST, a project of 10 premieres over 10 days across Los Angeles and includes exclusive photography, film, music, animation, and essays. The QUEST represented HDD's 35-year enduring dedication to inclusiveness and justice in dance, arts education, and our community. The Best of the Quest archives this once-in-a lifetime experience, increases accessibility to these works, and memorializes the company's journey over the years.
Whether you are a dance fan, art enthusiast, or lover of Los Angeles, this one-of-a-kind digital experience makes a fantastic holiday gift to self and others. Proceeds from the digital book will go towards supporting HDD's educational programs in communities across Los Angeles, innovative performances, and employment of artists and teachers.
Following the December 20th book release, Heidi Duckler Dance will host a virtual book signing for The Best of the Quest on January 7th, 2021 at 6 PM. HDD's Founder and Artistic Director, Heidi Duckler, will digitally sign copies and collaborative artists and partners will read excerpts from the book.
"The visual, sonic and emotional content of The Quest performances were finely tuned to give us the city we have lost at this moment, and to remind us, through tales told in dance by diverse and skilled dancers, that we must continue to move forward - all that that implies. The dancers... move us and move for us. The work is beautiful and poignant. The dances are tales captured in our brains to be re-run again and again at quiet moments."
Watch the book teaser here: https://vimeo.com/473596592. Tickets: $35 at https://heididuckler.org/35th-anniversary-book/.
Featured at the Theatre Shop
T-Shirts, Mugs, Phone Cases & More
Related Articles
More Hot Stories For You
NYTW Gala To Celebrate 25th Anniversary Of RENT Featuring Original Cast Members Anthony Rapp, Adam Pascal, Idina Menzel, and More!
Today marks the 25th Anniversary of RENT's first performance at New York Theatre Workshop. The NYTW has announced that its 2021 Annual Gala will celeb...

Final Lineup Announced For SAVE BIRDLAND: A Celebration Of Music, History, And Community
The fundraising campaign for Birdland Jazz Club will conclude on January 24th with a free streaming concert titled Save Birdland: A Celebration of Mus...

VIDEO: Broadway Jumps on the BRIDGERTON Musical Bandwagon
The new Netflix series Bridgerton has been gaining popularity since its premiere in December of 2020. Part of that popularity comes from the clever mi...

VIDEO: Chita Rivera, Bebe Neuwirth, and More Perform 'All That Jazz' During SAVE BIRDLAND Fundraiser
Notables from President Bill Clinton and Whoopi Goldberg to musicians Wynton Marsalis and Sting joined together on Sunday, Jan 24th to "Save Birdland"...

VIDEO: On This Day, January 24- Happy Birthday, Daveed Diggs!
For his performance in Hamilton, Daveed won the 2016 Tony Award for Best Featured Actor in a Musical, as well as a 2016 Grammy Award for the cast albu...

RENT Original Cast and Crew Members Reflect on the Show's Premiere and Losing Jonathan Larson, 25 Years Ago Today
On January 25, 1996, Rent premiered at the New York Theatre Workshop. Earlier that morning, the show's writer and creator, Jonathan Larson, died of an...