Exclusive InDepth InterView: Stephen Sondheim On New Book, LOOK, I MADE A HAT; Filming FOLLIES?; Shakespeare; Future & More
Read the Special Interview
November 27, 2021 - Broadway icon Stephen Sondheim has passed away at the age of 91. The legendary composer is widely acknowledged as the most innovative, most influential, and most important composer and lyricist in modern Broadway history. As part of a retrospective on his life and work, we're looking back at a 2011 interview in which he discusses his career and his two books.
Today, BroadwayWorld is extremely proud to present an extensive conversation with the modern master of the musical theatre himself, Stephen Sondheim, all about the incredibly revealing and thoroughly riveting second volume of his complete collected (and annotated) lyrics (covering 1981-2011) - following last year's superlative FINISHING THE HAT - titled LOOK, I MADE A HAT. With ample insights pertaining to the Pulitzer Prize-winning SUNDAY IN THE PARK WITH GEORGE, INTO THE WOODS, ROAD SHOW, THE FROGS and many more, Sondheim and I also discuss some of his Hollywood endeavors - the proposed film adaptation of INTO THE WOODS, as well as the never-produced SINGING OUT LOUD and his Oscar-winning work for Warren Beatty's DICK TRACY - and his affection for - and process of adapting (in the case of WEST SIDE STORY, the CYMBELINE setting in THE FROGS and his recent scoring of The Public Theatre's production of KING LEAR starring Kevin Kline) - the works of William Shakespeare. Additionally, we discuss the upcoming Encores! revival of MERRILY WE ROLL ALONG starring Lin-Manuel Miranda, the currently-running revival of FOLLIES starring Bernadette Peters (as well as its brand new cast album), the West End transfer of the Michael Ball/Imelda Staunton-led SWEENEY TODD in the UK and much, much more!

The phenomenal LOOK, I MADE A HAT is available to order here.
God
PC: Now that I know the song - a cut-out from ROAD SHOW - "Journalists" is so befitting of this moment right now, isn't it?

SS: Ah, I see you've read the book. [Laughs.]

PC: That is such a great last line: "And give him something to misquote." I can't believe you ended up cutting that song.

SS: It had to be. It just had to be cut. You know, the show changed.

PC: In any event, LOOK, I MADE A HAT is absolutely fantastic and I actually enjoyed it even more than FINISHING THE HAT. I've only had it for a week, but I've already read it twice.

SS: Good gracious! You're a fast reader.

PC: There is a new excitement surrounding musical theatre right now thanks in no small part to GLEE and movie theater showings of shows - such as your own recent COMPANY - and a heightened accessibility to theatre thanks to the internet. Do you feel that musical theatre is being more recognized than it has been in the last 15 or 20 years?

SS: I never take an overview of the musical theatre. [Laughs.] I think it's a fool's game. So, I guess I can't really comment on that at all.

PC: We actually premiered "Something's Coming" from GLEE in this column. Have you seen their take on WEST SIDE STORY yet?

SS: No, I haven't seen it.

PC: We also premiered a portion of your song specific commentary for the WEST SIDE STORY Blu-ray in this column earlier this week. It's so unbelievably insightful.

SS: Well, I hate to tell you, but I did that so long ago that I don't remember it. I'm sorry. I haven't looked at it yet, but it's a long time ago that I did that! [Laughs.]

PC: Let me tell you, then: the film looks better than it ever has before on the Blu-ray, at least in my opinion.

SS: Really? I had heard it didn't look good, so, that's interesting to hear you say that. But, I am glad to hear it.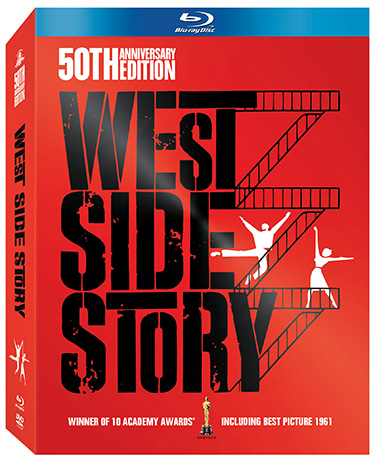 PC: Kenneth Branagh did this column earlier this week and shared many of his opinions on how fine he finds your adaptation of Shakespeare in WEST SIDE STORY to be. He's truly the voice of Shakespeare for our times, I think - what do you think of him and how Shakespeare is perceived in the 21st century in general?

SS: Oh, well, Shakespeare - as you know - is everybody's favorite; and mine, too. I mean, Kenneth's just exactly who he should be. He's extraordinary. With him, it's line-by-line.

PC: Ken recently directed the remake of SLEUTH. Could you tell me the story about how you were involved in Anthony's Shaeffer's inspiration for that film originally? I've never heard you tell it.

SS: Well, what happened was that I invented a game that had to do with clues. But, yes, Tony was there - and I was in England - and, so, what happened was he was in the United States and he asked if he could come and visit me. So, he came to the house and he saw that I have a collection of games - old games - and he saw that and so that is sort of what triggered it; the combination of the games that we played in England and him seeing my house.

PC: The films are both quite striking in their own ways. Have you seen Branagh's remake yet?

SS: No, I haven't.

PC: Speaking of Shakespeare and your work with his texts - in THE FROGS, the CYMBELINE "Fear No More" moment is the crystallizing moment where the art, the drama and the theme come together in one. It's so beautiful and understated.

SS: Well, gee - I can't add to that! [Laughs.]

PC: Well, please do! Did you find it was cumbersome in any way to adapt Shakespeare?

SS: Not at all. Not at all. His lyrics - and I mean lyrics in the classic sense of the word; the so-called songs in Shakespeare - are, actually, quite easy to adapt. They are very loose and they are very tight at the same time. They're... [Pause.] I've only done two, so, you know... but, no, I don't find them hard.

PC: Did writing the music for the recent Public Theater production of KING LEAR starring Kevin Kline present any challenges for you as composer?

SS: Well... only because it was supposed to be a song sung by more than one person. But, it wasn't really a problem to do - so, no; not at all.

PC: Would you like to see your score for that production used in the future?

SS: Well, if they do a future production - of course.

PC: That would be magnificent.

SS: But, they rarely revive Shakespeare productions, you know.

PC: True.

SS: The production usually... a production of Shakespeare is usually not revived because there are so many other people who have other productions of the same play.

PC: Of course. To get down to specifics about the new book, the WISE GUYS workshop chapter was the most immediately fascinating of them all to me on my first reading.

SS: Yeah, that's sort of the centerpiece of the book. That's the bulk of it - the weight of the book. I wanted to show people what happens to a show when it undergoes many changes and comes out at the end because, you know, that's a very extravagant example of exactly what most musicals go through.

PC: The way you phrase it - like a family with divorcing parents - is so brilliantly spot-on.

SS: Yeah, right.

PC: As a child of divorce, is that where you drew that parallel - or did it arise from some other element of the collaboration?

SS: Actually, it wasn't my insight - that was actually Nathan Lane's insight. When I was talking - well, corresponding - with him about our memories of the workshop, that was an insight - or a metaphor; an image - that he had.

PC: So many songs in this book seem to deal with the idea of family and parents - "Children Will Listen" from INTO THE WOODS being the foremost example.

SS: That's the whole idea - that's the whole show; fairy tales are about the relationship between parents and children. If you look at all the fairy tales, they are all about that - Cinderella; Jack and the Beanstalk; they are all about it - because that's the way fairy tales were told. You know, they weren't written down - they were told from generation to generation and, usually, matriarchal. So, often, it's from the woman's point of view - because in many of the fairy tales, if not most of them, the fathers are missing and the mothers are left. So, that all has to do with the tradition of fairy tales. The Grimm Brothers just collected a lot of them - as all the other fairy tale collectors did - but, they were all from an oral tradition. So, that's what accounts for the fact that most of them deal with parents and children.

PC: The extra verse in the Barbra Streisand version of the song really completes it - as does your additional verse for her "Send In The Clowns" - did you write that verse specifically for her, as well, or was it an INTO THE WOODS cut-out?

SS: I wrote that for her.

PC: A lot of people have recorded it since. Do you find that version equally effective as the original show version, if not more so?

SS: Well, I hate to tell you... [Laughs.] but, I haven't heard it in so long...

PC: "Don't slip away and I won't hold so tight" is such a genius line.

SS: Oh, if that's what you mean, that's from "Second Midnight" - which was an extended number that was, then, about 7 minutes long.

PC: As it appears in the book.

SS: Yeah, so that [line] was part of it - but, there were a lot of sections to that song. That part was one of the sections, but it wasn't even the so-called verse because, in a sense, there was no verse. But, out of that whole 7 minute number, the only thing that I took out of it when we decided to shorten the show was the "Children Will Listen" section - which I extended, then, for the end of the show.

PC: Thank goodness it survived.

SS: "Children Will Listen" was the only one of the sections that we ended up adding from "Second Midnight" and that verse you are talking about was only one section. The whole number was for everybody in the cast - all the children on one side and all the adults on the other.

PC: The last time we spoke was, I believe, the first time you had spoken in-depth about "Rainbows" - a song you composed for the proposed film version of INTO THE WOODS.

SS: Right. Right.

PC: It has subsequently made it into Wikipedia, as well.

SS: It has? Really? [Laughs.]

PC: And I have to say that I'm so glad you came through on your promise to include it in LOOK, I MADE A HAT - thank you so much.

SS: Absolutely! Absolutely.

PC: Were there any other songs you wrote for the film that didn't end up in the book?

SS: No, no, no - everything I wrote is in the book; unless there is something I have forgotten. I have actually already discovered one little second chorus of a song that I forgot to put in the book. But, otherwise, no - as far as I consciously know, everything that I have written is in that book; everything that was, you know, finished. There is a lot of unfinished stuff, too, of course. But, everything that was finished is in the book - except for the stuff I wrote when I was 15 years old, which I have sort of lost. But, everything is in the book - anything that is not in the book is an accident.

PC: Speaking of family, do you look at the assassins in ASSASSINS as a sort of family in any way - they refer to themselves as one in the Oswald Book Depository scene.


SS: No, no - that's just their way of persuading Oswald to shoot the president. It's not really a theme in that show at all, though.

PC: People have written about it being a dysfunctional family - this dysfunctional band of outsiders.

SS: Oh, that's interesting. Actually, the word you use is better - a band is better than a family. They are a band - they are like a club more than a family.

PC: There are so many fascinating stories in FINISHING THE HAT about all of the opening numbers you wrote with Bernstein for WEST SIDE STORY and we did not get to touch on that last time. There must be 6 or 7 songs you didn't use.

SS: Well, that's true of a lot of the shows. Certainly, there are as many songs that didn't make it into FORUM. That's sort of the average - 7 is sort of the average number; it's not a very large number. 7 is the average number of songs that doesn't make it into shows, I think.

PC: Could you tell me about the final scene in WEST SIDE STORY and whether there was any sung material in the last 20 minutes of the show? I've heard that an aria for Maria was considered based on an outline that Arthur Laurents wrote.

SS: Arthur wrote the speech that Maria has at the end - when she is threatening the gang with a gun - and he wrote that as a sketch for an aria that Lenny wanted her to sing. And, I thought it would be much better if she just spoke. And, so, Arthur always said that he wanted to improve it - but, if he wanted to improve it, he would have done it anyway.

PC: Indeed.

SS: But, no - we never wrote any kind of aria. I think that's what you mean.

PC: It is.

SS: So, no, we never wrote any kind of aria for that scene - Arthur just wrote that speech.

PC: Do you stand by your decision?

SS: Well, Arthur wrote that speech because he thought - Lenny said that he wanted an aria there; and, we were thinking about an aria - so, he wrote that speech as a springboard for the so-called aria. And, then, I think I persuaded Lenny that we didn't want an aria at that point in the show. So, it just ended up as a speech.

PC: Do you think the speech has more of an impact since there is little music and nothing sung in the last 20 minutes or so of the show?

SS: Oh, yeah - sure. I mean, at that point, you want to get out of the theater - you know, it's "Get your coat and hat and let's get outta here!"

PC: "I'm On My Way", right?

SS: [Laughs.] The story is over - she has to make her point and get off the stage. You don't want her to make her point for 6 minutes while she is singing - she should make her point in 30 seconds and, then, you have the little funeral procession and we all go home. You know, if there is a time at the end of a show or a play - as well as a musical - when everything has sort of settled, you don't want a coda. Occasionally you want a coda, but not here.

PC: I just listened to the commentary of the SUNDAY IN THE PARK WITH GEORGE DVD again and it is filled with so many fascinating things - particularly the discussion of "Children & Art" and how late it was added in the process. In a way, do you find that a late-second-act almost-coda or a distillation of many of the ideas of the show in one song?

SS: It was always intended - but, I just didn't know what I wanted to write.

PC: So, a song with that theme was always intended all along?

SS: Yeah, I knew I wanted some song that would... [Clears Throat.] connect... the grandmother and the grandson.

PC: And how you do it is simply... "Beautiful".

SS: The whole point is to connect the past and the present so that the last scene will have an impact - it prepares the last scene; the last scene is where the past and the present come together. It's really an introduction to the last scene - it's sort of the climatic scene of the show - so I wanted something that would prefigure that.

PC: You speak of Michael Bennett a bit in the commentary. Was he involved at all with the structure of the show, as well as his staging suggestions?

SS: The structure? No, not at all.

PC: He seemed to help with quite a few little moments from what you and James said.

SS: Yeah, I mean, we invited him to a preview and he gave James just some very specific things - very specific - that James welcomed.

PC: Such as?

SS: When to turn a light out or maybe an exit after a number or something like that.

PC: I find it fascinating he was involved with the process in any way.

SS: Well, we just invited him the way we invite professional friends during a preview period - everyone does that.


PC: Does Mike Nichols ever give those sorts of insights, since I know you two are good friends?

SS: Well, actually, Mike... no. Mike is the exception, I guess - Mike usually comes on opening nights. [Laughs.]

PC: That disco song you wrote for THE BIRDCAGE film he directed - "It Takes All Kinds" - is so much fun. I'm so glad it's in the book. Was it as fun to write as it sounds?

SS: Oh, yeah, sure - it's always fun to write that stuff. Disco is especially fun to write, though.

PC: Raul Esparza and Melissa Errico have both done this column and I often cite the 2002 Kennedy Center production of SUNDAY IN THE PARK WITH GEORGE as one the finest. Is it true that you adjusted any of the lyrics specifically for that version?

SS: No, I didn't do any lyric rewriting. None. I don't remember rewriting any lyrics.

PC: That production of SWEENEY TODD used the "like a f*cking machine he planned" line in the opening number, did it not?

SS: That was Declan Donnellan's suggestion for the Cottesloe production in London. When he was directing it, he said, "I'd love to use that," and, I said, "Sure, try it."

PC: Would you like to see that lyric used in any future productions? It certainly gives the audience a jolt right from the outset.

SS: Eh, I think it made more sense in England - when you hear it with a more Cockney feeling. It's different - and harsher - in America; and, I think it would seem out-of-place. But, I think it sort of goes with the slang in cockney London.

PC: I've heard you have recently seen the new production in the UK starring Michael Ball and Imelda Staunton, yes?

SS: Right.

PC: I've also heard you are a big fan of it, is that true?

SS: I thought it was wonderful. As a matter of fact, I stayed to see it twice - I was just going to go once to take notes and then go up to London the next day, but decided to stay in Chichester just for the sheer pleasure of seeing it again.

PC: Wow.

SS: Exactly. The two of them - Imelda Staunton and Michael Ball - are remarkable. Just remarkable.

PC: Is it true she was considered for the film version when Sam Mendes was at the helm in early pre-production?

SS: Not that I know of.

PC: Russell Crowe was being bandied about, was he not?

SS: Oh, Russell Crowe - I remember his being bandied about. But, no, I never remember her being up for it.

PC: Will this production be transferring soon then?

SS: Yeah, it's going to the Adelphi Theatre on March 10.


SS: Definitely!

PC: Right around the same time as that will be the Encores! MERRILY WE ROLL ALONG here in New York.

SS: The Encores! Production is in February and, then, the Cincinnati Playhouse production that John Doyle is doing is in early March - I think it's March 3.

PC: All of your fans are clamoring for the Encores! production in particular, it seems. It is going to be quite a big event. The enthusiasm for that score is overwhelming.

SS: Oh, it will be very anticipated - I know.

PC: Lin-Manuel Miranda just did this column and spoke to me about how you are his foremost influence. Have you gotten to work with him in any rehearsals at this point?

SS: Oh, no, no, no - my goodness - rehearsals don't begin for a while. Encores! only gets, I think, 2 weeks of rehearsals.


SS: We will discuss it when the time comes.

PC: Can you confirm if you will be using "The Hills Of Tomorrow" or not?

SS: No, James and I are still discussing it - it's not that I can't tell you; I don't know yet. That's the answer. But, we have talked about it back and forth and I really don't know. I really don't know.

PC: The additions you made to the score - "Growing Up", especially - really make the show more cohesive, I think. Do you find you vastly prefer the second version?

SS: Well, yeah - with "Growing Up", that's Lapine's influence. All the rewrites - most of them - are Lapine's influence, when we did the 1985 production in La Jolla. Particularly the first half of the first act is very much a result of James's input.

PC: It's such a shame some of those cut verses from the title song in FINISHING THE HAT haven't found a way back in yet - the year-by-years sections. You distill so much of society and culture into those short lyrical sequences.

SS: Well, they weren't just lyrics, you know - a lot of those had to do with George's kind of sketches, too. It's something George and I did together. But, yeah, I am sorry they didn't work, too, but I think they held the show up a little too much.

PC: And in SUNDAY IN THE PARK WITH GEORGE you ended up cutting whole swaths of score of the first act.

SS: Well, just in "The Day Off" section - just in the middle of the first act.

PC: The Solider had a big number, as you reveal in the book.

SS: All of them in that sequence had extended numbers - well, not extended numbers, but longer than what they have now. But, you know, when we looked at it when we were transferring it to Broadway, we just thought, you know, "What the story is about is about Dot and George - it's not about the peripheral characters. So, they should really be sketches - the way George has sketched them. And, they should echo exactly what he is doing - which is sketching. They are all peripheral to his story." So, we just decided that, just on a metaphorical level, that those songs should be fragments.

PC: On the DVD commentary you say Seurat referred to himself as an "experimentalist." Do you see yourself as an experimentalist in the theatrical form?

SS: Did I say that - experimentalist? What he was doing - he refused to call himself a painter; he said that what he was doing was experimenting with color.


SS: You know, he would never dignify himself as a painter. So, I think that if I used the word experimentalist that that is what I meant - it's not that he was being experimental as a painter; he was experimenting with color.

PC: Yes.

SS: He had this notion - which ended up as pointillism - that color could be mixed by the eye instead of by the artist. And, that's what pointillism is - is that you stand there as a viewer and you - your eye - is mixing the color. When you get up close, you realize it is red next to blue; but, when you stand back, it's sort of violet. And, so, that was the experiment.

PC: People have ascribed the term cerebral to much of your work - specifically SUNDAY IN THE PARK WITH GEORGE.

SS: Well, I don't think they are talking about my music - I think they are talking about the lyrics.

PC: Thinking before understanding and feeling in the brain seems to be an equivalent of Seurat's pointillism technique to the eye, in a sense.

SS: Well, it's not that so much as it is that I do like to keep ahead of the audience. I think it's boring to go to a movie or a play and you are ahead of the screenplay or ahead of the play - and good playwrights are always a step ahead of the audience. You don't have to be experimental - you don't have to baffle an audience - but, you just have to be quicker than they are. You know, a lot of big hits are hits because the audience is ahead of the play - a lot of audiences feel comfortable being ahead and knowing what's going to happen, so they feel comfortable when it happens. I, as a member of the audience, feel just the reverse. If I know it's going to happen right away, I want to get past it - I want to be surprised.

PC: As do I. You don't think many people do?

SS: I wrote a little section in the introduction of the book about surprise.

PC: Plus, you can't get more surprising than the twists in SWEENEY TODD and THE LAST OF SHEILA.

SS: Well, that's plot surprise - I am really talking about emotional surprise and language surprise. I'm not talking about, you know, "Look, the butler did it!" [Laughs.]

PC: How do you feel about bringing DICK TRACY to the stage someday soon? You write quite favorably about it in the book.

SS: Warren [Beatty] talked about doing it - but never pursued it. You know, I think that is something I have already done - I'd rather go on to new stuff.

PC: You write in the book about not looking back and not retrofitting your past shows.

SS: No, only when it's something like MERRILY or WISE GUYS, where, you know, I feel there is work still to be done. George [Furth] and I felt with MERRILY that we wanted to do things to it that hadn't been done - and we felt that particularly when we had Lapine with us doing it. And, then, the same thing is true of WISE GUYS - we just wanted to keep working on it until we got it to be what we wanted it to be; John Weidman and I. And, when Weidman and I got it the way we wanted it to be, then I don't want to go back to it.

PC: You wrote the final new song for that score just 2 or 3 years ago - "Brotherly Love" for John Doyle's ROAD SHOW.

SS: That song was written for a similar reason that I wrote "Growing Up" - James said to me, with MERRILY, "We need a sort of little progress report on Frank and what he is feeling at this point in the show." Well, the same thing was true with that - we wanted to establish that the two brothers had a period in their lives where they weren't contentious with each other; when they were close. We wanted that to be near the beginning of the show so that the audience would understand, you know: if you don't feel the two guys like each other, then what is the problem that they don't like each other or that they are in contention for the rest of the show? But, if you feel that, at the beginning, that they really have fondness for each other, then everything that follows has some dramatic weight.

PC: And, boy, does it! Michael Cerveris told me about what a privilege it was for him when you presented him with that song - the greatest theatrical songwriter had written a song for his voice. You have to take that into consideration when a show is in rehearsals or in previews, do you not - the specific actor's voice who is doing the role?

SS: Oh, yeah - it always helps. It's more than the voices - it always helps when you know what the personalities of the actors are who are playing the parts.

PC: Especially for a songwriter as specific as you are.

SS: You know, remember, people like Brecht and Shakespeare had theatrical troupes they wrote for.

PC: Of course.

SS: When Shakespeare was writing his kings and queens, he knew the actors that were going to play them. S, he would tailor the piece to them. You know, a play is a collaboration between actors and writer.

PC: How true.

SS: So, you know, it's very useful to know who is going to play what. I would love to write a show where I knew who the cast was going to be - in fact, one of the reasons that GYPSY wrote so quickly - we wrote that in 3 months - is because we knew Ethel [Merman] was going to play the part. And, so, we could tailor it for her personality. If it had been another actress, we would have written it differently. So, it's a great advantage when you know - but, you can't always know that in the theatre, because you never know what will happen to the actor.

PC: Unfortunately.

SS: If you sit down today and say, "OK, we're going to write this for so-and-so...." For example, when we wrote FORUM, we always had Phil Silvers in mind.

PC: Really?

SS: Yeah, we thought he would just leap at it - and, he took one look at the script at he turned it down. So, you never can tell.

PC: Speaking of Brecht and FORUM, in the new book you have a chapter on A PRAY BY BLECHT - based on Brecht's THE EXCEPTION AND THE RULE - which was written for Zero Mostel, yes? He was in mind for the lead, at least, as you write.

SS: Yeah - he was in mind. Absolutely. That was Jerry's idea. We had him in mind - not so much for the singing, but John Guare did for writing the play; for writing the libretto.

PC: The inclusion of that unproduced script in LOOK, I MADE A HAT makes this truly monumental for your fans - to imagine you, Bernstein and Brecht all in on a musical together? Wow. On the topic of Brecht, I appreciate you telling me about MAHAGONNY and W.H. Auden the last time we spoke, as well.

SS: Yeah, yeah.


PC: I just heard the new cast recording of FOLLIES and it is wondrous. Have you gotten a chance to hear the final mix yet?

SS: Oh, sure - every composer works on those things. So, of course I worked on it.

PC: It's a beautifully produced album - and seemingly quite complete.

SS: Yeah, well, they do great work - PS Classics does great work. It is always beautifully produced with them. Tommy Krasker is as good as they come and he loves musicals. All PS Classics albums are well-done.

PC: There are rumors that Great Performances may film the Broadway revival of FOLLIES. Can you confirm that?

SS: Filming FOLLIES? No, I didn't know that. That's news to me. It could very well be - but, I don't know about it.

PC: That's the one show of yours that still has not been preserved on film yet - besides the FOLLIES concert, of course. It would be so marvelous if it happens.

SS: I would love them to do it. It would be.

PC: The COMPANY film came out since we last spoke, as well. What did you think of it?

SS: I thought it was terrific. I thought it was wonderful. I thought Lonny Price did a first rate job and the cast was sensational - and that was partly because he cast it so well. But, yeah, I thought it was all a triumph.

PC: What did you think of Neil Patrick Harris as Bobby?

SS: I thought Neil was as good a Bobby as there ever has been - if not the best.

PC: I wasn't even aware that he was involved in an INTO THE WOODS movie reading until I read it in LOOK, I MADE A HAT.

SS: Yeah, well, those readings were really star-studded!

PC: It's so absolutely thrilling to know all of your lyrics are now available in these two books - even my favorite song of yours, the lesser-known "Water Under The Bridge"; in its full version, no less, with all of the asides and everything.

SS: Did you get to see Karen Akers' act at the Algonquin recently?

PC: I didn't, regretfully.

SS: It's too bad, because she sang "Water Under The Bridge" beautifully.

PC: Are you a fan of hers?

SS: She certainly sang that song just great!

PC: It's so wonderful that some of those SINGING OUT LOUD songs are being performed, then - and, hopefully, recorded soon, too.

SS: Well, again, my memory... but, I know "Water Under The Bridge" has been recorded a couple of times - as I'm sure you know - and I think "Sand" has been recorded once. But, I don't think the others have been.

PC: "Dawn" was, too, I believe.

SS: Right. Right.

PC: What was the MTV video section of "Sand" supposed to sound like? I'd imagine "Vogue"-era Madonna, yes?

SS: Yeah, yeah. Exactly. Exactly.

PC: How interesting.

SS: Yeah, I mean, it wasn't specifically Madonna, but it was in the style of that kind of singer.

PC: And I assume the sound of the score of MUSCLE is more of the same - a very then-contemporary sound.

SS: Yeah, it was similar with MUSCLE, but that didn't end up working out.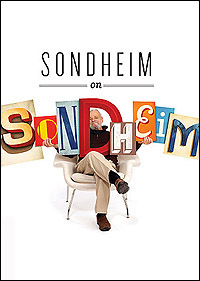 PC: I have to ask: Is Ibsen's GHOSTS the subject of your next musical? Last time you told me it was definitely not GROUNDHOG DAY. It's a rumor going around.

SS: Good grief! [Laughs.] That's the first rumor I've ever heard of that! But, the answer is no - it's just unbelievable what people make up.

PC: Can you tell me what the next hat will be, then?

SS: No, I can't - because even I don't know!

PC: When you are "God" it is hard to choose, I'm sure.

SS: [Laughs.] Well, it's not that! I'm, you know, nibbling at some things. The book has taken up the last couple years of my life, so, I have to regroup.

PC: Understandably.

SS: But, to answer your question: yeah, I have started talking to a couple of people about projects. Yeah.

PC: I cannot wait for what is next - your work is the reason so many of us do what we do in the arts. Thank you for that and for everything else. This has been absolutely fantastic.

SS: Oh, you're so kind! OK. OK. Good. Thank you very much, Pat. Bye bye.