Chicago Shakespeare to Present World Premiere of BEDKNOBS AND BROOMSTICKS, and More in 2018-19 Season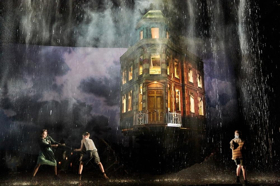 Chicago Shakespeare announced today fourteen productions in the Theater's 2018/19 Season-encompassing the dynamic and diverse range of offerings which have come to characterize a company that defies theatrical category. The season features programming across Chicago Shakespeare's performance spaces-the Courtyard Theater, the theater Upstairs, The Yard, and even in the lobby's Pub-fully activating the Theater's vibrant and multifaceted campus on Navy Pier.
Chicago Shakespeare's 2018/19 Season Ticket Packages include six productions: the North American premiere of Nell Gwynn; Joe Dowling's A Midsummer Night's Dream; The National Theatre of Great Britain's award-winning thriller An Inspector Calls, staged by Stephen Daldry; Barbara Gaines' new production of Shakespeare's masterwork, Hamlet; the World Premiere of Bedknobs and Broomsticks-the new musical stage adaptation of the iconic Walt Disney film; and a sixth project to be announced soon.
Chicago Shakespeare's season begins with the North American premiere of Nell Gwynn, Jessica Swale's bawdy comedy about a seventeenth-century actress whose quick wit and exceptional beauty propels her ascent from obscurity to notoriety as the mistress of King Charles II. The music- and dance-filled play took London audiences by storm when it debuted at Shakespeare's Globe followed by a celebrated run on the West End, where it garnered the Olivier Award for Best New Comedy. Director of the original London production Christopher Luscombe-a longtime associate artist at the Royal Shakespeare Company-helms the Chicago Shakespeare production, September 20-November 4, 2018.
In celebration of twenty years of Shakespeare on Navy Pier, Chicago Shakespeare welcomes back acclaimed director Joe Dowling to revisit his landmark 1999 CST production of A Midsummer Night's Dream-part of the Theater's inaugural season on the Pier. Former artistic director of Ireland's Abbey Theatre and the Guthrie Theater, his work has been seen on major stages in London, Stratford, and on Broadway. Shakespeare's beloved comedy is thrown on its head with a raucous sense of humor, striking visual landscape, and eclectic musical score, December 6, 2018-January 27, 2019.
Chicago Shakespeare hosts The National Theatre of Great Britain's award-winning production of JB Priestley'sclassic thriller An Inspector Calls, hailed by the Evening Standard as, "an epic for our epoch, a thrillingly physical piece of theatre-with the power to stir the heart as much as the mind." The production is staged by Stephen Daldry, whose extraordinary career spans genres from the hit Netflix series The Crown, for which he is director and executive producer; to films, with Oscar-nominated pictures like The Reader, The Hours, Billy Elliot, and Extremely Loud and Incredibly Close; to the stage, where his Billy Elliot - The Musical was honored with ten Tony Awards. When an inspector interrupts unsuspecting dinner party guests, a family is shattered by startling revelations about the death of a young woman-shaking the very foundations of their lives. Direct from London, An Inspector Calls is featured in a special limited engagement, February 19-March 10, 2019.
Artistic Director Barbara Gaines takes on Shakespeare's most famous tragedy, Hamlet-considered one of the great masterworks of Western literature. As a leading director of Shakespeare known for her populist and dynamic interpretations, Gaines has staged more than fifty productions at Chicago Shakespeare throughout her distinguished career, garnering the prestigious Honorary OBE (Officer of the Most Excellent Order of the British Empire) and Joseph Jefferson Awards for Best Production (Hamlet, Cymbeline, King Lear and The Comedy of Errors), and for Best Director (Cymbeline, King Lear and The Comedy of Errors). Gaines revisits Hamlet for the first time in more than twenty years, imagining a radically fresh and vital new production, April 17-June 9, 2019.
Chicago Shakespeare presents the World Premiere of Bedknobs and Broomsticks, the new stage musical adaptation of the iconic Walt Disney film, based on the beloved novels by Mary Norton and featuring music from the Oscar- and Grammy Award-winning duo The Sherman Brothers-Richard M. and Robert B. Sherman. At the outset of World War II, three children evacuated from the London Blitz arrive in a seaside village on the doorstep of Miss Eglantine Price, a patriotic witch-in-training and inexperienced broom flyer. Through their fantastical misadventures, they discover that their strength-and their own true magic-lie in one another, paving the way to save their town and all of England. Bookwriter Brian Hill and composer/lyricist Neil Bartram have imaginatively adapted the story for the stage, weaving new songs with familiar favorites-and even some lost gems-from the original movie score. The world premiere production will be directed and choreographed by multiple Jeff Award-winner Rachel Rockwell, May 30-July 28, 2019.
Also featured in the 2018/19 season ticket series is a sixth project yet to be announced, slated for The Yard at Chicago Shakespeare.
The 2018/19 Season features a line-up of international productions as part of WorldStage at Chicago Shakespeare-which imports the world's most exciting theatrical events to Chicago, and exports CST's Signature Productions to global destinations. Since its launch in 2000, WorldStage has featured over 1,000 artists from 22 countries spanning five continents, showcasing the world's leading theater artists and its most iconic theater companies.
Chicago Shakespeare Theater, with Richard Jordan Productions and David Bauwens, has curated a bold new series: Big in Belgium - Chicago. Representing the next wave of boundary-pushing Flemish theater, three pioneering theatrical events dissemble the barriers of the "fourth wall" and fuel dynamic engagement between artist and audience.
First, Chicago Shakespeare welcomes Belgian company SKaGeN with their production of BigMouth, a tour-de-force solo performance by Valentijn Dhaenens, paying tribute to the 2,500-year history of oration. Called "an electrifying and transcendent piece of art" by Exeunt Magazine, BigMouth was the sell-out hit of the 2012 and 2014 Edinburgh Fringe Festivals, and has since played to great acclaim in major festivals worldwide. The Guardian declared, "Dhaenens employs not just his voice but his entire body to examine justice, war, racism, and retribution and to create a piece in which past and present are in a constant dialogue." Weaving together everything from sermons and eulogies to declarations of war and love, Dhaenens invokes Socrates, Mohammed Ali, Osama Bin Laden, and more in compelling argument that the tricks of rhetoric have not changed since the dawn of language. BigMouth is presented September 12-22, 2018.
Next is Fight Night, a stinging examination of free will and politics from Belgian theater collective Ontroerend Goed, which returns to CST after A History of Everything in 2012. Staged by company founder and Artistic Director Alexander Devriendt, Fight Night immerses audience members (equipped with electronic voting boxes) in a showdown between five contenders vying for their votes. Employing a dizzying array of tactics and strategies, the candidates compete to survive a relentless succession of eliminations, and ultimately be crowned the elected victor. Blurring the lines between theater and interactive performance art, Fight Night is a hilarious, thought-provoking look at the mechanisms of democracy, October 23-November 4, 2018.
Rounding out "Big in Belgium - Chicago" is the Brussels-based company BRONKS and their stirring Us/Them-acclaimed as the "unforgettable highlight of the Fringe" by The Telegraph when it debuted in Edinburgh, followed by a sold-out run at The National Theatre of Great Britain. Told through the viewpoint of two children, the production is a chilling look at the 2004 Beslan school siege by Chechen separatists in Russia, in which more than 1,100 adults and children were taken hostage and 334 lost their lives. The Guardian called it "startling, remarkable...playful as well as moving," and The Stage hailed it "a truly outstanding piece of theatre." Using intricate choreography and ingenious staging, Us/Them is not a recounting of the tragedy, but rather a compelling examination of the way young people cope with disaster. Written and directed by Carly Wijs, Us/Them is presented January 22-February 3, 2019.
Chicago Shakespeare again partners with the Chicago International Puppet Theater Festival in 2019 to co-present Compagnie Non Nova's L'après midi d'un foehn from France. Conceived by the company's brainchild Phia Ménard, the production evokes the forms of puppetry, juggling, mime, and dance to conjure a wholly original new performance style. A series of fans set airy plastic figures in motion as a performer manipulates them with precise and complex choreography, creating an intoxicating visual ballet that explores the magic in everyday objects. Transfixing audiences around the globe, The New York Times lauded, "prepare to be blown away," and UK's Daily Express called it "unique and utterly captivating." L'après midi d'un foehn is presented January 24-27, 2019.
Chicago Shakespeare's intimate gathering spot in the lobby, The Pub, transforms for the first time into an immersive performance venue for Two Pints from Ireland's Abbey Theatre. Written by Booker Prize-winning Irish novelist Roddy Doyle and directed by Caitríona McLaughlin, the piece invites audiences to pull up a stool as two men share a pint and a chat. Over the course of a few rounds, their innocuous banter evolves into a wide-reaching and deeply revealing dialogue on life, loss, and vegetarianism. Hailed "brilliant" by The Irish Times, Two Pintspremiered in a tour to dozens of local pubs dotting the Irish countryside throughout Summer 2017, and now makes its debut abroad. The Arts Review said the production exemplifies, "Doyle's wit, warmth and wisdom in what is a seriously enjoyable, laugh out loud production." Returning to Chicago Shakespeare after The Playboy of the Western World in 2004, Ireland's Abbey Theatre presents Two Pints in CST's Pub, March 5-31, 2019.
Chicago Shakespeare announces two productions for Summer 2018-Peter Pan, A Musical Adventure and the seventh year of the Chicago Shakespeare in the Parks tour.
Based on J.M. Barrie's beloved tale about the boy who wouldn't grow up, Peter Pan, A Musical Adventure takes audiences on a high-flying musical journey with Peter, Wendy, the Lost Boys, and Captain Hook to the enchanting world of Neverland. In a new version by Elliot Davis based on the book by Willis Hall, the 75-minute production features a captivating score by George Stiles and lyrics by Anthony Drewe-the award-winning songwriting duo behind Disney and Cameron Mackintosh's Mary Poppins, which was a smash hit on Broadway and the West End. Directed and choreographed by Amber Mak, Peter Pan, A Musical Adventure is presented June 27-August 19, 2018.
For the seventh year, Chicago Shakespeare, the City of Chicago, Chicago Park District, Boeing, and BMO Harris Bank partner to present the annual citywide summer tradition, Chicago Shakespeare in the Parks, on tour to neighborhood parks across Chicago, FREE FOR ALL. From Hamilton Park and Columbus Park to Loyola Park and Ping Tom Memorial Park, Chicago Shakespeare in the Parks activates communities across the north, west and south sides of the city. On each stop of the tour, a specially equipped truck rolls into the park, a stage unfolds, and a company of professional actors shares the delight of Shakespeare with families and neighbors. Tour details to be announced this spring.
A holiday tradition returns in 2018 as Chicago Shakespeare brings the raucous and irreverent Q Brothers Christmas Carol back to the festive cabaret setting of The Yard at Chicago Shakespeare. Created by Chicago hip-hop sensations the Q Brothers Collective (GQ, JQ, Jax and Pos), directed by GQ and JQ, and developed with CST Creative Producer Rick Boynton, this feisty reinterpretation of the perennial classic by Charles Dickens is underscored with beats spun live at the turntables, mashing up styles from reggae and dubstep to epic rock ballads. Now entering its fifth year, the musical event of the holiday season is back by popular demand, November 20-December 31, 2018.
Recognized in 2014 in a White House ceremony hosted by First Lady Michelle Obama, Chicago Shakespeare's Team Shakespeare education initiatives serve more than 40,000 teachers and students each year-making it one of the most comprehensive and highly respected arts education programs in the country. Team Shakespeare brings Shakespeare's work to life in the school curriculum-through live performance, professional learning for educators, comprehensive teaching resources, and opportunities for students to perform Shakespeare. This season's Team Shakespeare production, Short Shakespeare! Macbeth, adapted and directed by Marti Lyons, will engage more than 30,000 Chicago-area students. Lyons-who is quickly becoming one of the most sought-after directors in American theater with upcoming projects at DC's Studio Theatre, Woolly Mammoth Theatre, and Writers Theatre-returns to Chicago Shakespeare where she credits seeing a Short Shakespeare! production while in high school as a formative moment in pursuing directing as a career. Short Shakespeare! Macbeth will be presented for students on weekdays with special public performances on Saturdays, February 23-March 16, 2019.
Expansion of CST for $20 Program
Renewing the Theater's commitment to connect with the next generation of theatergoers, Chicago Shakespeare announces today the expansion of the CST for $20 program, which offers $20 tickets for audience members under 35. With the support of Peoples Gas, CST is doubling the number of available discounted seats for all productions throughout the season, beginning with this spring's highly anticipated Macbeth directed by Teller (of Penn & Teller) and Aaron Posner. CST for $20 is unique in that there are no membership fees, student requirements, or long-term commitments-allowing for ultimate flexibility.
For information on purchasing tickets, visit www.chicagoshakes.com or call the CST Box Office at 312.595.5600. A variety of flexible season ticket packages will be on sale soon, offering savings over single tickets, and guaranteeing your seat at every production you choose to see. Discounted tickets are available for groups of 10 or more.