Cast Calls Out Audience Members for Watching World Cup During Show... In The Front Row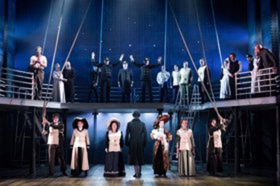 On Tuesday night, England faced off with Colombia in the world cup, the game dramatically ending in a penalty shoot-out. However, according to the BBC, two Nottingham theatergoers couldn't wait until the musical they were attending ended - so they watched the game on their phones in the front row.
Several cast members of the UK Tour production of Titanic the Musical took to twitter to express their outrage at the two audience members.
Leading man Niall Sheehy wrote:
To the two women in the front row tonight who not only followed the penalty shootout on their phone, but also said "yesss" on each goal scored, you are the most ignorant audience members I have ever had the misfortune to perform in front of.

And when a cast member signaled "put your phone away" during the bows and you smiled, gave a thumbs up and replied "I know - we won!!", I think you may have let us all know you are the stupidest woman on the planet. Please avoid attending any future theatrical productions.
Yikes. Sounds like they were better audience members to their phones than they were to the musical happening live less than three feet in front of them.
Cast member Kieran Brown added:
Dumbfounded. 2 ladies, 1 older 1 middle aged, slap bang front row clearly watching football on phones during the most poignant moment of lifeboats scene, cheering & giggling like stupid schoolgirls. To say I'm raging is an understatement! They should be marched out in disgrace!
Additionally, Stephen Webb wrote:
If you come to theatre to see the show do not...I say do not... sit there on your phone to watch the World Cup!!! Stay at home!! it's so disrespectful!!especially if you are sat in the front row!!!! #manners #GoHome
Understandably, the cast was annoyed to say the least. These two women on their phones watching the game and saying "yes" at every goal is nothing short of distracting - not only to the cast members on stage who are putting their heart and soul into months of hard work, but to the paying audience members as well.
There was a brief backlash from the tweets, including some tweeting in support of the women ("Oh no... Showing a bit of passion for their team in a BIG match! Shame on them for doing it during the show but c'mon sometimes human nature has a desire to do things that aren't intentionally bad willed. They probably bought tickets ages ago, long before the fixture was made." - @XtremeJam87) while others were in support of the show ("More needs to be done about this kind of thing. Not only should they have been asked to leave but banned from the theatre." - @finnie_claire).
Niall Sheehy took to twitter again to clarify his initial tweets.
Thanks for the support (and massive amounts of hate lol). To be clear; we aren't telling ourselves this story, so it doesn't upset US that we can't concentrate - it's the rest of the audience that we would like to be able to listen to what they paid to see.

My phrasing may have been too aggressive re: the audience members. For that, I happily apologise, but I stand by my opinion that they were inconsiderate to others in the audience.
Click here for the full article.
Photo credit: Scott Rylander