CAFE PLAY Will Transform Historic Cornelia Street Cafe Into Immersive Wonderland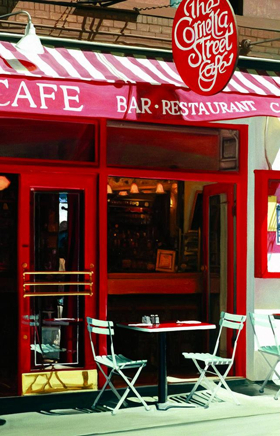 This Is Not A Theatre Company's Café Play explores everything from the customers to the waitstaff to the cockroach on the floor, offering a unique glimpse into the lives of New Yorkers in a cafe. Scenes run the gamut from the hilarious to the profound and transformative. Breakfast performances (10:30am) include coffee and a breakfast pastry; lunch performances (12:30pm) include a light lunch (salad); afternoon tea performances (3:00pm) include tea and a pastry; late night performances (10:30pm) include a glass of Cornelia Street's signature wine.
This Is Not A Theatre Company's past productions include: Pool Play 2.0, which The New York Times called "A buoyant daydream of a show...joyous...thoughtful... surprisingly rewarding;" Versailles 2016, a Voice Choice that was described as "an hors d'oeuvre plate of scenes that collectively...have a message about elitism and the vanity of apathy;" and Ferry Play; A Serious Banquet; Readymade Cabaret; and Subway Plays, which have been featured in The New York Times, the Wall Street Journal, American Theatre magazine, New York Theatre Review, and Theater is Easy.
Café Play is conceived and directed by Erin B. Mee with scenes by Jenny Lyn Bader, Jessie Bear, Erin B. Mee, and Colin Waitt, and choreography by JoNathan Matthews. It features Trinity Bobo, Caitlan Lattimer, JoNathan Matthews, Jimmy Schatz, Jessica-Brittany Smith, and Amanda Thickpenny. And the cockroach.
Café Play runs for 7 weeks:
October 4 at 3:00pm and 10:30pm
October 6 at 10:30am
October 11 at 12:30pm and 3:00pm
October 13 at 10:30am
October 17 at 10:30pm
October 18 at 12:30pm and 3:00pm
October 24 at 10:30pm
October 25 at 12:30pm and 3:00pm
November 1 at 12:30pm and 3:00pm
November 7 at 10:30pm
November 15 at 12:30pm and 3:00pm
· possible additional performances on November 3 and November 10 at 10:30am
Cornelia Street Café, 29 Cornelia Street, New York City, 10014
Tickets are $35.00 and $40.00, and include food provided by Cornelia Street's Chef
Tickets: www.artful.ly/store/events/13212
www.thisisnotatheatrecompany.com
Related Articles

More Hot Stories For You
VIDEO: Jennifer Hudson Performs 'Bridge Over Troubled Water' as Tribute to John Lewis
Jennifer Hudson was one of the stars who took part in CBSa??s John Lewis: Celebrating a Hero TV special, which aired on Tuesday at 10 p.m. ET....

Disney's Live-Action MULAN Will Be Released on Disney+ This September for an Extra Fee
As BroadwayWorld previously reported, the release of Disney's live-action Mulan has now been delayed several times, but a new plan for its arrival has...

VIDEO: On This Day, August 6- HAMILTON Opens On Broadway!
On this day in 2015, Hamilton officially opened on Broadway at the Richard Rodgers theater!...

Check Out the Original Broadway Cast of HAMILTON's Latest Projects
What have the original cast members, ensemble members, swings, and standbys of Hamilton been up to lately? Check out their latest projects!...

Zach Braff Shares Tattoo Tribute to His Friend, Nick Cordero
Zach Braff is remembering his friend, the late Nick Cordero, in a special way. Tattoo artist Doctor Woo shared a photo of his depiction of Nick in Bul...

BREAKING: 2020 CHRISTMAS SPECTACULAR Starring the Radio City Rockettes is Cancelled
MSG Entertainment has announced that the 2020 production of the Christmas Spectacular Starring the Radio City Rockettes has been cancelled due to the ...