BroadwayHD Will Film West End Production Of 42ND STREET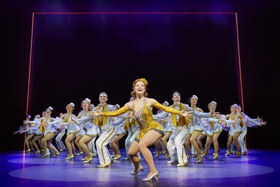 BroadwayHD has announced that it will film the live stage production of 42nd Street at The Theatre Royal on the West End to be added to its streaming line-up for 2019. The show is being captured this week.
42nd Street has the largest cast on the West End, with over 50 actors, tapping in unison, and featuring the songs: 42nd Street, We're In the Money, Lullaby of Broadway, and Shuffle Off to Buffalo to name just a few. The show tells the story of famed theater director Julian Marsh as he tries to mount a musical extravaganza at the height of the Great Depression. Mark Bramble, who co-wrote the book, also directs, Randy Skinner choreographs, and Lord Michael Grade, Michael Linnit and Dr. Johnny Hon produce the stage show.
Since its 2015 launch, BroadwayHD has made the Guinness World Record for being the first to live stream a Broadway show, won multiple awards, financed over 25 new shows, and partnered with major theatrical producing organizations to co-produce full length digital captures. The addition of the iconic brand of 42nd Street in this lavish production is another sign of the quality of the content being acquired for the BroadwayHD streaming platform
BroadwayHD functions as an independent studio by financing, producing and distributing live theater to a global market hungry for this type of premium niche content. BroadwayHD is making Broadway and the West End accessible to audiences looking to engage with familiar titles like Phantom of the Opera, Les Miz, Company, and Gypsy and, soon, the mega musical production of 42nd Street.
BroadwayHD, founded in 2015 by Tony Award and Olivier Award winning producers Stewart F. Lane and Bonnie Comley, is the only streaming service offering premium full-length stageplays and musicals captured specifically for multi-platform viewing to theatre fans across the globe. In addition to exclusive live-streamed content of the world's best productions, BroadwayHD offers subscribers unlimited on-demand access to a library of more than 270 theatre productions from Broadway, The West End and beyond.