BWW Review: Stephanie Umoh is Thrilling In York Theatre's HALLELUJAH, BABY!
Audiences and critics alike swooned over relatively unknown Leslie Uggams when she made her Broadway debut starring in Betty Comden, Adolph Green, Arthur Laurents and Jule Styne's progressively-minded 1967 Broadway musical HALLELUJAH, BABY!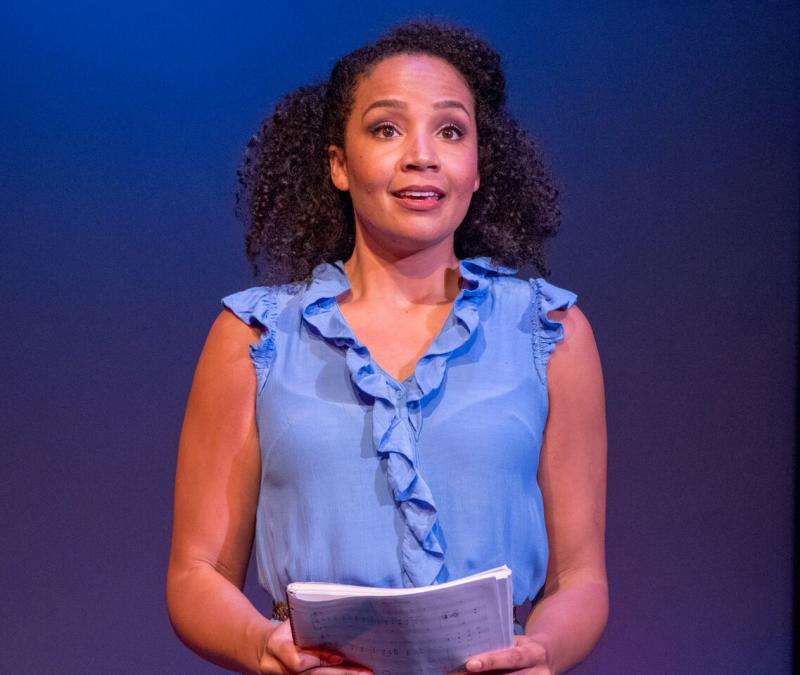 And no doubt there's quite a bit of swooning going on these days at the York Theatre, where Stephanie Umoh, who made her 2008 Broadway debut as Sarah in RAGTIME and was recently seen as one of the underhanded Wall Streeters in JUNK, delivers a confident and compassionate performance in that star-making role, highlighted by a thrilling rendition of the first act closer, "Being Good Isn't Good Enough."
And since this is one of those quickly rehearsed concert stagings for the York's Musicals in Mufti series, she does it with her script in hand.
The first entry in the York's trio of Muftis saluting composer Jule Styne (BAR MITZVAH BOY and SUBWAYS ARE FOR SLEEPING will follow), HALLELUJAH BABY!, aside from it's value as an entertainment, is a bit of a curiosity in the history of Broadway musicals.
Despite being awarded the Best Musical Tony (the only show ever to be so honored after closing), HALLELUJAH BABY! is not exactly a top tier musical. The '67-'68 season wasn't especially strong in that category and HALLELUJAH BABY! can be seen as an ambitious, but somewhat didactic attempt by some of Broadway's best musical theatre artists to create something that expands the boundaries of the art form to address contemporary issues.
It is also one of the last of that unusual Broadway genre, musicals focused on black experiences created exclusively by well-meaning white people whose work sometimes strikes audiences years later the wrong way. (The use of blackface in FINIAN'S RAINBOW, the controversial first word in SHOW BOAT) The 1970s ushered in an era of black bookwriters, composers and lyricists telling their own stories on Broadway, led by Melvin Van Peebles' AIN'T SUPPOSED TO DIE A NATURAL DEATH and Micki Grant's DON'T BOTHER ME, I CAN'T COPE.
Director Gerry McIntyre's swiftly-played bare-bones mounting uses the 2004 version of HALLELUJAH BABY!, revised by bookwriter Laurents to address its issues in ways more suited for a 21st Century audience. Amanda Green was recruited to revise some of the lyrics originally penned by her father, Adolph Green, and his partner, Betty Comden.
The unusual dramatic concept remains as it was in 1967. Twenty-five-year-old Georgina (Umoh) tells the audience that while the show begins in the early years of the 20th Century and keeps advancing decade-by-decade, the characters all remain the same age. Thus, the inner development of the people portrayed reflects the ways race relations are developing in America. Different decades bring different opportunities to different generations.
In 1910 South Carolina, Georgina rejects her Momma's insistence that she follow in her footsteps and be a white person's live-in maid with a beautifully crafted "I want" song, "My Own Morning," where she imagines a life where her modest means belong solely to her.
Two-time Tony Award nominee Vivian Reed plays Momma, comically putting on subservient manners for her white employers in her first scene and then belting a snazzy number flaunting false modesty as her character thrives in the 1960s.
Georgina's sweetheart Clem (smooth and sincere Jarran Muse), hopes to make her dreams come true and has been saving to buy a home for them to share, but every time he comes close to the asking price, it gets raised.
But Georgina's dreams change when a white guy named Harvey (Tally Sessions, with a strong presence and passionate belt) offers her the role of a maid in a local theatre production. The theatre owner is furious to see the law prohibiting black and white actors appearing on the same stage together being broken and fires Georgina. Harvey quits in solidarity, not only because he believes in racial equality but because he's also attracted to Georgina.
As the decades pass, Georgina advances from chorus dancer to USO showgirl to nightclub star, with Harvey guiding her career and pining for her affection. While sincere in his advocacy for racial equality, Harvey doesn't realize how his take-charge attitude gives off the impression that he may see himself as a white savior, with his skin color protecting him from violent retaliation from other whites.
Clem becomes more of an activist as the years advance and urges Georgina to quit the glamour of show business to seriously fight for the cause. The healthiest relationship the central character retains throughout the years is the one with her mother.
Broadway favorite Jennifer Cody applies her quirky comedy chops to a variety of small roles, as part of an ensemble that also boasts the talents of Randy Donaldson, Bernard Dotson, Latoya Edwards and Michael Thomas Holmes.
There are certainly better musicals about the black civil rights struggle in America, but it's still a valuable experience to attend imperfect shows like HALLELUJAH, BABY!, that were regarded as significant in their time. Knowing that, during that turbulent decade of racial conflict, this was how the predominantly white writers and producers of Broadway were addressing the issues for their predominantly white audiences adds a bit more to our understanding of the era.