BWW Review: Eve Ensler's FRUIT TRILOGY Examines The Treatment of Women as Commodities
"We are women more willing to be vile receptacles then we are willing to be dead," says a character identified as Item 2 in Eve Ensler's FRUIT TRILOGY, which is receiving its New York debut at the Lortel, courtesy of the Abingdon Theatre Company.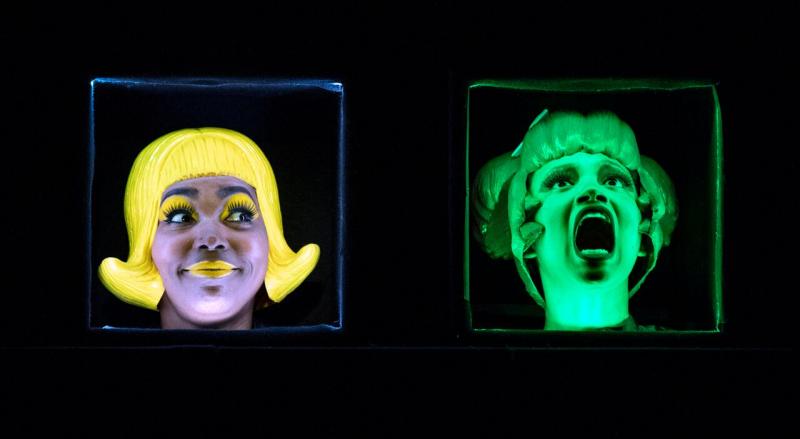 One of the most important American playwrights of the past twenty years, Ensler is best known for her straightforward style of writing that addresses issues of women and their bodies directly to the audience, as in her solo pieces, THE GOOD BODY (about the quest to be physically attractive), IN THE BODY OF THE WORLD (about her personal bout with cancer) and, of course, her world-famous signature piece, THE VAGINA MONOLOGUES.
So it's a bit of a jolt that the first third of her trilogy, "Pomegranate," takes on an absurdist angle. The stage is pitch black with the heads of actors Liz Mikel and Kiersey Clemons shining out, with the help of brightly-colored fluorescent wigs and make-up.
As Item 1 and Item 2, they face the audience when they converse, never looking at each other. As suggested by the trilogy's title, they are women treated as fresh, delicious commodities to be squeezed, poked, perhaps sampled, and purchased.
It's wartime ("I can't remember when there wasn't a war.") and they take the arrival of the season's first pomegranate as a sign that the men will soon be coming to make their purchases.
"There they go,' one observes. "Always first to the children's section. Right away to the children. Most expensive and always the first to sell."
One of the soldiers is Item 1's brother, and if she doesn't exactly defend his participation in the daily rapes, she believes neither he nor the other young men are really themselves under these circumstances.
Item 2 challenges her, insisting that it's when your life is threatened that you reveal who you really are.
The second scene, "Avocado," takes place on a shipping container loaded with boxes of the rotting fruit. Hiding inside is Clemons, playing a 16-year-old who was sold by her family into sexual slavery before reaching puberty. She's now trying to escape to a country she believes is called Asylum.
In graphic detail, and yet with that tinge of dark humor a survivor often requires, she describes her experiences of being raped regularly by customers who are told she's a virgin. ("Something no one else has had. Like a birthday present, shiny and new. They like to rip it open.")
Most of her rapists were much older men who, as she describes, wanted to hear verbal evidence from her that she was receiving pleasure from them. ("I tried to make noise once. I sounded like a bird. Some bird who got shot in midflight. The guy stopped 'cause he thought I was sick.")
Her understandable derision turns tender, though, when describing a time spent with a deaf young boy whose father purchased time with her for his first sexual experience. Though unable to talk, she could tell that the shy child did not want to be there, so she took care to help him along as he kept looking to her for consent, not wanting to harm her.
Clemons admirably throws herself into the difficult material, but director Mark Rosenblatt could have had her modulate her intensity more, giving a greater variety of levels to a performance that often lingers on the same high pitch.
The final piece, "Coconut," gives viewers some much needed feel-good positivity to cap off the night, as Mikel, all warm and joyful, invites us to her bathroom for her divine ritual of rubbing cocoanut oil on her freshly-bathed body.
"Some people go to church. Some people go to mosque or a temple. I come here."
As she gives her feet a soothing massage, she makes vague references to past indignities and suffering, now reclaiming her body as her own and liberating her spirit through self-indulgence.
After removing her robe and her bra, she gently admonishes audience members for any lascivious or judgmental thoughts that cross their minds. This is not about any observer's reaction, but about her pleasure that she brings to herself.
"Enjoy me enjoying me," she advises.
Soon she's dancing and inviting us to do the same, in order to escape from the penitentiary of "our breath and muscles and cunts and cocks shackled in guilt and shame and misery."
If, like this reviewer, you're the type that doesn't find insistent instructions to get up and dance in the name of freeing oneself to be a freeing experience, the ending can be awkward, but my more extroverted guest was having a ball.