Click Here for More Articles on DAN CODY'S YACHT
BWW Review: Doug Hughes Sharply Directs Anthony Giardina's Biting Social Commentary DAN CODY'S YACHT
"Vassar. See yourself there," a successful adult advises a high school student who has impressed him with her talent for writing poetry, but not with her low expectations for securing a spot in a good college.
"Think about it not as some impossible dream you dream in your bed at night but as some real thing."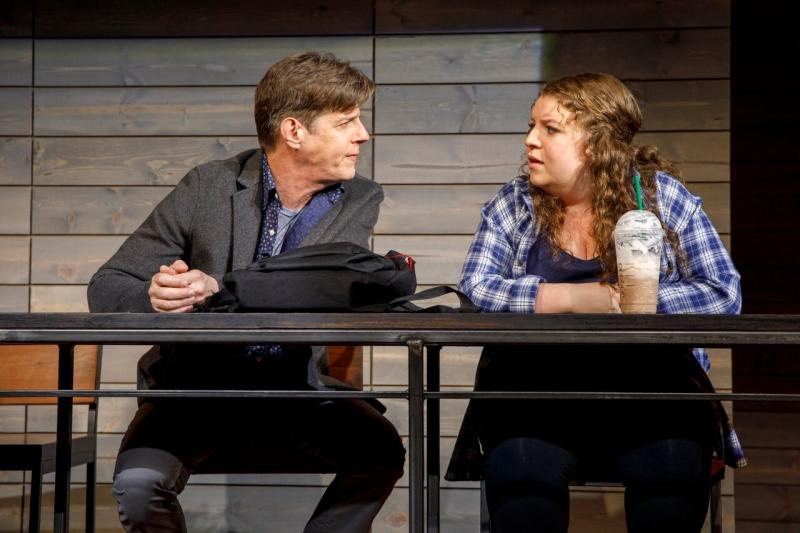 You might imagine these encouraging words coming out of some inspiring scene that has the audience rooting for a heroic mentor who pushes a disadvantaged kid to set high goals and then achieve them, but by the time the moment occurs in the second act of director Doug Hughes' sharply played mounting of Anthony Giardina's biting and discomforting social commentary DAN CODY'S YACHT many may not have exactly pegged the leading male character of Kevin O'Neill as a desired role model. Perhaps it depends on if you regard his comment about the teenager's weight as an unnecessary bit of fat-shaming or as a caring reminder of the unavoidable prejudices that can hold her back.
It's been said that privilege is the state of not being concerned about issues that don't directly affect you, and Giardina's observant, darkly comic piece debates the boundaries of such concerns, to the point where financially secure white liberals in the audience may find themselves squirming a bit.
The title comes from a brief passage in F. Scott Fitzgerald's iconic novel "The Great Gatsby," where the title character, as a young man getting by with a summer job fishing and clam-digging, takes a rowboat out to a yacht owned by copper mogul Dan Cody to warn him of an approaching storm. The grateful industrialist takes the lad under his wing as an assistant, helping Gatsby acquire an appreciation for the good life.
This passage has really stuck with Kevin, a personal investment manager who struggled himself and now, perhaps, sees himself as the wise and experienced one helping others. But his altruism only extends so far.
As the play begins, single dad Kevin, played with a fine balance of slickness and sincerity by Rick Holmes, is in conference with his slacker son Conor's (John Kroft) unflappable high school English teacher Cara (Kristen Bush), trying to get the grade of his son's essay on "The Great Gatsby" raised from an F to something a little more respectable.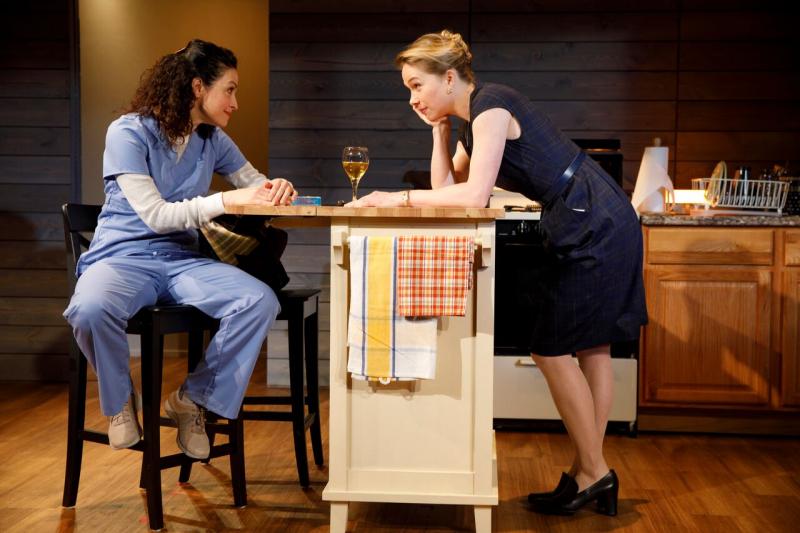 When a cash bribe doesn't help, he pursues another angle. The school where Cara teaches is in a well-to-do Boston suburb, but she lives in a decidedly poorer neighboring school district. Though she draws a salary many of her neighbors would envy, as a single mom she's concerned that her daughter Angela (prematurely bitter Casey Whyland), won't, despite her potential and terrific grades, be granted any financial assistance from a really good college, being, as Angela sullenly describes herself, "An unspectacular white girl."
Cara has a vote in a plan to merge the two schools, a move she believes will help Angela, but Kevin insists that what benefits the kids in the poorer district will dilute the school in the higher-income district of much of its reputation, harming Conor and the rest of its current student population.
So Kevin invites Cara to attend the next gathering of his investors club; a small group of friends who meet regularly to enjoy good cheese, good wine and the financial benefits of their host's knowledge of the stock market. Perhaps she could earn enough to move to a small home in the better school district.
"Fight like hell for your daughter," Kevin insists, and the morality of looking out for yourself when the opportunity arises, and willingly leaving others behind, is debated for two acts. One of the more entertaining voices in the debate is Cara's outspoken working-class pal Cathy (a solid comic turn by Roxanna Hope Radja).
Kevin is gay, eliminating the suspicion that his attention to Cara is a sexual come-on. No, what makes the evening so intriguing is that, at least on the surface, Holmes' performance clearly does not paint Kevin as a bad guy. It could be that he sees himself as another Dan Cody and gets a kick out of showing the less fortunate how they can achieve their dreams. The kicker supplied by the author is that the less fortunate person is white and making a good, steady salary.
Perhaps it's too early to call it a trend, but with Joshua Harmon's ADMISSIONS winning the Drama Desk Award as the season's Outstanding Play and the Outer Critics Circle Award for Outstanding Off-Broadway Play, Young Jean Lee's STRAIGHT WHITE MEN, which premiered at The Public in 2014, coming to Broadway this summer, and now DAN CODY'S YACHT, the subject of white people and how they respond to their privilege may soon be a hot topic on New York's stages.
Related Articles
After 20-odd years singing, dancing and acting in dinner theatres, summer stocks and the ever-popular audience participation murder mysteries (try improvising with audiences after they?ve (read more...)