BWW Review: Anita Gillette Takes Celia Keenan-Bolger Through Time in Bruce Norris' A PARALLELOGRAM
"If you knew in advance exactly what was going to happen in your life, and how everything was going to turn out, and if you knew you couldn't do anything to change it, would you still want to go on with your life?"
Those first words spoken by Bee, the central character of Bruce Norris' geometrically philosophical drama A Parallelogram, stick out like a Chekhovian gun when she blurts it out of nowhere after her boyfriend Jay's opening rant about how being the male half of their relationship makes him always perceived as the bad guy.
As played by the terrific Celia Keenan-Bolger, Bee is a curiously spacey intellectual whose spells of obliviousness provide a break from her mundane life as a drugstore chain manager.
Stephen Kunken provides a fine foil as Jay, the overthinking office cog clinging to his visions of his own victimhood, who left his wife and child to live with Bee.
The two of them may have just begun facing the future together, but Bee has the inside track because sitting in their bedroom, only noticed by her, is an older character regarded at different times throughout the play as Bee 2, Bee 3 and Bee 4.
The darkly-humored role is impishly played by the charming show-biz veteran Anita Gillette, who carries a remote control that, for as long as the battery lasts, gives her the power to rewind and fast forward her younger self through time in its infinitely numbered, concurrently existing, planes of existence.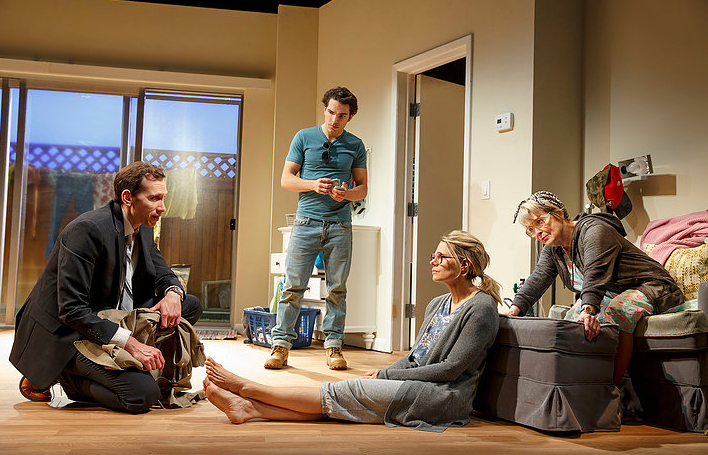 It's a familiar gimmick that receives better mileage than it should, thanks to some entertaining writing, a solid company and a slick production by director Michael Grief.
In the present, Bee begins developing a close friendship with their attractive and sweet gardener, JJ (Juan Castano), but the future, we learn, will bring a devastating epidemic that will wipe out much of the planet's population. The play's cleverest touch is the indirect way the audience learns why Bee is a survivor.
Though new to New York, A Parallelogram premiered at Chicago's Steppenwolf Theatre 2010, the same year when audiences first caught Norris' eventual Pulitzer-winner CLYBOURNE PARK, a play that, like his other better offerings, THE PAIN AND THE ITCH and DOMESTICATED, established the playwright as a master of providing sharp doses of laughter and discomfort.
A PARALLELOGRAM plays more like theatrical comfort food.