Click Here for More Articles on Be More Chill
BWW Interview: Stephanie Hsu Brings the Heat and Heart to BE MORE CHILL
Stephanie Hsu wasn't prepared for Be More Chill's juggernaut trajectory when she originated the role of the theater-loving nerd Christine Canigula in a month-long production at Two River Theater in New Jersey in 2015.
This sci-fi musical comedy about existential teenage angst, augmented by a super-charged pill, had a cast album recorded and let loose on social media with no great expectations. But Be More Chill blew up Spotify with 150 million streams. It was virtual dynamite with teen geeks and nerds before it hit the boards off-Broadway.
BE MORE CHILL was sold out in hours. A week-long extension sold out in nine. Chatter about moving to Broadway, about its being the next HAMILTON or DEAR EVAN HANSEN fill theater message boards.
"It feels pretty insane, with all the crazy reaction," Hsu said. "Parents come with their kids who already know the music. One parent likened it to Beatlemania. Some people are in tears when they see us."
"I think this show will forever go down in musical theater history," she said. Christine is the love interest of fellow geek Jeremy Heere (Will Roland). Hsu nearly lost the opportunity to join the crew. "I almost missed my call back to the original production because I was out in LA screening pilots.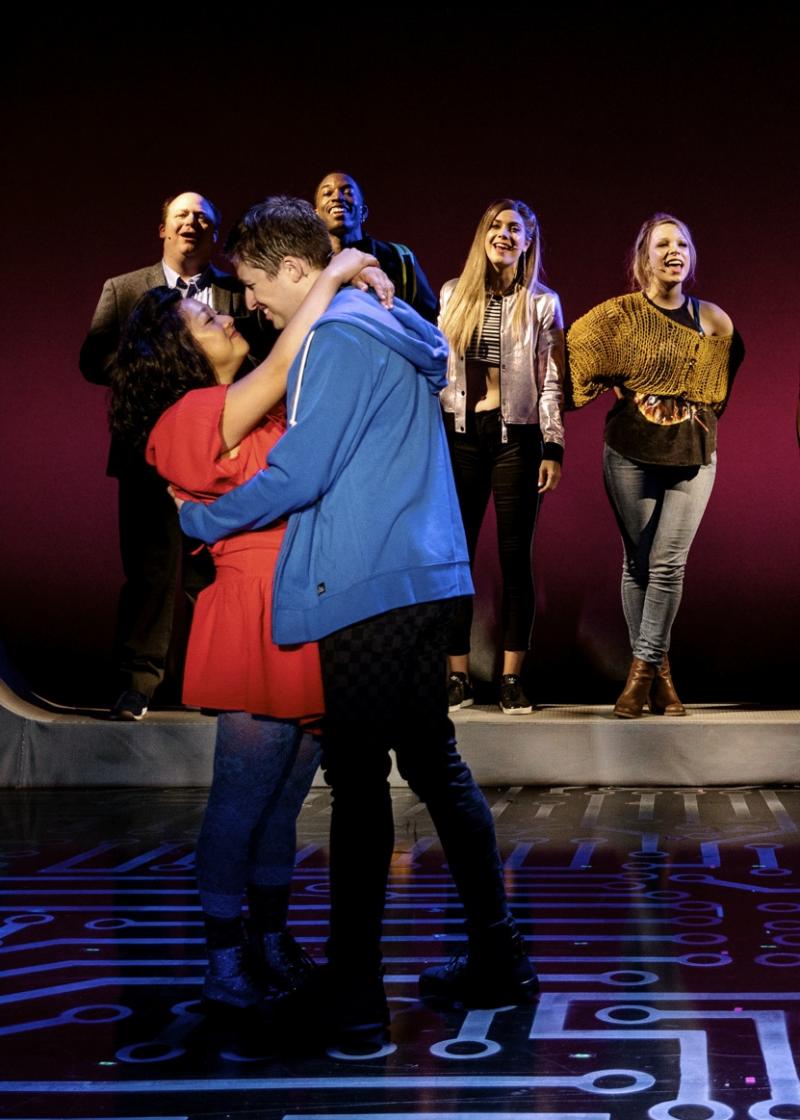 "I flew in that morning for the call back," she said with a laugh. And nailed it. "When I first got the play, it was so funny and brilliant," Hsu said. "The songs are hilarious and poignant and I could see how I could work with this."
The current version of this gleeful, over-amped production isn't a carbon copy of the first version. "We had a foundation and we made it richer. We call this production '2.0,' and it's way more complex than the original. There are new aspects of Christine and the way she sees how everyone around her is feeling. They want to shift and improve the reality we live in."
Hsu experiences her character in a deeper way now than she did in the previous production. "Something changed with me in terms of how I approach Christine. 2015 was a lot different than the social and political upheaval that is going on today," she said. "The way the Emma Gonzalezes of the world have shown up now is amazing. Everything's bursting open. They're able to express what so many are feeling."
Christine is obsessed with Barbra Streisand. She's also a fashion maverick. Hsu's favorite costume is her first one. It's a neon green dress with bright pink tights and a jean jacket.
"She's a passionate, weird bird who will probably end up going to Oberlin where she'll soar," Hsu said. "In high school, she's not quite embodied into her eclectic side yet. She's not able to bloom in high school as I see her doing later."
One of the changes to the play is the addition of the song "Loser Geek Whatever," sung by Jeremy. "I heard it for the first time in rehearsal," Hsu recalled. "That's why this show exists: everyone wanted to make it better. It's not just a remount of a calcified version we did three years ago."
Her favorite line, "I wish there was something I could do to make things better, but I don't know how so I guess I'll just do theater," she said laughing. "It's why kids get into the arts in the first place."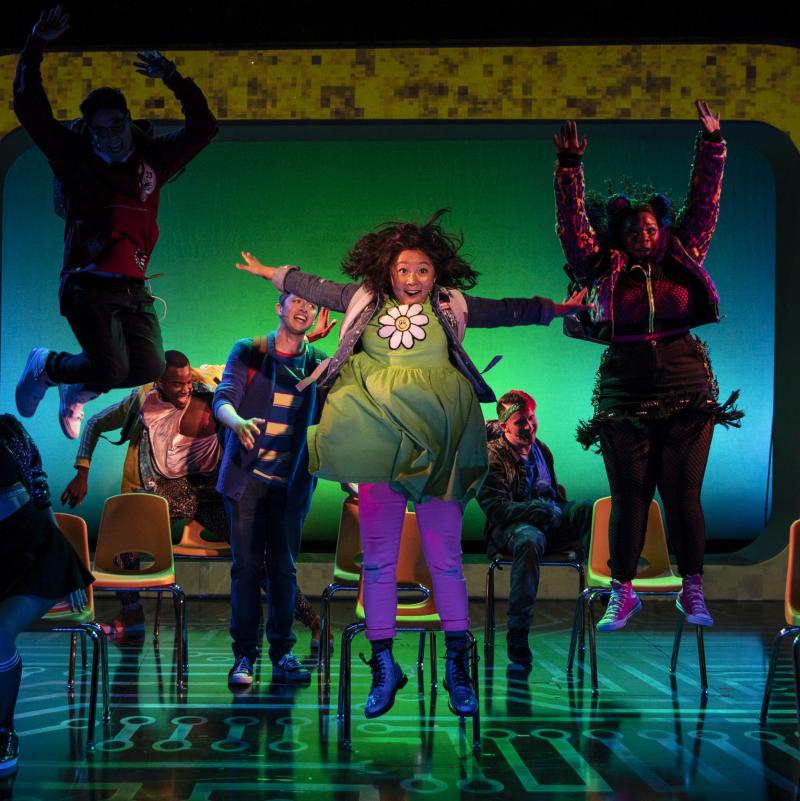 Many first entrances are met by thunderous applause, and the cast revels in the appreciation. "It's so crazy some nights when I get entrance applause because I'm kind of an old lady when it comes to social media," she said. "To experience their energy is amazing."
In spite of all the quick changes and elaborate costumes, backstage is relatively seamless. "We've found our groove backstage and try not to get in each other's way," she said.
"I hope people realize how important this show is and how many more people are going to be brought into the world of theater because of this," Hsu said.
"I think if teens want to gather for a collective experience in the theater, of all places, we have to celebrate that." It's not just teens who are unabashed fans. "They come with their parents who want to share something that's important to their teenagers."
The emotional and physical roller coaster ride the cast undertakes is exhausting. "But I think that it's a beautiful thing to see all these people in the space of an intimate theater. Actors have to be deep in the moment and the act of falling in love is an intense journey for Christine and me," she said.
"Then you go home and take an Epsom salt bath," she laughed. "I think that the high school years are so pure, so many firsts happen. We have way more voices in our head, per se."
Hsu wasn't raised on traditional musical theater, and her high school years weren't as awful as the characters' in the musical. "I played basketball, was the class clown and was resistant to drama at first," she explained. "I didn't want to be a drama nerd. I was a social butterfly. I didn't want to be pigeon-holed but a friend got me involved.
"I think back to what was going on during high school, when everyone has an existential crisis every day while still living at home. It's hard," she said. Hsu was encouraged to major in drama. "I didn't even know it was a thing in college," she laughed. She explored experimental theater and was influenced by working with Elizabeth Swados. "She became my mom in a big way. I learned a lot about social change and being a guiding light."
Fans write and draw passionately for the cast members. "I get letters from kids who are going through very dark times and the show has helped them. Some kids set their alarms to Be More Chill songs. I thought that was beautiful," she added.
"It's not like we get older and become perfect," Hsu said. "We still have voices in our heads. This show is a healthy reminder of what it's like to be a teenager today.
"The kids bring adults to the stage door and you can see that they really understand the play," Hsu said. "These kids are unicorns."
Be More Chill is playing to sold-out crowds at the Pershing Square Signature Center, 480 West 42nd Street. Music and lyrics by Joe Iconis, based on the book by Joe Tracz. It's directed by Stephen Brackett, choreography by Chase Brock, music direction and vocal arrangements by Emily Marshall, and music orchestration by Charlie Rosen.
Photo Credits: Be More Chill production photos by Maria Baranova; Hsu photo by Jennifer Broski

Related Articles