BWW Interview: Back for More- Darren Criss Reveals Details on the Return of The Great Elsie Fest!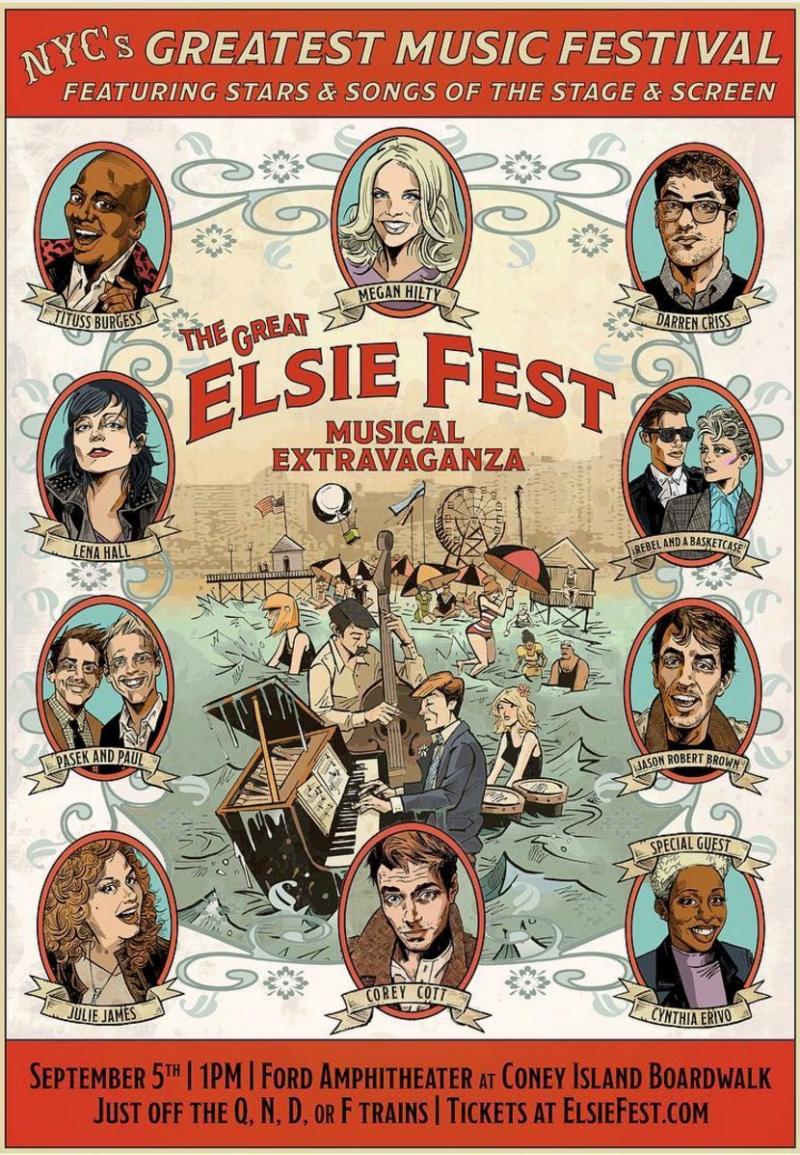 The second annual Elsie Fest, a one-day outdoor music festival celebrating stars and songs from the stage and screen, will take place on Monday, September 5th at the Ford Amphitheater at the Coney Island Boardwalk.
The second annual Elsie Fest will include full sets from Tony Award nominated actress and Singer Megan Hilty; actor, singer and Emmy nominated star of Netflix Original series The UnBreakable Kimmy Schmidt, Tituss Burgess; Emmy nominated musician and actor Darren Criss; musician and actress Evan Rachel Wood and musician Zach Villa perform as Rebel and a Basket Case; musical theater composer, lyricist, playwright, and two time Tony award winner Jason Robert Brown; Hedwig and the Angry Inch's Tony award winning Lena Hall; Broadway sensation starring in the upcoming The Bandstand, Corey Cott; Tony nominated songwriting duo behind Broadway's upcoming musical Dear Evan Hansen, PASEK AND PAUL; Broadway personality and SiriusXM Radio "On Broadway" host, Julie James; and, a special guest performance by 2016 Tony Award Winner of The Color Purple, Cynthia Erivo.
Darren Criss, the mastermind behind the event, just checked in with BroadwayWorld to chat about all things Elsie...
---
I went back and looked at the interview I did with you last year at this time. You were obviously very excited, but you were also a little bit like, "I hope that we get through this alive"...
I know, and it seems we did! I think in every venture that I take on I'm just hoping and praying for a passing grade. I set my bar pretty low. There is definitely relief this year that we've done it before, once. It's a little less abstract this year. It's a little more of a concrete thing that we know we can do again. But it's also a new venue, so we'll see how it goes. We also took a gamble with the Labor Day thing, so we'll see how that goes!
Was there anything you learned from last year that has helped you in putting this year's event together?
The answer is not very sexy- it's all very logistic. Last year went phenomenally better than it really should have. There's always room to explore. One thing that kind of excites me and annoys me at the same time is that after last year, people were like, "You know what you should do? How about blah blah blah?" And I go, "Yeah, of course we've thought about that," but we couldn't do it. There are so many things that had to happen that we had to focus our energies on. It excites me that people want more. At the end of the day, the main priority is the great performances.
Obviously you being a big part of the planning and also performing, there's a lot of extra stress on you, even the day of. Was there a moment in the day last year, when you could breathe and say, "Ok, I think this is going to work"?
I remember I was like "Shit, I gotta go on." [Laughs] Even though I had been rehearsing, I was so concerned with everything else going through ok. I felt bad because my partner in this (my manager, my best pal, and co-conspirator for the whole thing) Ricky Rollins was the guy who was stuck with the ear piece and the clip board. I feel like I really gave him and my friends the brunt of the grunt work while I was just trying to make sure my guitar was tuned and when I went into artist mode. So I have a bit of survivor's guilt, leaving them to do that. To see both sides of that is pretty maddening.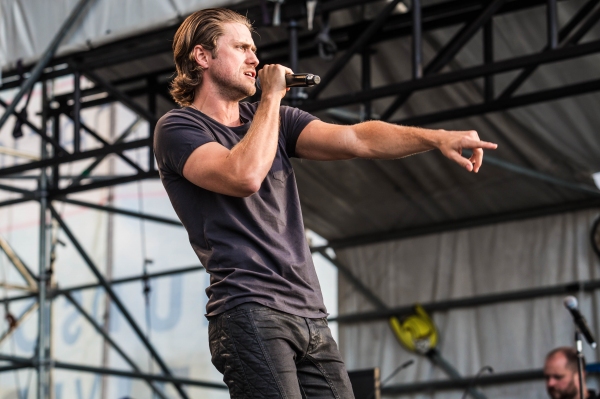 I remember when Aaron Tveit was on stage last year. He was used to doing shows in a different atmosphere- obviously on TV or in a theatre playing a character, but he would also do shows at 54 Below or Joe's Pub... these small cabaret venues. I just watched him become a rockstar. There's a couple photos that I love of him turning into a total rock and roller up there, and it was really special because the audience felt it. I felt it at the side of the stage.
That was the moment where I really felt like: "This is what this is about." It's about giving, not only audience to have to experience, but the performers. It's a venue that they don't really get to perform at very often. So that was really a moment where I was like, "Ok this is cool." And obviously, Leslie Odom came after him. It's weird when you see something in your head for so long and then you see it happen in front of you and other people can see eye to eye with you. It's just such a relief.
Let's do a little lightning round. Tell me me the first word that comes to mind for each of these performers. Megan Hilty...
Bombshell. But literally, not just the SMASH thing. She is a radiant bombshell.
Freakazoid singer.
Freakazoid singer [Laughs]. They're both crazy. It's tough not to use the same adjective. Rockstar.
Iconic. Too soon? Is he too young for that?
Pasek and Paul.
Young blood. New kids on the block.
Charm-ball.
Rebel and the Basketcase.
The Edge. Edgy, sexy Hollywood.
Fan representation. I love Julie like so many people the country that listen to her and love her. She is the voice of the Broadway fan.
And of course, the most popular lady on Broadway right now, Miss Cynthia Ervio.
I don't have any words for her. It's just noises. Just noises of awe.
I'm with you. I notice that she's build as a "special guest." What exactly does that mean?
Well, I asked her to do it, and she was kind enough to say yes, but I really wanted to be sensitive to the fact that she does that crazy show eight times a week. So as much as I would have liked to have her for a whole set, I was like, "I don't wanna blow your voice out on your day off." So I think she's gonna pop up in a couple of different people's sets. We're still figuring it out.
There were so many cool moments last year. Can people expect as many collaborations and duets and all that kind of fun stuff?
Absolutely. And they can definitely expect some special guests beyond Cynthia that aren't necessarily announced. One of the fun things about Coachella is seeing the unexpected names and faces that pop out during certain moments that can only be seen at that event. Hopefully, people's sets and my set are songs they wouldn't be able to see anywhere else. I think that for every Elsie set I try and do at least a handful of songs that I've never done before, to make it really a special event for people that come.
And after this you are launching the HEDWIG tour!
Yeah! It's slowly dawning on me and I kind of feel guilty because my assistant director just texted me saying "Yay! We start rehearsal in two weeks!" I'm just like, "That's lightyears away." [Laughs] I've got so much stuff going on. I'm doing this play in New York next Monday; I've gotta rehearse for Elsie; I've gotta put my rehearsal schedule together; I have all these other personal obligations. There are so many things on my plate. I drive by the marquee in LA and it's already up there and I'm just like, "Man, I gotta get my shit together!"
You've some stuff to get though first.
Yeah I definitely do. But it's becoming more real to me that I have to brush up on the lady, herself.
Will this be the first real professional thing that you've gotten to do in your hometown?
Definitely to a degree. I did sort of professional theatre as a kid at a couple of different companies. I saw shows the Golden Gate Theatre all the time when I was a kid. So the fact that I'm doing it there is really special. It's the same with Lena [Hall]. Lena and I are both from San Francisco and anybody who's from there has an extraordinary amount of pride in being from that town, because it is so small and it's rare that people do grow up in the city proper, like she and I did. I'm excited to share it with all my drama teachers that couldn't make it up to New York and all my friends that stayed in the city that couldn't make it out.
Rewinding back to Elsie, what are you most looking forward to at this point?
I am sort of apprehensive because I want to make sure that the venue is cool. It is a new venue, and you have to figure out the schematics of the flow of people, but I am excited that it's in Coney Island. I like that it's a very 'New York' destination. I like that the large percent of people who I tell about the festival will say one of two things: "Oh, I've never been to Coney Island and I've always wanted a reason to go," or "Man, I haven't been there since I was a kid." Having an excuse to go down there is fun and I like that it's really a destination venue.
It will be the very tail end of summer, on Labor Day, and if you don't have any plans, what better way to spend it than come to Coney Island, an easy train ride? I'm excited for people to see the venue and I think it will be really fun mix of two different things that people love: the tradition of cabaret and live musical performances, but also Coney Island and the beach. Sign me up.
---
For more information on Elsie Fest visit: www.elsiefest.com
Actor, musician and Emmy-nominated composer, Darren Criss, most recently appeared on the Emmy award-winning FX series "American Horror Story." Prior to his rave-reviewed role as Hedwig, he starred on Broadway as J. Pierrepont Finch in How To Succeed In Business Without Really Trying. Criss is best known for his breakout role as Blaine Anderson on FOX's Emmy and Golden Globe Award?winning series "Glee." The San Francisco-native is a co-founder of StarKid Productions, a Chicago-based theatre company whose works have spurred viral hits, multiple Billboard charting cast albums, and sold-out national tours. His additional film, TV and stage credits include Girl Most Likely oppositeKristen Wiig and Annette Bening, The Wind Rises, "Web Therapy," ABC's "Backstage with Disney on Broadway," "Michael Feinstein's New Year's Eve Special" on PBS as well as hosting duties for the NewNowNext Awards and Teen Choice Awards.
Related Articles
Originally from Pittsburgh, Pennsylvania, Nicole began writing for BroadwayWorld in 2010. She currently resides in New York City, where she gets to enjoy far more (read more...)