BATTLE ACTS Crowns Winners Following First Show at Chelsea Musical Hall
The next Battle Acts will take place at Chelsea Music Hall on February 20, 2023.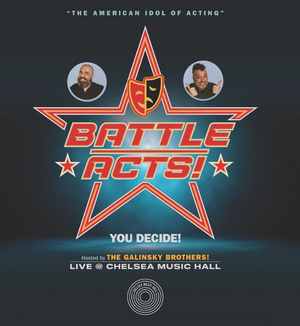 On Monday night at Chelsea Music Hall, a standing-room-only audience watched as actors competed head-to-head during the launch of Battle Acts, a live audience acting competition/show to find New York City's greatest actor. What's being called "The American Idol of Acting," Battle Acts brings together stage and film actors who battle it out in front of celebrity and industry insiders as well as a live audience in an evening of raucous, fast-paced performances to be crowned the "Battle Acts Champ."
The competition is broken down in to two sets - Act One: The Champion Set, which features six pre-cast actors who are given two and half minutes to perform for the winning title, and Act Two: The 30 Second Set, giving audience members the opportunity to perform for 30 seconds and win a spot in the following month's Champion Set.
The two winners who took home tiles - Act one "The Battle Acts Champ" is Keyanna Murrill and Act Two "The Audience Voted Champ" is Army Veteran Donald Calliste.
"The Battle Acts Champ," Keyanna Murrill is an entrepreneur, artist, and creative specialist. She co-founded and has been co-operating World Explorers Group, a creative collective of family-focused companies located in New York and South Carolina. Keyanna has a Bachelor of Fine Arts in Theater from New York University Tisch School of the Arts and is a member of SAG/AFTRA. Her credits include TV shows, independent films, and 26 episodes of PBS's "Kid Fitness." When not acting she spends her time working to help educate and enrich the lives of children around the world. Keyanna looks forward to the next adventure and is always exploring.
"The Audience Voted Champ," Donald Calliste is a professional actor, martial artist and avid reader who enjoys ancient books on History and is happy admitting his love for blueberry doughnuts may be an addiction. He credits the success of his acting career to the Gratitude he has for surviving 2 tours overseas serving in the United States Army and wants to be an example for other soldiers, especially the wounded, that Yes! life can continue. Salute!

"Last night, we launched Battle Acts at Chelsea Music Hall, and what a thrilling competition it was. The house was packed, the performers were on fire, and the audience loved every minute of it. Even though this is a competition amongst some of the best performers in NYC, the room was filled with so much love and support, I hope that everyone in New York gets an opportunity to experience that." - Five Time Tony winner, and Battle Acts Executive Producer, Terry Schnuck

Battle Acts is hosted by the Galinsky Brothers, whose long-running Manhattan Monologue Slam became a staple of the New York City acting community and was touted by the New York Times as "performers looking for that fabled big break are squaring off against one another in a flurry of monologues, with industry professionals sitting as judges," The show is developed and produced by a team of industry vets whose credits include five TONY Awards, Executive Producer of the International Emmy Awards, Producer of multiple HBO Max Comedy Specials, and producer/director of over 50 TED talks. Battle Acts will give actors an opportunity to showcase their work in front of some of the top decision makers in the business and a live audience.
The year-long season will culminate in the 2023 finale of the Battle Acts Championship, where one actor will be crowned the "Ultimate Battle Acts Champion," giving them the year-long bragging rights as the Best Actor in New York City.
Battle Acts is produced by Terry Schnuck (five-time TONY Award Winning Broadway Producer), William "Chip" Quigley (Award-winning Live Music & Television Producer), Jeffrey Chrzczon (Broadway Producer & General Manager), Michael Ginsberg (Television Producer), Robert Galinsky (Actor, Poet, and Acting Coach) and Philip Galinsky (Actor, Writer, Producer and Voiceover Artist).
The next Battle Acts will take place at Chelsea Music Hall on February 20, 2023, with doors open for a Network Happy Hour at 7:00 PM (show begins at 8 PM). General admission audience tickets and actors who would like to compete in Act Two: The 30 Second Set can find more details and purchase tickets by visiting www.battleactslive.com.

Chelsea Music Hall is located at 407 West 15th Street, New, NY. For more information, visit www.BattleActsLive.com or www.ChelseaMusicHall.com