Abingdon Theatre Company Rings In Another Year with Glitzy, Star-Studded Bash
Abingdon Theatre Company isn't one to shy away from grandiosity. Sure, the 26-year-old grassroots theatre company may pride itself on its daring, intimate productions, but that doesn't mean they don't know how to throw a party, repeatedly pulling out all the stops at their annual anniversary bash. "We're able to take something small - say, a show with a seven or eight-member cast - and transform it into this big, lavish spectacle... without sacrificing the true heart of the story or the music or any of that," says company Associate Artistic Director Chad Austin. "You could say it's our special little Abingdon touch." One look at last year's flashy, brassy AND THE WORLD GOES 'ROUND gala event, which capped off a quarter century on the off-Broadway scene, and you're sure to agree. That's likely why it comes as no surprise that this year finds them back at the Edison Ballroom ringing in #26 with a(nother) glam and glitzy extravaganza like only they can produce.
Having wowed audiences last year with the aforementioned "razzle-dazzle" of Kander and Ebb, Austin sought to offset the splashy success with lighter, more elegant fare. "I wanted the audience to have a completely different musical experience," he explains. "I started looking at pieces that were more melodic in their storytelling... and much more romantic, both in its atheistic and its orchestrations. Essentially, something that was completely new."
He soon found his answer in Richard Maltby and David Shire's beloved 1989 song cycle, CLOSER THAN EVER, to be presented in full on October 22nd, as part of a one-night-only event, which will also serve to honor the illustrious two-time Tony winner Donna Murphy. The production, which reunites Austin with his "dream team" of choreographer Diedre Goodwin and musical director Kevin David Thomas, boasts a star-studded 25-member cast steeped in talent from all across the Broadway, national, and international stage circuit, including such notable names as Julia Murney, Alysha Umphress, David Pittu, Claybourne Elder, and Carrie St. Louis, to name a few.
In addition to the praiseworthy cast, in order to ensure the public receives the promised all-encompassing Broadway musical experience, the material runs the gamut, "from a big sexy dance number to a laugh-out-loud comic patter [number] to those unforgettable heart-pounding ballads," all culminating in a mammoth, inspirational surprise which Austin teases "has to be seen to be believed."
"We're really going all out. It's a one-night-only event in the fullest sense of the word," he continues. "Like, where else will you get another chance to hear Lesli Margherita sing, 'Do You Want to Be My Friend?' or Liz Callaway sing the prolific 'Patterns'?! You're not going to want to leave the room even for a moment."
But while the mounting of this production is no doubt exciting as is, the reason for such a choice may have been written in the stars all along. First, in response to a need for more spatial flexibility, this season saw the company move out of their longtime home at the June Havoc Theatre and into several different venues across Lower Manhattan. One such venue was the Cherry Lane Theatre, home to the original production of CLOSER THAN EVER. The switch in theatrical venues also prompted another move administratively - into the East 15th Street offices of Daryl Roth, an original CTE producer.
To say it was fated would be an understatement. "It was literally as if all the stars had aligned," Austin says, with a laugh. "It was a string of all these positive little signals, for lack of a better word, that made me feel like, 'yeah, I made the right choice.'"
As for the inclusion of Murphy, it was a no-brainer. Whereas last year's honoree, Bebe Neuwirth, who was chosen based on her lengthy history with the company and its staff, this year's choice - though in no way any less distinguished - stemmed purely from Austin's admiration of her work and a genuine desire to pay homage to such a luminous legend.
"At the end of the day, this really is simply about me wanting to honor Donna," says Austin. "We've been in each other's lives for the past 20-odd years. She's inspired me as an artist and as a director in so many ways... I just admire her so much. She's so full of love and her outside presence and activism within the community is equally top-notch."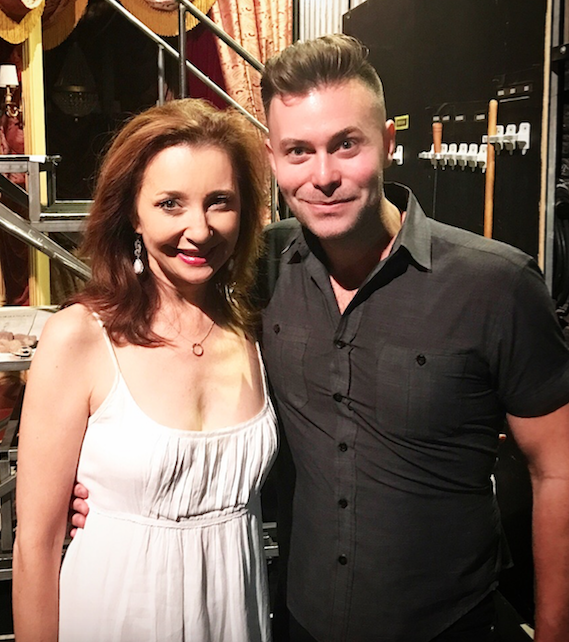 But the clinching factor that cemented Austin's decision? Her unparalleled commitment to her craft. "She's such a great storyteller, not only through comedy, of which CLOSER THAN EVER obviously has so much, but also through the heart-wrenching moments as well," he continues. "Donna is truly the embodiment of all of that, so what better way to pay tribute than with this perfectly poignant and elegant score?! It truly is the perfect marriage of actress to musical."
Murphy, for one, couldn't be more pleased. "I am a huge fan of the show...of the work of Maltby and Shire...and even auditioned for a role in the original production (though obviously, didn't get cast)," she explains. "I can't wait to see what this remarkable lineup of artists will do with these beautiful story songs."
But even with both the golden musical and Murphy secured for the evening, Austin knew his job wasn't done yet. In a perpetual effort to top their previous feat, this year's celebration will also boast the element of a host... and to fill the role, given the joyous spirit of the evening, he called upon the most uplifting - notwithstanding topical - personality he knew. Best known for his ROFL musical parodies, which not-so-coincidentally have recently been skewering a certain White House occupant, viral sensation Randy Rainbow will not only guide the audience through each number, but also offer his signature commentary and jabs throughout the evening as a whole.
And though Austin insists Rainbow was chosen as a result of his adoration for the evening's honoree (and, in turn, hers of him) and not, in fact, because of his trademark escapism in the midst of the current political landscape, one cannot shy away from the undertones that'll come with his appearance.... and for that, he's all the more stoked.
"It's such a big deal," he says, of the choice. "[At show time], we'll be two weeks out from an election... I think the energy with him in the room is just going to be incredible. It's going to add a lot of weight, and audiences will certainly be in for a treat."
In another unprecedented move for the gala, Maltby and Shire will actually be in attendance. Excited to receive the esteemed composers' blessing, Austin is equally tickled they share in his enthusiasm for the evening itself and wholeheartedly support the reason behind it.
On that note, amid all the joy and revelry associated with the occasion itself, it's important to remember the reason behind why it's occurring in the first place: to recognize the accomplishments of Abingdon as a company throughout the last year... and why we need companies like these in our world today.
And in the last year, for Abingdon, there's certainly enough to celebrate. Having launched their premier musical production, THE BOY WHO DANCED ON AIR, in May 2017, they this year preserved it on an album - now available at Broadway Records - forever immortalizing the talent of the show's composers and original cast. They've also, as previously mentioned, begun to branch out, developing partnerships with a variety of theatrical spaces like the Lucille Lortell Theatre and the Bushwick Starr, with more, including a world premiere production with the Women's Project Theatre, on the horizon as the season continues. All of course, in addition to delivering "brave, new work" to audiences throughout the city.
"At a time when our country is so divided, it's absolutely vital that we remember what unites us, and that we really need to listen to one another," says the inimitable Murphy. "Audiences are hungry for experiences that lift and inspire them....and if theatre is really going to be of service to the world right now, we need that kind of commitment to diverse storytelling, and the support of artists as they develop those stories."
And that's, in so many words, exactly what Abingdon fulfills. "[It's] a safe and nurturing home for artists," Murphy continues. "The range of work they've produced, the themes and stories and extraordinary writers, directors, actors, designers they've supported, reflect their mission to illuminate many points of view."
And, armed with strength, passion and a steadfast devotion to their mission, they'll continue to do that well into the future. "We're excited," Austin concludes, with a smile. "We're ready for this new direction our company is going in. As we grow and develop into the future, we remain committed to stories that strive to shine light upon the human condition and help remind us all of our humanity. It's what we all need right now, for better or worse. And if we can give you that and make you think and feel differently about the world, for 26 years, no less... well... we must be doing something right."
Abingdon Theatre Company's landmark 26th-anniversary event will take place on October 22nd at the Edison Ballroom (240 W. 47th Street) in New York City. The performance will be preceded by cocktails, dinner, a live auction, and a ceremony honoring Murphy. All proceeds will benefit the company directly. For tickets and/or more information, please visit www.abingdontheatre.org.
---
Banner Photo Credit: Jennifer Broski
"Just Be Best" Video courtesy of Randy Rainbow
---
Matt Smith is a writer and theatre enthusiast based in New York. For more information or further inquiry, including additional writing samples, please visit mattsmiththeatre.com.
Related Articles
Matt Smith is a writer and theatre enthusiast based in New York. For more information, including additional writing samples, he encourages you to visit www.mattsmiththeatre.com. (read more...)