Audition Song Selection, What to Expect, Tips, and More!
7 Places to Find Piano Tracks for Auditions, Performance, Practice & More!
Getting ready for an audition and have no music to practice to? Making a self-tape and don't want to sing a cappella? Rehearsing a song and missing an accompanist?
If you're a singer in need of something more than a karaoke track to show off your vocal chops, there are plenty of resources for vocalists that provide downloadable piano tracks- some of them are even free! The good news? BroadwayWorld has already rounded up the best of them for you! Below, check out our seven favorite sites to find download-ready and custom tracks to help you sound your best!
---
Piano Trax
Piano Trax gives you access to download thousands of tracks, which are compatible for any music player. You can also stream your tracks online and access them on any device or computer instantly. The site's library features over 10K songs from almost 2K shows, plus the option to order custom tracks and/or custom notation/transcription. Most track are available for under $6.00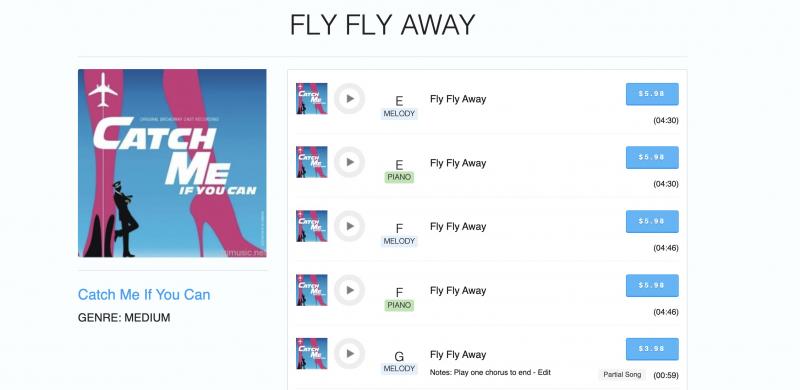 ---
Piano Tracks for Musicals
The site where you can download quality and professional piano accompaniments from your favorite musicals. Each mp3 piano accompaniment is played by a real pianist giving you quality piano accompaniment recorded expressively and with the needs of the musical theatre singer in mind. Most tracks can be downloaded immediately for under $5.00. Customers can also place custom orders for individuals, corporate organizations or educational institutions.
---
The Accompanist
The Accompanist is a series of digital albums available on iTunes, GooglePlay and AmazonMP3 - and now, direct online in their shop. The Accompanist albums are designed to be used as both tools for rehearsal before your audition or for performance if you prefer a more acoustic feel to your tracks. Each of the accompaniments are recorded at the tempos and in the keys of the Original Cast recordings. Most tracks are available to download for under $1.00.
---
Piano Accompaniments Tracks
For a more classical repertoire, this site offers a great selection of high-quality piano accompaniment tracks for instrumental and singers recorded by renowned international concert pianists. The educational library that offers sonatas, concertos, and many other works of your favorite composers available at different practice speeds. Most tracks are available for under $5.00.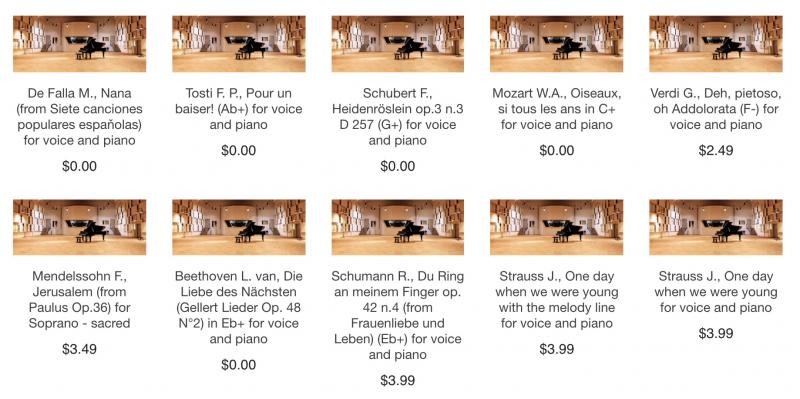 ---
Broadwaytrax
Broadwaytrax offers accompaniment tracks and backing tracks for Broadway musicals, perfect for use by students, singers, and actors in auditions, rehearsals, shows, and even for personal practice. Most tracks are available for under $2.00. Custom orders are available for $49-$249.
---
Theatre Music Shop
Theatre Music Shop offers both MP3 Track downloads and Album downloads. The largest on-line supplier of professional instrumental recordings and Musical Theatre Backing Tracks for dancing schools, ballet schools, dance teachers, students and theatre performers, played and recorded by Guy Dearden. Most tracks are available for under $10.00.
---
Your Accompanist
Your Accompanist offers downloadable piano accompaniments for voice: opera, operetta, lieder, art songs. With over 5000 tracks to choose from, you can find classical piano accompaniments, collections and repertoire mastery tools for singers, all performed by our versatile, singer-sensitive accompanist. Most tracks are available for under $4.00.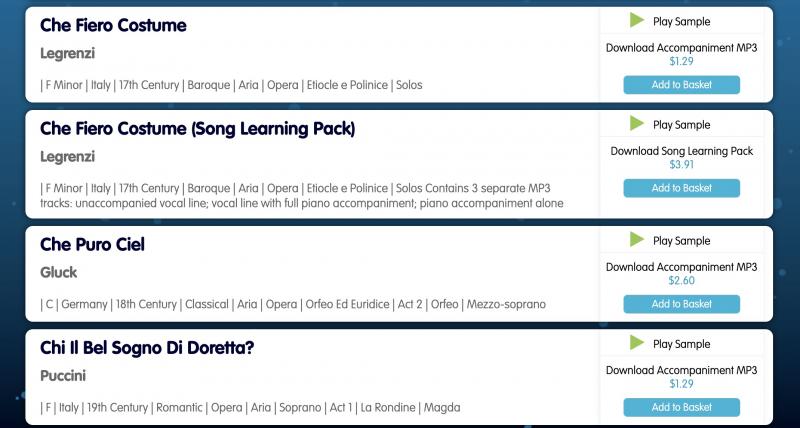 Related Articles

More Hot Stories For You
VIDEO: Jennifer Hudson Performs 'Bridge Over Troubled Water' as Tribute to John Lewis
Jennifer Hudson was one of the stars who took part in CBSa??s John Lewis: Celebrating a Hero TV special, which aired on Tuesday at 10 p.m. ET....

Check Out the Original Broadway Cast of HAMILTON's Latest Projects
What have the original cast members, ensemble members, swings, and standbys of Hamilton been up to lately? Check out their latest projects!...

Disney Employee Pulls the Curtain Back on What it is Like to Work at Disney World During the Pandemic
Rolling Stone has reported on a conversation they had with one Disney World employee, pulling the curtain back on issues of safety, whether social dis...

VIDEO: On This Day, August 6- HAMILTON Opens On Broadway!
On this day in 2015, Hamilton officially opened on Broadway at the Richard Rodgers theater!...

Disney's Live-Action MULAN Will Be Released on Disney+ This September for an Extra Fee
As BroadwayWorld previously reported, the release of Disney's live-action Mulan has now been delayed several times, but a new plan for its arrival has...

Zach Braff Shares Tattoo Tribute to His Friend, Nick Cordero
Zach Braff is remembering his friend, the late Nick Cordero, in a special way. Tattoo artist Doctor Woo shared a photo of his depiction of Nick in Bul...