John Hinton Returns to Adelaide Fringe With SCIENTRILOGY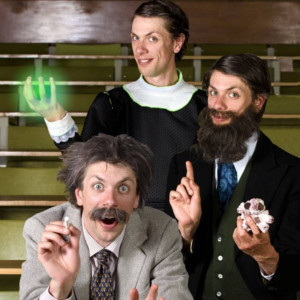 Science wunderkind John Hinton returns to the Adelaide Fringe with all three parts of his multi-award-winning musical comedy Scientrilogy, playing from 13 February - 18 March in The Arch at Holden Street Theatres, 34 Holden Street Hindmarsh. NOTE: some performance times have changed since the 2018 Fringe Guide was published. Please refer to the Holden Street or Fringe websites for all times and dates.
The three shows joyfully and irreverently explore seminal figures in biology, physics and chemistry. They are peer reviewed by University of Sussex professors and directed by renowned international director Daniel Goldman, and have toured to over 20,000 delighted audience members in the UK and internationally.
On Tuesdays and Fridays John will be Charles Darwin in The Origin of Species, telling the incredible story of how Darwin came to discover the secrets of evolution; on Wednesdays and Saturdays Hinton will be Albert Einstein in Albert Einstein: Relativitively Speaking (sic), delivering the answers to some big questions including how to travel back in time and what actually happens in a black hole; and on Thursdays and Sundays John will play the 'queen of radioactivity' Marie Curie in The Element in the Room: an adventurous musical-comedy-road-movie, following Curie's real-life journey across the USA to find a single gram of radium to continue her research.
A show for young and old alike, The Origin of Species tells the incredible story of how Charles Darwin came to discover the secrets of evolution and why it took him over twenty years before he plucked up the courage to publish his remarkable idea. It's a show packed with big ideas, terrible puns, brilliant physical comedy and six cracking original songs about everything from blasted boring barnacles to the perils of marrying your own cousin.
Albert Einstein: Relativitively Speaking combines comedy, songs, clowning and some gloriously bad puns alongside proper explanations of the science behind Einstein's landmark theories, and some rather surprising revelations into the great man's personal life.
Ever looked at E=mc2 and thought... what's that all about then? The show is a hilarious and thought-provoking answer to everything you ever wanted to know about Einstein but were too afraid to ask!
The clearest - and certainly the funniest - explanation of the Theory of Relativity I know. Producer of QI (John Lloyd)
The Element in the Room is Hinton's take on 'queen of radioactivity' Marie Curie. Promising a treat for nerds and newcomers alike, the show features incredible scientific breakthroughs, songs accompanied by wonderful live accordion music, and an audience-participation radioactive decay chain. This is an exuberant celebration of the first woman to win a Nobel Prize, whose work continues to affect our lives today.
The Element in the Room is written and performed by a cross-dressing John Hinton as Marie Curie in yet another shape-shifting tour-de-force performance, alongside John's real wife Jo Eagle as Curie's husband Pierre.
Led by artistic director Daniel Goldman, Tangram Theatre Company is an award winning company that is dedicated to making surprising, irreverent and life-affirming theatre for UK and international audiences. Daniel says, 'As a company, we are dedicated to telling big stories that matter in ways that break down the boundaries between audience and performers to create a shared, fun and exciting theatre experience.'
Founded in 2006, Tangram has created twelve critically acclaimed shows that have been performed across the UK, Poland, Norway, Sweden, Croatia, Australia, Malta and Finland. In 2007, the company won the Better Bankside Shakespeare Award and has won awards at Adelaide, Brighton and Edinburgh Fringe Festivals, the Stage Awards and London's Off-West End Awards.
* a tangram is an ancient Chinese puzzle made up of seven geometrical shapes (five triangles, a square and a parallelogram). These shapes form a perfect square but can then be reconfigured to make an infinite number of new shapes.
Tickets to all three Scientrilogy shows at Holden Street Theatres, may be booked through Fringetix online or at www.holdenstreettheatres.com or purchased at the door. See all three for a special multi-buy price.
Rating PG
Duration 60 min (each show)